Review of MSI GX 400X Notebook PC: Specifications, Looks, Features, Configuration, and Performance
Looks, Design, Build Quality and Ergonomics (3 out of 5)
The MSI GX 400X has a very streamlined design with good and well placed bezel and hinges. The "Shining Red" color has an appealing look and is able to turn many heads. It comes with the new "Color Film Print" technology to give more texture and shine to its surface. The surface is nice to touch and looks graceful and bright, and it is not easily prone to scratches and fingerprint marks.
However the build quality is only average and has scope for improvement. As every second counts in gaming, MSI has added colorful W, A, S, and D buttons to the keyboard which helps the player to find the direction controls quickly.
Overall this notebook has an elegant design, good looks, and great ergonomics, but only average build quality.
Images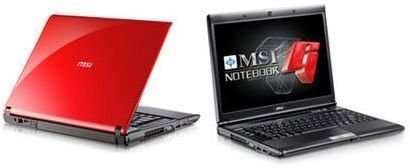 Features and Performance (4 out of 5)
The MSI GX 400X comes with an Intel Core 2 Duo P7350 2.0 GHz processor which sits on a performance chipset motherboard, the Mobile Intel PM45. To make this combination more lively, it is equipped with 4 GB of DDR2 SDRAM at 667 MHz. The most striking feature of this notebook is its graphics card, the nVidia GeForce 9600M GT which is a 3D compatible GPU with 256 MB video memory.
The Realtek High Definition audio along with 14.1 inch TFT LCD display powered by a superb GPU makes for a comprehensive entertainment package. To add to it, the HDMI port allows you to connect the laptop to an HDTV or monitor if you want a bigger display.
The 320 GB hard drive can store huge amount of data, enabling you to keep loads of movies, MP3s, and pictures at your fingertips. The added eSATA port allows fast data transfer so you can add a fast external hard drive for even more storage capacity. The company allows you to choose from a DVD Combo Super-drive or a Blu-ray DVD drive, making sure you don't get shorted on entertainment and either which make media burning easy and fast.
The MSI GX 400X is loaded with the latest Wi-Fi N standard, which makes for fast and secure wireless connectivity. Other connectivity options include two USB ports, a 1.3 mega pixel web cam, a multi-format card reader, and an IEEE port. The notebook could have included a HDMI cable, which is sorely missed.
If 4 GB of RAM, 320 GB of hard drive space, and blazingly fast discrete graphics haven't impressed you yet, just wait until you hear about the performance this laptop has to offer. It impressed me by scoring 3483 in PCMark Vantage, and, although the processor isn't one of the strongest, heavy applications are handled with ease. For example, applying filters in Adobe Photoshop needs a powerful CPU and loads of RAM. The notebook scored well here, too.
As I mentioned, the memory amount is fine, but just think: with a more powerful processor the MSI GX 400 X could really leave an unforgettable impression.
The 6-cell battery gives 3 hours of power back up while not plugged to the AC mains, which is considered to be an average to slightly better than average performance, which cannot be said to be bad at all.
Overall, I must say that the GPU, storage capacity, and RAM gives a great push to this laptop's performance and it is no less desirable (or less worthy of that desire) than any comparable mainstream model. The screen size and resolution of the LCD display are great for light gaming and business applications, and the HDMI port provide further possibilities to watch movies (and game) on a bigger screen.
Value for money (2 out of 5)
Due to the addition of a high end graphics card and 4 GB of RAM, as well as the Blu-ray option, the price of this notebook goes up to USD 1499.99, making it a bit highly priced notebook. At this price you have a lot of good options with much better mainstream configuration available in the market.
Conclusion (4 out of 5)
The MSI GX 400X is a great machine with huge amount of RAM and a great GPU providing good overall performance that is as good as, if not better, than some mainstream desktop PCs. The presence of eSATA and HDMI port are added features not universally found in this segment of the market. However, the notebook is a bit overpriced, and the user has a lot of other good options at this price point.
Source: Micro Star International
Specifications
Processor: Intel Core2 Duo P7350 2 GHz
Motherboard: Mobile Intel PM45
RAM: 4GB Maximum
Hard Drive: 320 GB
Optical Drive: DVD Super-Multi / Blu-Ray DVD
Graphics Card: nVidia GeForce 9600M GT 3D Graphic Card with DDR3 256 MB VRAM
Screen: 14.1 Inch TFT LCD display at a maximum resolution of 1280x800
Wi-Fi: Yes
Bluetooth: Optional
Web cam: Yes
Card Reader: Yes, 4-in-1
Finger Print Reader: No
Weight: 3.2 KG
Dimensions: 332 x 38 x 244 mm
Operating System: Windows Vista Home Premium
Price: Approximately USD 1499.00