Budget Graphics Card Comparison - Palit GeForce 9600GT and Asus EAH2400 Pro Review
Palit GeForce 9600GT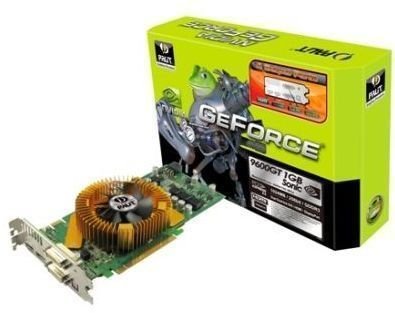 It has been about one year since Nvidia announced its new graphics card series, the 9000's. All of us learned the next day that, despite the 9000 name, the actual graphics processor unit (GPU) is nothing more than the GPU in the 8800 series. Nvidia's reference design was 650 MHz core clock speed, 1625 MHz shader clock speed, 1800 MHz memory clock (GDDR3), 64 stream processors, 512 MB memory (256-bit).
Palit has not tweaked the reference design in this model in terms of clock speeds and memory. The card is a PCI Express 2.0 card, has 2 DVI-I and 1 S-Video output. It also supports SLI, so you could think of purchasing two of these cards for a better gaming experience. The card features CUDA and PhysX.
Out of the box you get Quick Installation Guide, Driver CD, DVI to VGA converter and a power splitter (2x4 pin to 6 pin). Since this is a "very budget" card, do not expect gifts like games.
We can say that Palit GeForce 9600 GT Card will not satisfy your gaming needs even with medium graphics details. However, if you are not a serious gamer like me and expect a decent card for your everyday works, then this card may be right for your purchasing list. Remember that the card is an actively-cooled one with a big fan on top of it, meaning that you lose the adjacent slot on your motherboard. So if you are working with office documents, viewing images, watching movies and surfing on the Internet, then you may consider a quieter card, which could be the Asus EAH 2400 Pro.
Asus EAH2400 Pro
This card is a cropped down 2400 XT, to be frank. The core clock stays at 525 MGHz and the RAMDAC at 400 MHz, with a 64 bit memory interface delivering memory bandwidth of 6.4 GBps. The card has one DVI-I, one VGA/D-Sub port and one TV-Out.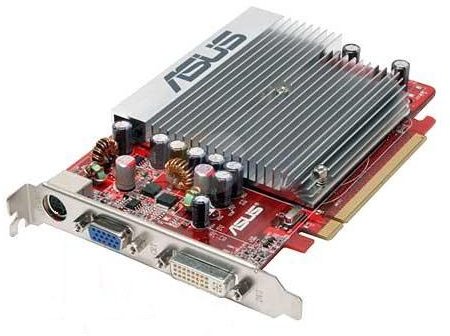 Like Palit GeForce 9600 GT, you buy this card for your everyday computer usage unless you are a gamer. The stream processors are outdated and the frame rates even with DirectX 9 games are terrible. However, if you prefer HD movies to games then EAH 2400 Pro can be your card. ATI's Avivo HD hardware based H.264 decoding is present in EAH 2400, which means that you will be watching very clear movies in perfect detail, where many other cards can barely do. As you read between the lines, EAH 2400 Pro is a very good component for the Home Theater PCs (HTPC); a DVI-HDMI adapter is all you need for a PC-LCD TV connection. If you are considering this, please add the fact that the card is passively-cooled, meaning that there is no fan sound. But, you must arrange for in-case ventilation to keep the card cool.
As you see, if you are using your computer for non-gaming purposes, or if you are upgrading from an on-board graphics adapter, you will notice the difference this card creates. If you are a serious, hard-core gamer, then probably this is not the article you need to be reading. I recommend these products in their own context, not in comparison with other lower or higher end cards.
This post is part of the series: Graphics Card Review Sampling
A selection of Bright Hub Computer Hardware Channel articles reviewing the top Graphics Cards currently on the market, and how the technology that drives them will develop?