Looks, Features and Configuration of Toshiba Portege R600: The Lightest Ultra Portable Notebook PC
Specifications
Processor: Intel Centrino Core2 Duo SU9400 1.4 GHz
Motherboard: Intel GS45
RAM: 3GB
Hard Drive: 160 GB at 5400 rpm
Graphics Card: Intel Graphics Media Accelerator 4500MHD
Screen: 12.1 inch Trans-reflective widescreen TFT at a resolution of 1280 x 800
Wi-Fi: Yes
Bluetooth: Yes
Web Cam: Yes
Card Reader: Yes
Optical Drive: DVD Super Multi drive
Finger Print Reader: Yes
Weight: 979 grams
Dimensions: 283 x 215.8 x 25.5 mm
Operating System: Windows Vista Business
Price: $2149.00
Looks, Design, Build Quality and Ergonomics (5 out of 5)
The Toshiba Portege gives a new meaning to the phrase ultra portable. The design is elegant and compact, yet taking care of every hardware need. The Toshiba Portege R600 is sleek, thin, and ultra light in weight, and it is one of the most beautifully designed notebooks I have ever seen.
Its shining light silver color can make many of us to turn our heads. The 12.1 inch trans-reflective widescreen lets you see the display in bright surroundings, even in the sunlight. The build quality has improved since its predecessor Portege 500, but being very thin and lightweight, you can sense that it is prone to rough use.
The keyboard with silver keys is well placed and spacious, providing an excellent user interface and easy typing. The keyboard is spill-resistant, so you don't have to worry if you spill your coffee on it. The touchpad is placed at the center below the keyboard with a fingerprint reader placed right in between the right and left touchpad buttons.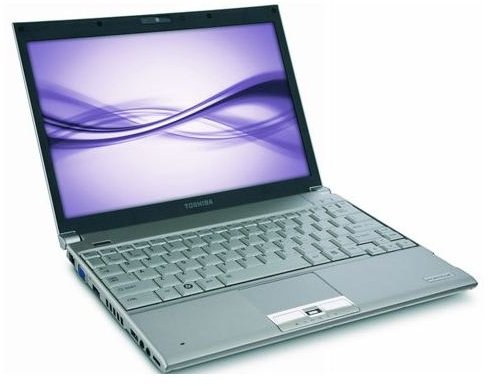 Features and Performance (4 out of 5)
The Intel Centrino Core2 Duo SU9400 processor which sits on the Intel GS45 motherboard might not be the fastest, but it certainly is fast enough to run business applications with ease. This is helped by the bundle of 3GB RAM installed, which makes sure that Windows Vista Business runs smoothly.
The 120 GB solid state hard drive (SSD) is fast and has enough capacity to store a number of applications, games, movies, and other software. The built-in Intel Graphics Media Accelerator 4500MHD gives enough push to the display, enabling the user to play normal games and watch video presentations.
The R600 is very compact and light - still the manufacturers have succeeded in installing an optical drive which can read/write CDs/DVDs and take care of all your media storage needs. This notebook comes integrated with a web cam, a card reader, Wi-Fi, Bluetooth, two USB 2.0 ports, a VGA port, a USB/eSATA combo port and a fingerprint reader.
R600 comes loaded with XOHM and WiMAX, the next generation mobile broadband technology that makes using your broadband connection even faster and easier. It is loaded with a good software suite that includes TPM Software Professional Package, Microsoft Office Ready with Trial Office Professional 2007 (60-day trial), Trusted Platform Module v1.2, Norton Internet Security 2008 (60 day trial), Google Picasa , and the newest versions of Toshiba's software including Recovery Disc Creator, ConfigFree, Disc Creator, Security Assist, Management Console, EasyGuard and PC Health Monitor.
It is equipped with a 6-cell lithium-ion battery which offers good performance and comes with a one year warranty. The new Intel Centrino 2 processor technology helps provide long battery life, up to 6 hours, as claimed by Toshiba.
Along with the device package, you get a battery Charger with Integrated AC Adapter, Toshiba 5-Pocket Ballistic Nylon Carrying Case, and Toshiba Slim Port Replicator II (used to connect to your other appliances and charge your battery). The company offers a 3 year warranty on parts, labor, and AC adapter along with the 1 year warranty on the battery.
Value for Money (2 out of 5)
This ultra lightweight and compact notebook PC doesn't come cheap, and you will have to pay a heavy price of $2149.00 for the configuration described in the specifications section. For the price mentioned above, there are a lot of other options available for a user and I doubt if someone will be brave enough to pay such a heavy price in this global recession.
Conclusion (3 out of 5)
There is no doubt that the Toshiba Portege R600 is the lightest notebook available today and is rich in performance for the configuration it holds. The R600 has a lot of connectivity options, bundled software, a good performance battery, a 3 year warranty, and a compact size, making it an ideal and extremely desirable business notebook. The only real problem is that the price tag associated with this notebook is too large to attract buyers.