Acer TravelMate 4220: Specifications, Looks, Design, Ergonomics, Build Quality, Configuration and Features
Specifications
Processor: Mobile AMD Sempron Processor
RAM installed: 2GB dual-channel DDR2 at 667 MHz, can be upgraded up to 4GB
Hard drive: 60 GB Serial ATA
Graphics Card: ATI Radeon X1250 with 3D acceleration and up to 896 MB of Memory
Operating system: Windows Vista Business/Home Premium/Home Basic or Windows XP Professional (service pack 2)
Source: https://global.acer.com/
Looks, Design, Build Quality, and Ergonomics (5 out of 5)
The Acer TravelMate 4220 can boast of a clean, stylish, yet elegant design and comes out as a thin, lightweight notebook because of its ProFile chassis specially built by Acer for the TravelMate series. Acer claims that this notebook goes through a variety of strict tests during production to provide durable, comfy and long lasting use to its customers.
The body is made from hard plastic which is light in weight but, again, strong enough to sustain any shocks during rough use. This notebook comes in a beautiful and refreshing light silver color having a thin black outline around the 14.1" WXGA widescreen display. Use of the right amount of lighting and buttons adds up to a trendy look for the notebook.
If you look at the black keyboard closely, you will notice that it bends at a small angle, providing better ergonomics than the traditional keyboard. The keys are nicely placed with ample space between them that helps the user to type speedily. The touchpad is quite sensitive with a large click and scroll button providing an easy user interface.
Images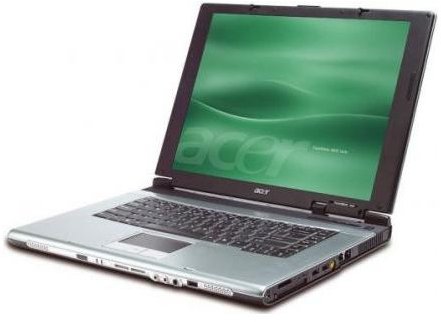 Source: Acer
Configuration and Features (5 out of 5)
The Acer TravelMate comes with a mobile AMD Sempron processor which provides advanced multitasking performance. This machine is equipped with an ATI Radeon X 1250 graphics card which offers 3D acceleration for gaming, graphics applications and business presentations; and it has up to 896 MB of its own internal memory. The user has an option to upgrade to 4GB of RAM which is sufficient enough to run any Windows Vista application.
The SATA hard drive has a storage capacity of 60 GB and is anti-shock protected by Acer's Disk Anti Shock Protection (DASP) which takes care of the hard disk during rough use. The notebook is powered by a DVD combo drive which takes care of all your storage needs.
Being a business notebook, the company has taken due cares to power Acer TravelMate with a wide range of connectivity options, and I think this notebook has the richest connectivity among all other notebooks on the market. It has a 802.11 b/g Wi-Fi, Bluetooth, type2 PC card slot, a 5-in-1 card reader, four USB 2.0 ports, a four pin IEEE 1394 port, an Infrared port, and a VGA out port to connect other displays to the notebook for business presentations.
The TravelMate 4220 has a built-in web camera which uses Acer's PrimaLite technology to provide good video reception even in low light. Operating system options are mentioned in specifications and the user has a variety to choose from. Other than that, the Acer TravelMate 4220 is integrated with lots of features and software that makes handling business more easy and user friendly.
Along with other buttons, you will find some useful keys that make accessing applications easier. Productivity keys provide one-touch accessibility to manage your work more easily. A Lock key locks the system instantly, and the Presentation key enables you to perform business presentations without getting interrupted by screensavers or system notifications. Empowering keys provide easy accessibility by integrating 7 frequently used applications into a single portal. You can effectively back up of all your data to a desired drive with the help of the Sync key.
The one-touch Video conferencing keys enable the user to get in touch with business contacts easily with the help of a web camera and headset. However I was not very impressed with the battery life, and the battery died after 2.5 hours of running heavy applications like 3D games at high resolution. Overall, if we ignore the battery, TravelMate 4220 has a nice configuration and is equipped with loads of features and tools that make it an excellent portable PC for businessmen on the move.
Performance (4 out of 5)
TravelMate 4220 is a good performer and a fast notebook for business people. Loaded with a fast processor and large amount of RAM, this notebook was able to boot within 23.3 seconds, and shutting it down took approximately 11 seconds, which is not bad I suppose. With an option to upgrade RAM to 4 GB, this notebook was able to run multiple applications (normal PC tasks like opening of documents, pictures or running a video file) at the same time.
I was able to play 3D games like Quake 2, Far Cry, and Half Life Counter Strike very easily, and the ATI Radeon graphics card was able to render images, reflections and lightning effects quite impressively. It scored a decent 3208 marks in the PCMark04 benchmark.
However, I was not very much impressed by the battery and it performed poorly. The sound card had a feeble sound output and was not able to produce proper bass, but the sound on headphone was quite impressive. Overall, Acer TravelMate 4220 is a great business notebook.
Value for money (3 out of 5)
Priced approximately $1000, the Acer TravelMate is slightly expensive but looking at the configuration, features and performance, the 4220 is a great option for a business notebook in this range.
Conclusion (4 out of 5)
The Acer TravelMate 4220 is a feature-rich, stylish, elegant, lightweight and clean design notebook specially designed for businessmen who want a good replacement for their desktops. It's equipped with excellent hardware, business software, the latest connectivity features, and it boasts a great performance to go with all that, The TravelMate 4220 is an excellent choice for businessmen who need to stay connected with their colleagues and clients while they are on the move.