Review: HP Pavilion a6532f Desktop PC: A Mainstream Performance PC on a Budget
Looks and Design (5 out of 5)
It seems that HP has succeeded in updating the design of their desktop PCs by giving them a sleeker, more modular, and quite different look from the previous versions. With the Pavilion a6532f, HP has introduced a more refreshing design with hidden connectors and a hidden optical drive that gives it a neat, attractive and appealing look.
The black metallic casing gives a slim and elegant look. At the top of the front panel, you will find a 15-in-1 card reader which has the ability to read and write files from almost every card type. Other than the card reader, the front panel also contains the hidden optical drive and drive bays for future expansion. The front panel has two USB 2.0 ports, microphone and headphone jacks, and an IEEE 1394 port.
The back panel contains PS/2 ports for connecting a keyboard and mouse, VGA out, four more USB 2.0 ports, another IEEE 1394 port, an Ethernet port, and an SPDIF output port. Connections for the speaker system are also provided at the back panel with the facility to connect to the side speaker, rear speaker, center speaker, line-in, line-out, and the microphone.
With a 300 watt power supply and 2 cooling fans at the rear, the casing has two 5.25" bays, out of which one is occupied by the optical drive and the other one is free so that you can install another optical drive in the future, if you want to. The casing also has two 3.5" bays, of which one is free and the other is occupied by a 500 GB SATA hard drive. The front panel also has a slot for installing a proprietary HP "Personal Media" drive.
Images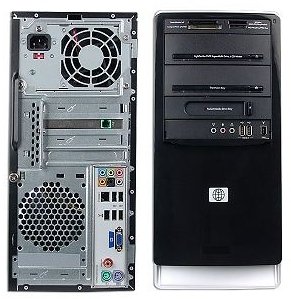 Configuration and features (5 out of 5)
An AMD® Athlon™ 64 X2 (B) 5200+ 2.7 GHz processor capable of performing 2000 MT/s (mega transfers/second) sits on the AM2 socket of the nVidia GeForce 6150SE/nForce 430 motherboard, making this desktop a fast machine to work with. The nVidia chipset motherboard comes with integrated graphics and audio, taking care of graphic needs like games and video editing, and providing high-definition 2.1 channel audio output.
The HP Pavilion a6532f comes pre-installed with 3 GB of DDR2 SD RAM, enough to run Windows Vista's applications and multimedia software with ease. This killer configuration is supported with a 500 GB hard drive running at 7200 rpm, providing a vast storage option to users.
The combo optical drive is capable of reading and writing to both single and double layer CDs/DVDs, as well as "printing" CD covers using HP's LightScribe technology (which involves turning the CD or DVD over and inserting it upside down in the drive to burn the image). The machine also comes with a multimedia keyboard and PS/2 optical mouse.
No monitor or display is added with the device package. For a great value, I would recommend the LG Flatron L245WP monitor (see review here) with a 24" screen to provide stunning effect to your games and movies.
Along with superb hardware, this machine comes equipped with plenty of useful software that makes using this PC a delightful experience from first run. Windows Vista Home Premium 32-bit with Windows Media Centre is preinstalled. Following is the list of software included with the device package: Windows Movie Maker and Windows DVD Maker, CyberLink PowerDVD Suite 5, LightScribe Template Labeler, My HP Games, Muvee autoProducer Basic, Adobe Reader, Microsoft Works 9, Microsoft Office Home and Student Edition 2007 Trial, Norton Internet Security 2008 (60-day security update subscription), and a lot more.
As with other HP products, the computer comes with a one year limited warranty and 24x7 phone and e-mail customer support.
Performance (5 out of 5)
With a configuration that includes a powerful processor, plenty of RAM, and 500 GB of hard drive capacity, the HP Pavilion a6532f desktop PC is really fast and a great performer. The bundled useful software and latest security features included in the device package adds to the performance of this desktop and is very handy for running Windows applications.
If you are planning to buy a desktop PC for general purpose computing, then I think this computer is a great choice. This machine is much faster than many of its competitors in the same price range and is highly recommended.
The integrated graphics card is great for playing normal games, multimedia applications, browsing the Internet, and handling Windows Vista applications with ease, but if you want a desktop for high end games and high resolution video editing you may need to add a more powerful graphics card to PCI slot of the machine.
With two cooling fans at the rear this PC is much cooler than some others. Using AMD's "SpeedSmart" technology that adjusts the fan speeds as needed, the PC hardly makes any noise at all. Overall, be it hardware or software, this machine is fully equipped to easily handle all your normal desktop games, web browsing and general home computing needs.
Value for Money (5 out of 5)
I think HP Pavilion a6532f is the most reasonably priced desktop PC in the "budget desktop performance" segment. With a fast processor and loads of RAM, this feature rich PC is very fairly priced at about USD $339.00.
Conclusion (5 out of 5)
This Desktop Pc has everything a mainstream desktop PC user expects: good looks, a stylish, compact and modern design, ease of us, a fast AMD Athlon processor, a generous amount of RAM, lots of disk storage, good integrated graphics and audio, and, overall, impressive performance to go with it. The best thing I liked about this Pc is its price, as I was unable to find any other PC offering this kind of performance in this price tag. I also could not find anything bad to write about this machine and would highly recommend this desktop to all my readers.
Specifications
Processor: AMD Athlon 64 X2 (B) 5200+ 2.7 GHz (65W)
RAM Installed: 3GB [can be upgraded to 8 GB (4x2GB) for 64-bit OS and 4GB (4x1 GB) for 32-bit OS]
Hard Drive: 500 GB SATA running at 7200 rpm
Graphics Card: Integrated on nVidia GeForce 6150SE nForce 430 Motherboard
Operating System: Windows Vista Home Premium 32-bit