Best Color Laser Printers - Dell 2130cn Printer Review - A High Performance Color Laser Printer at a Reasonable Price
Design & Configuration (4 out of 5)
Whereas high spec color laser printers of yesteryear were only logistically and economically feasible for large workgroups and organizations with heavy duty output requirements, the color laser printers of today have come down so dramatically in price, yet maintained the same high standards of quality, speed and reliability, that they are justifiable expenditures for almost any user market. In this regard, Dell has produced an excellent performance savvy printer, at an affordable price, not just for business, but also for the home user.
Easily affordable for the small and home business market (approx $450), the Dell 2130cn is a solid and reliable printer. With a professional matte black finish, it looks slick and professional, but it is an imposing 'box' style unit, which has a large footprint. However, for all its bulk, the Dell 2130cn delivers excellent results.
The 2130cd has an excellent LCD display for quick configuration and troubleshooting, and the printer driver software is adequate, if a bit over the top for what most end users and workgroups will require. You certainly don't need it all, such is the simple 'plug and play' setup and efficiency of the printer unit itself.
Performance & Reliability (4 out of 5)
The 2130cn utilizes a 400MHz processor and 256MB memory to print at speeds of 20 ppm for mono printing and 16 ppm for color printing (manufacturer's statistical claim) and these certainly appear to be accurate figures, as extensive tests and 'live' use in several locations I have seen have yielded print speeds up and around these marks. These are not consistent figures however, but that is largely due to network traffic as opposed to printer processing power and job handling. When printing full A4 color photographs, you can expect the Dell 2130cn to output copies at around 3.4 ppm.
The Dell 2130cn has a front loading paper tray which has a 250 sheet capacity, and there is an option to add a further tray to expand capacity to 500 sheets. The tray/feed mechanism is reliable and efficient, speed of paper throughput is consistently quick, and the unit is one of the quieter models I have seen in recent times while processing jobs.
Printed output is consistently high in quality (at 600dpi), and it can print at lower dpi settings for draft and low cost output modes. Image transition onto stationery (paper, envelopes, thin cards) is clear and with minimal haze or distortion. Text prints are exceptional, flawlessly crisp and the most complex of photographs print well. There is some fade on the darkest of colors, but as skin tones appear perfectly and as this is not a pure photo printer, it will certainly please most, including the photography enthusiast, if not the expert.
The Dell 2130cn uses four standard cartridges which fit neatly inside the side panel of the unit and are no trouble to remove and replace. The standard black, cyan, magenta and yellow cartridges provide approximately 1,000 pages of print and while the cost of replacing these consumables is not the cheapest, at $55 and $70 for large capacity black and color toners respectively, you can actually get approximately 2,500 pages of output per toner, which is good value when you also factor in how good the quality of print is.
Value for Money & Conclusion (4 out of 5)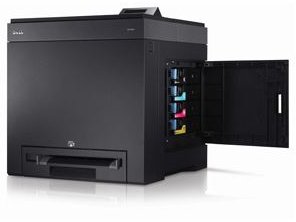 The Dell 2130cn is a very affordable color laser printer, offering dependable performance and reliability, and comes complete with a standard one-year warranty. This price - performance - reliability combination is hard to find in many such color lasers today. With easy to handle network configurability, some excellent feature settings and a vivid LCD, the 2130cn is a most impressive color laser printer.
The 2130cn offers an abundance of 'modes' for flexible printed output, making it a suitable printer for the large workgroup, office or family environment. Just be aware of its size and potential footprint in your office/living space prior to buying this unit as the Dell 2130cn is a bulky printer that will take some positioning for use. That said, this is a very reasonably priced color laser printer. It would be excellent value around the $500 mark, so at sub $450 I find it a very good value. Simply put, this is a durable, reliable, performance printer that delivers exceptional color print quality.