Brother HL-2035 Review - A Top Budget Printer with High Performance, One of the Best Mono Laser Printers
Design & Configuration (4 out of 5)
The Brother HL-2035 is a budget mono laser printer offering superb print quality at an outstanding price. With a solid and compact design, Brother has made a conscious effort here to build a unit that delivers on cost and performance, as opposed to aesthetics and advanced functionality.
In every sense the HL-2035 has been designing to offer hassle-free, budget printing, and as a result this mono laser is nothing sparkling to look at, with its matte gray finish and simple design lines. Visually it reminds me of an old throwback 'slave' printer from the 1980's - just more compact and lightweight (14lb). It is unfair, however, to class the Brother HL-2035 as an 'ugly' printer, as it certainly is not that. And such is its small, simple and compact design, it has a minimal footprint, making it the perfect fit for any environment. Installation and configuration are as simple as plugging in (USB2), loading the toner unit, inserting the CD, and following the onscreen instructions.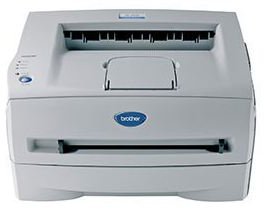 Windows, Mac and Linux compatible, the HL-2035 printer driver software is clear and concise. There is a handy troubleshooting/help application which offers interactive guidance, pitched toward the novice user, as is all the software. Which is to be expected from a printer that offers such simple yet effective, no-nonsense functionality. The HL-2035 also delivers some nice features for multiple document page printing to one sheet, manual duplex, envelope, booklet and watermark printing.
Performance & Reliability (5 out of 5)
As a front loading mono laser printer the HL-2035 provides slick paper handling and job processing. The paper tray has a 240 sheet capacity and is fully covered, thus minimizing mis-feeds and paper jams. Paper handling via the enclosed feeder tray also makes the printer more attractive, with no protruding parts, and as a result makes it a flexible unit to position and maneuver for use. This is a nice touch for such a low cost printer. The toner unit slot is again front loaded, and easy to operate, with simple 'drop and click in place' installation.
As simple and effective a mono laser printer as I have seen in a long time, the HL-2035 delivers immaculate copy (with capability up to 2400 x 600 dpi), making it perfect for simple document management and office based print job requirements, especially where there is a dependency on quick fire text based printing. It flawlessly reproduces during large print jobs, taking around 8 seconds to process the first page in a series/job queue, and in my experience I have yet to see a unit fail due to paper jam or mis-feed. The software and printer setup allow you to print off a quick draft copy at low dpi, and produce exceptional printing when options are set for the highest quality.
The HL-2035 delivers quality mixed content prints at approximately 17 ppm, and 20 ppm of heavy text content, making it a best in class entry for speed at its price. For a printer in the budget range (which tends to be a range synonymous with exorbitant consumable/running costs) the HL-2035 costs only 2.3 cents per sheet, which again is excellent.
Value for Money & Conclusion (4 out of 5)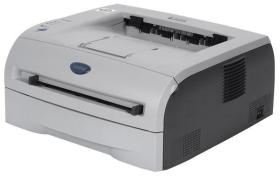 Other than its rather bland and somewhat dated 'blocky' look, I only have a couple of minor gripes with the Brother HL-2035, and neither can really be justified, such is its excellent unit price.
First, the printer does not have an integrated LCD display, which will put off some potential buyers, but this is more personal taste than a generic hindrance, as the HL-2035 isn't a network printer, nor advanced in specification, thus making an LCD a moot point in my opinion. While it does lack an LCD, the HL-2035 has four LEDs which communicate job processing and troubleshoot when attention is required. Second, be aware that the printer itself has a life of around 12,000 pages of output, at which point the manufacturer recommends changing the drum, and for such a budget level printer this is not really cost effective- as a drum alone will cost as much as a new HL-2035 printer.
The HL-2035 comes with a one year on site warranty from the manufacturer.
In all, for anyone with mono laser printing requirements, the HL-2035 is an outstanding new printer model. Print quality, speed and reliability are most impressive. It certainly will not leave you hanging around waiting for jobs to process and at a price of around $100.00, the Brother HL-2035 is excellent value for money. For price to performance, this is one of the best budget mono laser printers on the market today.