NZXT Lexa Blackline Review - Top Gaming Desktop Case?
Looks Fast, Stays Stationary
NZXT has been around for awhile, making cases generally aimed toward the gamer set. This is easy enough to tell, as the intro page to their website features a rendered graphic of one of their cases and a huge, alien viking. This means cases that are meant to catch the eye and give the impression of speed. The NZXT Lexa Blackline is no exception. That said, simply setting out to do something is one thing - actually creating a good product is another. And even if the Lexa Blackline passes an external examination, its internals will also be in question. So, how does the Lexa Blackline stack up?
Style (5 out of 5)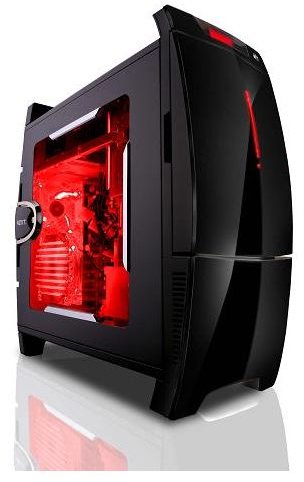 The Lexa Blackline is described by NZXT as having a "menacing Black and Red theme". While I certainly agree that the Lexa Blackline has a black and red theme, menacing is not the word I'd use. Unlike some cases, the Lexa Blackline doesn't look like an alien spaceship, a potential lethal weapon, or an experimental fusion reactor ready to explode. Instead, it simply looks unique. Which is a good thing - many cases which make extensive use of LED lighting and attempt to change the fundamentally boxy design of PC cases end up simply looking like the computer equivalent of a 10-dollar spoiler on a Honda Civic, but the Lexa Blackline maintains its composure.
From any angle, this case has plenty of curves. At both the front and the back, the case arches elegantly outward, striking a profile that could easily be used as the blueprint for a Museum of Modern Art. The red LED lighting inside the case comes courtesy of the included case fans, and while red is certainly not a soothing color, the relatively subdued brightness of these lights makes the case attractive, but not blinding. Around the front, a door conceals the 5.25" external bays, while the power button and included LED temperature display fit flush with the case surface. The result is a case which is distinctly unique, but not overwhelming. Sure, the inclusion of LED lighting would make this a very poor choice for a HTPC or a PC kept in a bedroom, but gamers will absolutely love it. It is one of the few cases that provides undeniable flash, but doesn't assault the eyes like a full-on supernova.
Build Quality (1 out of 5)
Unfortunately, the beauty of the Lexa Blackline begins to spoil once you touch it. It is not surprising that a case with this sort of profile and price would use a great deal of plastic, but as Antec has provided many times, not all plastics are equal. The Lexa Blackline feels flimsy from the first touch, and should you attempt to pick it up, you may immediately halt due to the feeling that the case is about to burst apart at the seams. This feeling comes from cheap anchors - simply plastic pop-ins - used at the front of the case. Simply picking up the case isn't the only risk, either, as the way the case's feet are put together is also very flimsy. When scooting the case from on spot to another across a carpet, one of the plastic feet broke, leaving me with a floppy, cracked piece of plastic on the lower right of my case. I've had dollar store action figures which felt more durable.
The metal bits aren't much better. Yes, they're absolutely serviceable. Inside the plastic shell is an aluminum case mostly devoid of sharp edges and offering a fair amount of room. But that said, the Lexa Blackline is not priced or marketed as a bottom-of-the-barrel case. There is nothing about the construction of this case which makes it seem any more durable that the standard husk delivered with a new Dell or HP computer, which means that the Lexa Blackline is far worse than its competitors. In fact, the Lexa Blackline's hull doesn't even stand up well against bargain-priced gamer cases like Coolermaster's Centurion or Antec's Three Hundred.
Internal Design and Cooling (4 out of 5)
I did appreciate the way the internals were set up, as the hard drive bays are tool-less and oriented to face the left side of the case. This makes adding hard drives very simple. The motherboard bay isn't bad either. There is ample room inside for large video cards,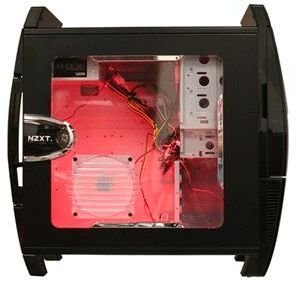 something which cannot be said for all cases in this price range, including cases from typically superior competitors, like Antec, Lian-LI, and Coolermaster. There is also nothing in the way of a reinforcing bar or other structural support cutting across the middle of the case. This may reduce durability, but I wasn't planning on dropping it down a flight of stairs anyway.
Cooling in the Lexa Blackline can be described as perfectly adequate. The case comes standard with a front fan, a side fan, a rear fan, and even a small top fan. The location of the fans indicates that there wasn't a great deal of thought put into the overall airflow of the case - the top fan, for example, is a tiny 80mm model which is not close to any major sources of heat - but considering the cases' size, and the fact that all of these fans come standard with the case, heat will probably never be a concern.
The Kit and Price (2 out of 5)
The Lexa Blackline has a few extras worth noting. For one, its tool-less design, while simplistic and perhaps even flimsy, is extremely easy and truly tool-less. Installing drives and even video cards will not require tools of any kind, except for unscrewing the rear screws keeping the case door attached. There are plenty of cases in this price range - most, in fact - which claim to be tool-less but in fact require screws for securing drives once installed, so the ease of sliding drives into and out of the Lexa Blackline is appreciated. The Lexa Blackline also includes a LED temperature display, which reads temperatures based on several sensors that can be placed at different points inside the case. As a piece of bling, it works very well, but as a method for determining the temperature inside your case, it is poor. The sensors are difficult to attach, and won't read much besides the general case temperature near a certain component.
When it comes to price, the Lexa Blackline generally floats around the $100 dollar mark. That isn't a good value. At that price the Lexa Blackline very nearly costs as much as the Antec 900 and costs more than entry level Lian-Li cases.
Verdict
Overall, the Lexa Blackline is a downer. Despite its good looks, the build quality is hopeless. Cheap plastics and metals are everywhere. The Lexa Blackline does come with 4 fans, but those fans aren't placed in particularly good spots. And it does come with a temperature sensor, but that sensor is useless for anything besides looking flashy. The completely tool-less design is a high point, but there are some cases that offer similar features, and besides, it isn't enough to redeem this otherwise unremarkable product. If you're looking for a gamer's case priced around $100 dollars, go check out cases from Antec, Lian-Li, and other major brand names. This beautiful but shallow NZXT case isn't worth your money.