A Review of Tagan TG1300-BZ: Power in your hands
Introduction
If you are a PC enthusiast and you wish to add a classy touch to your multi-design and illuminated cabinets and at the same time want to satisfy its power hungry internal peripherals, and then this little monster is built especially for you.
Build Quality and Features (4 out of 5)
The Tagan TG1300-BZ has black anti-scratch painted chassis and has a modular design which is built with patented 'Pipe Rock' connectors that have to be screwed in to the unit when needed.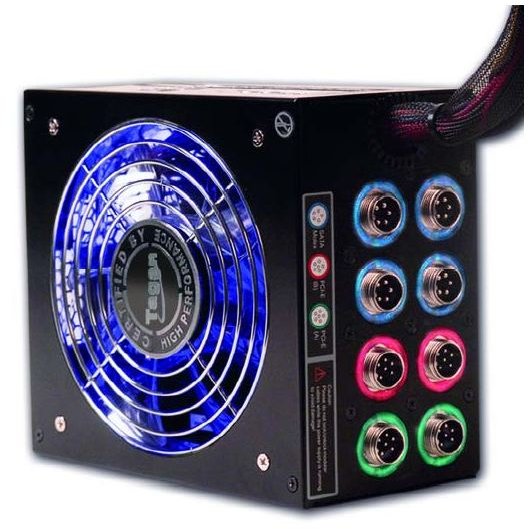 This PSU can support graphics cards in three-way SLI or Quad CrossFireX with great comfort and is best when used in extreme high-end servers and powerful gaming rigs. The Tagan TG1300-BZ PSU is an ultimate power source which is sufficient enough for the most powerful workstation that has been built till date. The TG1300-BZ PSU is just a 200 watts upgrade to its predecessor Tagan BZ1100. Whenever an output cable is connected, the connector end on the PSU illuminates in red, blue or green color indicating proper connectivity. Each cable connector is different from the other, in order to avoid confusion and wrong connections. This product is bundled with a nylon bag which contains one screw driver, a pair of gloves, screws, a power cord, video straps, FDD y-cables (power), four SATA-to-Molex converters and a rubber gasket to reduce noise due to vibration. The unused modular cables can be safely stored in the bag. The bundled gloves are used as anti static protection when handling the power supply unit or while assembling the delicate components of your computer. This PSU is environment friendly and has up to 80% of efficiency and perfect for high end power demands. The connecters are gold plated and it also has a cooling fan which is thematically controlled.
Value for money (3 out of 5)
Priced at USD 322.49, this PSU is very expensive and out of the reach for most of us. So this PSU is not for budget gamers, but for professionals who can spend that kind of money.
Conclusion (4 out of 5)
This PSU is specially designed for all those people out there who demand sheer power for using high end hardware, extreme gaming and high end server / workstations. It has modular design, high power rating, but is very expensive. Overall, it's a must-have for all game lovers and high end users but not for budget PC enthusiasts.
Specifications
Maximum Power: 1300W
Output voltage and current rating: +3.3V (24A), +5V (30A), +12V (80A) (6 Rails), -12V (1A), +5VSB (6A)
Connectors: 1 x 20+4 main, 1 x 12V (4·pin) & 1 x 12V (8-pin), 2 x PCI-E (6Pin), 2 x PCI-E (6+2Pin), 12 x SATA, 6 x Molex.
This post is part of the series: New Hardware on the Block
A brief review and verdict for newly launched hardware products and technology gadgets. I try to find hardware that gives full value for money and also scores high in Features and Performance. Overall, it's a guide for all those people who want to know what to buy, how to buy, and where to buy.