A Review of Zotac Nitro: GPU Clocking Controller
Introduction
Only a few people know that graphics cards have the potential to deliver better performance than what you get with the standard device configuration. That's the reason why manufacturers are able to offer factory­ over-clocked graphics cards. Here is where the graphics over-clocking controller comes into the picture. The Zotac Nitro CPU Clocking Controller is an over clocking device that enables the user to over clock the GPU to get much better results out of it. However, you can also unleash the hidden potential of your graphics card by using utilities such as RivaTuner to ramp the core and memory speeds, but you run into a risk of frying your GPU if you don't know its peak limits. Keeping these factors in mind Zotac has launched an external (connected through USB) GPU over clocking device exclusively for their range of Nvidia graphics cards.
Build Quality, Features and Performance (4 out of 5)
My first impression of Zotac Nitro was that it looked more like a handheld gaming device. It has a glossy deep yellowish orange shell that blends with the color theme of Zotac's product line and has a 3.7-inch Vacuum Fluorescent Display (VFD).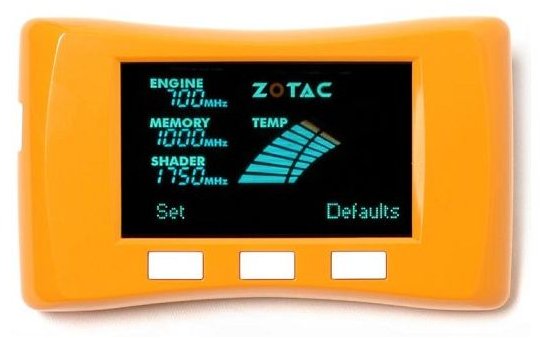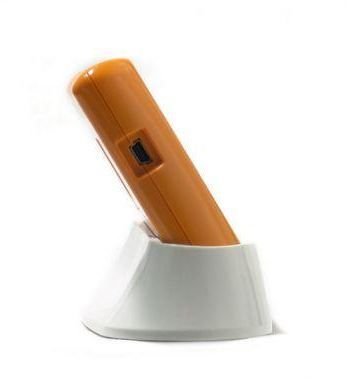 A USB cable is used to connect the device to your PC. The left section of the display indicates the GPU's core, memory and shader speeds, while the right section displays graphs for GPU temperature and fan speed. The package includes a mini-USB cable and a glossy white stand. To use the device you first have to install the bundled utility software called Zotac Firestorm which allows you to manipulate the GPU's core, memory, shader and fan speeds. As soon as you connect Nitro to the USB port, it acts as an external interface for Firestorm; also Nitro springs into action only when Firestorm is running. There are three white buttons at the bottom of the screen: Set, Profiles and Defaults. The Set button cycles between GPU's core, memory, shader and fan speeds, enabling one to change the values at will. You can also save profiles or load default values at the press of a button. I tried over-clocking the Zotac 9500 GT with this device and it was a piece of cake. Firestorm takes care of the peak limits of the installed hardware, making sure that the over-clocking is done safely, leaving you least worried for your hardware. Using the Zotac Nitro to over-clock your GPU does not void its guarantee. The only drawback of this fabulous product is that it only works with the Zotac graphics cards and not with cards of other manufacturers.
Value for Money (3 out of 5)
Priced at UK £ 87.39, this device is quite expensive, but if you are an avid gamer you wouldn't mind spending this kind of money looking at the boost it is going to give to your games.
Conclusion (4 out of 5)
GPU over clocking can't get easier than this. I hope that in the future Zotac designs a GPU controller that can be used to over-clock GPU's other than the ones made by the Zotac itself. Otherwise, this device does exactly what it is made for and is a must-have for every gaming enthusiast.
Specifications
Dimensions (W x H x D): 137 x 82 x 23 (only device)
Weight: 355 grams (with stand)
Interface: USB 2.0,
Display: 94 mm Vacuum Fluorescent Display (VFD).
Warranty: 5 years (3 years via extension)
This post is part of the series: New Hardware on the Block
A brief review and verdict for newly launched hardware products and technology gadgets. I try to find hardware that gives full value for money and also scores high in Features and Performance. Overall, it's a guide for all those people who want to know what to buy, how to buy, and where to buy.