Logitech Pure-Fi Mobile Speaker System: Music Mobility and Versatility
Introduction
In today's world of portable gadgets more and more people are using Bluetooth enabled phones to listen to their music and watch their videos. Logitech, a company famous for producing input devices like mice and keyboards, is attempting to capture this imagination of users who want a compact and sleek solution to everything. The company has launched Logitech Pure-Fi Mobile, a versatile speaker system that enables mobile users to listen to their music while they are on the move.
Features, Build Quality and Performance (4 out of 5)
The all new Pure-Fi Mobile is Logitech's new kid on the block in its portable wireless range. The first looks will make you think that this sleek gizmo is nothing but a small black metal brick, but the controls on top will knock your socks off. Built-in Bluetooth adapter, sound card and 3.5 mm line-in jack make this device both versatile and mobile. The Pure-Fi Mobile looks classy, sporting with the all-black shell with silver accents which makes it pleasing to the eyes. The device has a glossy front panel and houses four 2-inch speakers, out of which two are active and two are passive. The active ones are meant for delivering treble and vocals, while the passive ones are meant for delivering quality bass.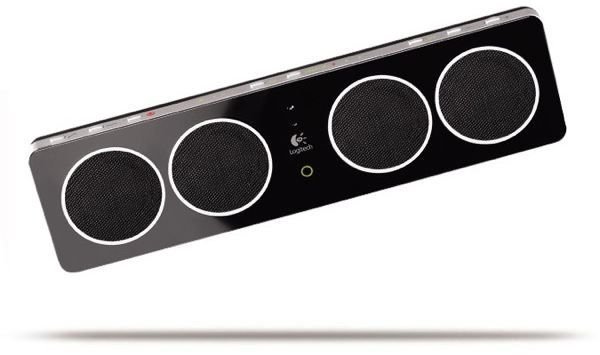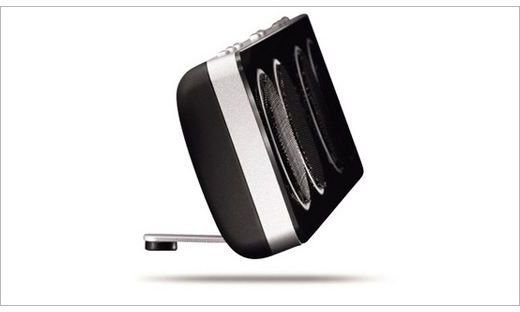 This mobile speaker system is quite aboveboard to use all the controls which are very neatly arranged at the top. The first three buttons (call-accept, call-reject and mute) allow you to use this device as a speakerphone after you synchronize it with your cell phone. Also, there are two microphones at the center, one for picking up vocal niceties and the other for blocking unwanted background noise. The Source button allows you to switch between Bluetooth (A2DP), USB and line-in. So if your cell phone is Bluetooth enabled and supports A2DP, you can stream music wirelessly over a range of 33 feet. This speaker system is compatible with Windows and Mac OS. The Pure-Fi Mobile is also an ideal substitute for laptop speakers and can also playback audio from MP3 players via the 3.5 mm line-in jack. Logitech boasts that when fully charged, the built-in Lithium-ion battery lasts for 12 hours. The performance depends on the music genre and was not at all bad overlooking the mobility of the speakers. But these speakers couldn't handle the bass very well and jazz and hip-hop lovers will be a little disappointed. These speakers might be wireless enabling the user to carry it at their will, but the overall sound quality via the Bluetooth is not up to the mark as there's a lot of hissing in the background which spoils all the fun.
Value for money (3 out of 5)
Logitech has decided to price this gadget at USD 127.49, which is quite a lot considering a speaker system of this caliber. But most of the people will buy this gizmo for its looks and versatility.
Conclusion (4 out of 5)
Despite having a major drawback of poor audio quality over Bluetooth, this speaker system still has a lot of potential. If someone wants to buy a versatile and stylish portable speaker system which is very easy to use and can be carried along anywhere, this one is just the right choice.
Specifications
Dimensions (W x H x D): 277 x 72 x 28 mm
Weight: 460 grams
Wireless connectivity: yes
Bluetooth connectivity: yes
USB connectivity: yes
Range: Up to 33 feet
Battery life: 12 hours
This post is part of the series: New Hardware on the Block
A brief review and verdict for newly launched hardware products and technology gadgets. I try to find hardware that gives full value for money and also scores high in Features and Performance. Overall, it's a guide for all those people who want to know what to buy, how to buy, and where to buy.