SteelSeries Ikari Laser Mouse Review - Best Gaming Mouse
Styling, Feel, and Build Quality (5 out of 5)
When I ripped open the packaging and got this baby into my hands my first thought was… flimsy. It is incredibly light with buttons that take nothing more than a tiny twitch to press. After using it for about a week though, I'm convinced this was a purposeful design that is actually quite effective, and can honestly say that the build quality is superb. This mouse varies in shape from most others that I have used. Instead of featuring an extensive rest for your thumb, it sports a sleek, well shaped shelf for your ring and pinky fingers to grip, freeing up your thumb to work the two thumb-buttons more easily. The slip pads on the bottom are incredibly smooth, and this mouse just glides across a mouse pad like it's on air.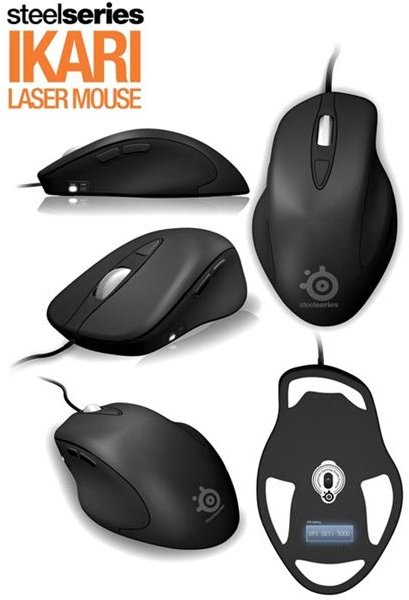 Like I mentioned before, the buttons only take the slightest twitch to press. Once you get use to it, it is incredible how quickly you can respond, especially when gaming. This mouse is amazing for Real Time Strategy games and First Person Shooters.
The SteelSeries Ikari Laser Mouse only comes wired and USB, with an approximately 5 foot cord wrapped in a cloth mesh.
Setup and Usage (5 out of 5)
The SteelSeries Ikari Laser Mouse comes with a CD for setup, but works with plug-n-play right out of the box. The CD includes utilities for setting up the extra buttons, creating macros, and setting up dual-speed profiles, as well as other things. It is very straight-forward and self-explanatory.
Performance and Quality (5 out of 5)
This is a very high quality mouse that was clearly built with the devout gamer in mind, though it would work well for anyone. SteelSeries opted for a wired USB interface to negate latency and eliminate the aggrivation of failing batteries and inadequite wireless connections. Using the included utilities, you can drastically change the speed at which the mouse moves to suit your personal preferance. The supported range is broad enough to meet the expectations of anyone. After a week of intensive use, I havn't had a single hickup or complaint. This mouse is truly excellent.
Special Features (5 out of 5)
At first glance, the SteelSeries Ikari Laser Mouse looks plain, but this appearance belies a stunning array of special features. Equipped with 6 customizable buttons and a mouse wheel along with top of the line sensors, this mouse not only matches, but surpasses its competition. The macro utility allows the user to setup long macro chains using both keyboard and mouse with timed delay between each stage - a very advanced utility that can automate a lot of mundane tasks.
As mentioned above, you can set up multiple profiles for dictating the speed at which the mouse moves across the screen. Each profile can contain two speed settings that are swapped by pressing the button located behind the mouse wheel. The current profile's name is displayed on a small LCD on the bottom of the mouse.
Overall Rating (5 out of 5)
This mouse has everything an avid gamer could possibly want. In my book, it scores a full 5 out of 5 in every aspect - something that no other product has ever done. If I were to make one complaint, it would be that the mouse wheel doesn't scroll endlessly like my Logitech MX Revolution's does. On the whole, though, I believe the SteelSeries Ikari Laser gaming mouse to be one of the best on the market - and for a fair price: 60-80 USD.
Visit SteelSeries Ikari Laser Mouse Information Page for more information on this incredible gaming device.
You can purchase the SteelSeries Ikari Laser Mouse from Newegg.com for 69.99 USD.