A Review of the HP TouchSmart IQ508d: A window into the Future of Desktops
Introduction
HP launches its next generation touchscreen desktop series keeping total compatibility and a wire-free design in mind. Let us have a brief look at this new desktop in the TouchSmart series and see what it has to offer.
Build Quality (4 out of 5)
The IQ508d has a lustrous black body which is just 3 inches wide with a small footprint on it. The machine looks stylish, and HP has put a lot of effort into trying to economize desktop space by integrating the cabinet behind the moni­tor itself, so you will see no wires or bulky cabinet with this system.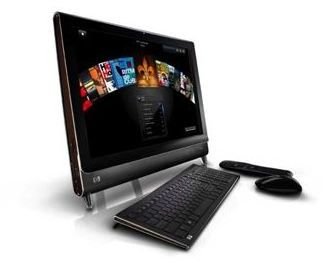 The optical drive and ports are placed on the sides, showing a neatly designed system with a classy look. The machine consists of a 22-inch LCD panel having a resolution of 1680 x 1050 pixels which is touch sensitive, hence the name TouchSmart. It also supports Multi-Touch and is quite responsive, but it lacks precision which makes it difficult to work on smaller functions like pop-up messages and notifications. Also the screen picks up smudges, so be pre­pared to clean it regularly.
Ease of Use (4 out of 5)
The system comes with an integrated Windows Vista Home Premium package, making it child's play to set up the monitor and other peripherals of the machine.
Configuration, Features, and Performance (3 out of 5)
The HP TouchSmart IQ508d uses an Intel C2D T5850 2.16 GHz processor with an Intel Mobile GM965 Express chipset which is placed on a Pegatron Eve motherboard. The system memory consists of 4G DDR2 at 668 MHz which provides enough of a performance boost needed by the machine. The machine has an Nvidia 9300M GS 256MB Graphics Card and 500 GB of hard drive space.
IQ508d comes with the Windows Vista Home Premium operating system preloaded and several other applications including HP's support software. The ability of the machine to play videos, skip through movie clips, and zoom in and out of photos makes multimedia great fun on this PC. Watching TV is a pleasurable experience as switching between channels can be done with on-screen finger gestures.
This PC has onboard Bluetooth and Wi-Fi, which is something you won't find in most of the traditional desktops. However HP spoils the whole wire-free design by bundling a big and bulky power adapter with it. An onboard power supply could have been provided with the system which would have significantly enhanced its space saver design.
The touch screen is the main input device along with a wireless mouse and key­board which are not very good in terms of ergonomics, but are otherwise quite responsive. You won't be disappointed by the performance of the mouse and the keyboard for games and chatting.
As mentioned above, this PC has 4 GB of DDR2 RAM, which allows it to handle several applications at the same time without affecting system performance. It comes with a 7200 rpm 500GB hard drive to store all your favorite music, videos, or anything you wish and will keep you satis­fied for a while.
However, this machine showed low performance considering it as a Media Center PC, which is conceivable given the fact that it has a Mobile processor (for keep­ing its power consumption and heat output levels low) and not a Desktop processor. As far as graphics perform­ance is concerned, it may not be the best in league, but still it performed well in the 3DMark 05 scoring a total of 3342 points, and a maximum frame rate of 147 in Far Cry at a resolution of 800 x 600.
Although this is not a gaming machine, it will not dis­appoint you if you plan to try your hands on a game or two. The IQ580d has 4 watt speakers onboard, which while a little low on bass, per­formed well at different vol­ume levels and was loud and clear. The machine has an onboard sound card - the Sound Max HD Integrated Digital audio controller that supports 5.1 channel sound outputs. This machine does not have multi channel 3.5 mm connectors, and it can only be connected to a home theater system via SPDIF or an optical connector
Value for Money (3 out of 5)
The HP Touchsmart IQ508d is priced at USD 1759.95, which is quite high. Most traditional desktops with more powerful configurations are priced much less than the IQ508d. So, unless you want to have every­thing on a big touch-sensi­tive screen and embrace a new concept, it's not worth spending that kind of money for this PC.
Conclusion (3 out of 5)
The IQ508d makes computing more interactive and interesting, and it seems to be the future of all desktop PCs. Any PC enthusiast will tend to drool over its sleek, compact and stylish body, but its high price tag might prevent most of them from considering this as a viable purchase. Overall, if you have that kind of money to spend, then it's not a bad choice at all, but for the rest of us, it will be just another wish-list item.
This post is part of the series: New Hardware on the Block
A brief review and verdict for newly launched hardware products and technology gadgets. I try to find hardware that gives full value for money and also scores high in Features and Performance. Overall, it's a guide for all those people who want to know what to buy, how to buy, and where to buy.