A Review of Altec Lansing FX3022: Twin towers of Auditory Sensation
Introduction
Altec Lansing has earned quite a name as a trusted brand. The all new Altec Lansing FX3022 set of speakers has one of the unique designs I have come across. This set is also unique for another reason: It has down firing woofer units at the bottom of both speakers. Altec Lansing claims that this can create double the bass in half the space. I tested these speakers to find out how genuine these claims were.
Build Quality and Looks (4 out of 5)
The FX3022 give resemblance of two black towers standing tall on your desk. The speakers are lustrous and have a jutting cylin­der-like shape.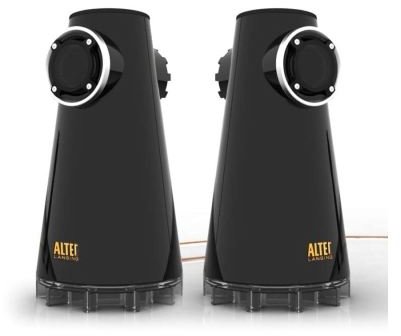 There is no separate woofer unit with the device (woofers are inbuilt in both the speakers). Also, the device package does not include a remote control, and the On/Off switch along with the volume buttons are placed on the top of one of the speakers. FX3022 also has an AUX IN jack for connecting CD/DVD and MP3 players. Overall, the looks are very pleasing to the eyes.
Features and Performance (3 out of 5)
I turned on the speakers to test if they were any good. My first impression was that they aren't very loud but if you need a decent set of speaker on your desk, it's more than enough. The bass couldn't impress me the way I had thought it would; rather I was a little disappointed. Another observation I made was that the down firing bass units required a solid surface to sit on and can be kept on the ground but then you need to be sit­ting at the same level to lis­ten to them. This 25 watts speaker set has a frequency range that starts from 40 Hz which is a little higher than most speakers available in markets today. Also, the higher ­end range is crested to around 16 KHz. I was unable to find any extreme low bass and you can say it is almost non-exis­tent in these speakers. The only bass you get is from the harder drums and that too is absorbed by the table. Although, the other frequencies sound alright and I couldn't find any dis­tortion at all even with the volume set to maximum. The only shrill distortion that I could hear was with songs having high pitched vocals. Otherwise, the sound is very bright and detailed.
Value for money (3 out of 5)
For a speaker set without a dedicated subwoofer, the price of USD 214.95 is quite a lot. The old Altec Lansing MX5021 is a better choice as it is a lot more powerful and better sound­ing set of speakers, and quite fairly priced too.
Conclusion (3 out of 5)
Don't expect ground rumbling power, but if you want to have something that looks out of the world and makes your desk look ravishing and picturesque, then the FX3022 is a good choice.
This post is part of the series: New Hardware on the Block
A brief review and verdict for newly launched hardware products and technology gadgets. I try to find hardware that gives full value for money and also scores high in Features and Performance. Overall, it's a guide for all those people who want to know what to buy, how to buy, and where to buy.