A Review of Corsair Voyager GT 16GB: The Fast and the Furious
Introduction
Corsair drives are excellent products trusted by millions and it is the leading flash drive manufacturer. The company began producing flash drives with its series called Flash Voyager and quickly expanded into their Flash Voyager GT, Flash Survivor GT, and Flash PadLock series. Now the Company has launched a new member, Corsair Voyager GT 16GB in their well established Flash Voyager GT series. Let us find out what this drive has to offer.
Build Quality (4 out of 5)
The Corsair Voyager GT 16GB comes in a beautiful blend of black and red color with its name written on one side and Corsair's website address on the other. The cap bears the logo of the company and at bottom of the drive, and on the opposite side of the cap is a LED that flashes when drive is in use.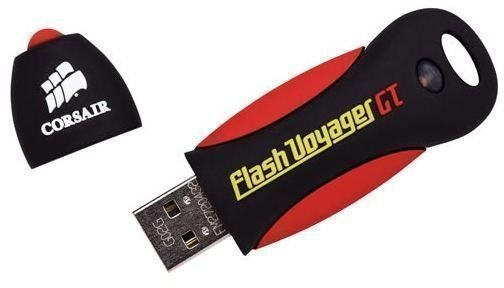 The dimensions of the drive are 72mm x 22mm x 12 mm and it weighs about 16 grams. Like some of its competitors this drive also comes in a rubber shell body with a cap that fits on the USB dongle when the drive is not in use, which makes it waterproof and shockproof.
Features and Performance (4 out of 5)
The device package includes an USB extension cable so that you don't have to plug the drive at the back of your PC cabinet. I used SiSoft Sandra and HD Tach benchmarks to test the drive and was pretty much impressed with its performance. SiSoft Sandra recorded a drive index score of 30MB/s and random access time was a minimal 1ms. HD Tach recorded an average read speed of 31.1 MB/s and an average write speed of 14.4 MB/s, both of which are reasonably great for a flash drive. The drive showed a maximum burst speed of 33 MB/s, which also was pretty impressive. I now took a 1 GB movie file and copied it to the drive and then back to the source. The file was copied to the drive in just a minute three seconds and was copied back to the source in just 30 seconds. Then I took a 3 GB file which was copied to the source in 1 minute 46 sec­onds. The write speed for 3 GB file was a bit slower as expected. When I tried writing multiple files of 3 GB to the drive the results were not so great and the drive took 8 minutes 59 seconds to transfer the data.
Value for money (5 out of 5)
This drive is priced at 40 USD, which in my eyes is a reasonably fair price looking at the performance and the uncompromising build quality that you get with the device. Overall, it is a very reasonably priced gadget that gives full value for your hard earned money.
Conclusion (5 out of 5)
Great performances, excellent build quality and value for money places the Corsair Voyager GT 16GB way ahead of its competitors. If you are planning to buy a flash drive, I would highly recommend this one. Go for it - you won't regret it.
This post is part of the series: New Hardware on the Block
A brief review and verdict for newly launched hardware products and technology gadgets. I try to find hardware that gives full value for money and also scores high in Features and Performance. Overall, it's a guide for all those people who want to know what to buy, how to buy, and where to buy.