The Best Gaming Case around: Antec 1200
Introduction
Like its predecessor the Antec 900, the 1200 too is designed for hard core gamers and server machines. However, it is even more powerful than its predecessor, making it much more baronial. Antec 1200 represents a superb feature set and heat dissipation. Let's find out whether it lives up to the image.
Features (5 out of 5)
Antec 1200 has plenty of room for air circulation, thanks to the seven fans installed in the cabinet. Along with a big 200 mm fan on top, two 120 mm fans in the back blow hot air out of the case. Knobs at the rear of the machine control their speeds. For fresh-air intake, the front panel houses three 120 mm fans which are equipped with air filters.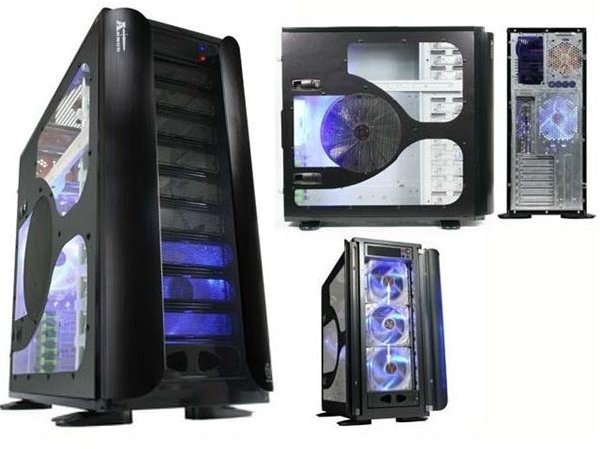 These fans too have controllers that are placed on the front panel of the case. There is also a provision to install an inlet fan as well at the transparent sides cover. There are three 5.25-inch external bays, nine 3.5-inch internal bays, and one 3.5-inch external bay. The vacant 5.25-inch bays at the top are used for installing optical drives. However if you decide to install more optical drives, at least one of the fans needs to be sacrificed. There are nine expansion slots and the casing also has a provision for water cooling, if you need that in future. The front panel has an eSATA port and two USB ports, and audio jacks as well. If you have a number of hard drives and an extra graphics card as well, it's advisable to install at least an 800 or 1000 Watt Power Supply Unit. Because of its inverted design the PSU rests at the bottom of the case.
Build quality (4 out of 5)
Antec 1200 possess staggering build quality and design with a jet black body and matt finish, and the fans make it look like a modified battle tank. This casing is much more attractive than its predecessor, the Antec 900, so the image of an imposing elder brother is quite justified. This case weighs about 14.5kg/30lb (you can imagine how bulky it is) and its dimensions are, 513 x 213 x 582 mm. The heavy metal gauge guarantees better stability and durability. The plastic used is of top notch quality. For ease of use, Power buttons, Reset buttons and ports are very well placed. Besides, cable management is a treat, because the cables hide behind the motherboard chassis and do not interfere with parts. Installing the hard drives and other components is made convenient by the thumb screws.
Value for money (3 out of 5)
We do have a bit of an issue as far as the price is concerned, which is too high at US $ 210, otherwise Antec 1200 is a performer and a well built case capable of handling extreme hardware needs.
Where to buy:
https://www.antec.com/Detail.bok?no=614
Conclusion (5 out of 5)
Excellent cooling environment, ample room for high end hardware, top notch build quality and design makes Antec 1200 a gamer's delight. But due to a slightly high price (which becomes a second factor if you want that kind of casing for your machine), only a gaming enthusiast who has a high-end rig would opt for this case. Otherwise this cabinet scores a five out of five.
This post is part of the series: New Hardware on the Block
A brief review and verdict for newly launched hardware products and technology gadgets. I try to find hardware that gives full value for money and also scores high in Features and Performance. Overall, it's a guide for all those people who want to know what to buy, how to buy, and where to buy.