A Review of Dell XPS M1730 Gaming laptop; An Item of Desire
Introduction
I would use a simple tagline for this notebook; large and lovely. Massively built but rich in graphics and performance, this Dell laptop proves to be a desirable product but is in the reach of only a lucky few because of its price. Let us explore the features of this Gaming notebook.
Build Quality (3 out of 5)
Apart from it's stupendous mass, XPS M1730 is quite a look­er. With a solid body that has a mock carbon fiber fin­ish and solid build quality all around, you can be sure that you are buying a long lasting product. It is 406mm long, 302.6mm wide and 50.7mm thick and weighs about 4.81 KGs. It comes in vibrant colours.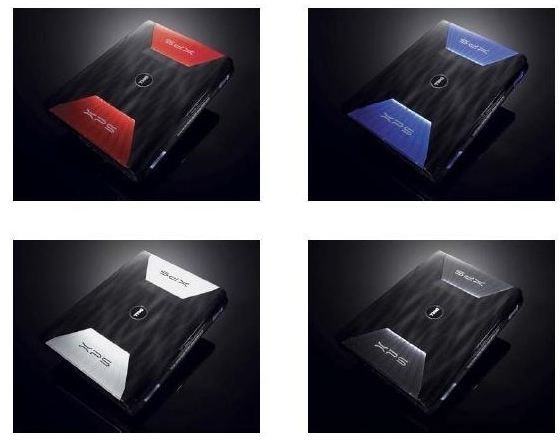 The key­pad is very well laid although you won't realize that immediately, but it becomes more evident once you spend some time using it. Nice keypad feedback and potentially good ergonomics. The screen is crisp and has cracking viewing angles, a resolution of 1920 x 1200 pixels may be consid­ered too high for a 17­inch screen, but all the respect for the fact that this was a necessi­ty for a gaming notebook.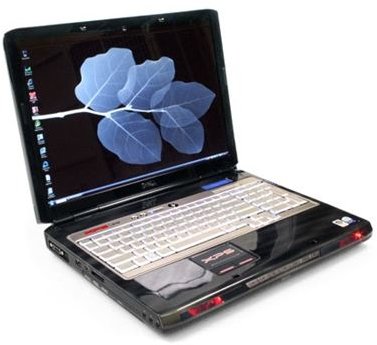 Large and blue backlit, chromed multimedia buttons at the front give a beautiful look to the notebook and also makes it possible to use it in the dark. Bluetooth and Wi-Fi can be switched on with a well posi­tioned switch which is very thoughtful of Dell. Four USB ports will be enough for almost all usage scenarios. The palm rest is nice and large. The sunken but sensitive track pad works well. There is a small mono­chrome LCD display below the right hinge that works like a small status display showing parameters like time, CPU and memory utilization. Overall a bulky but well built laptop.
Features (5 out of 5)
This machine is powered by one of the most powerful processors, an X9000 Core 2 Extreme Edition CPU that runs at 2.8 GHz with 800 MHz FSB and 6M L2 cache, enabling it to possess enough processing grunt to handle nearly anything you can throw at it. The con­figuration is bundled with 4 GB of DDR2, 667 MHz RAM and has two NVIDIA GeForce 8800 GTX graphics cards in SLI slot, plus high definition audio 2.0. Besides it is equipped with RAID Protection: 640GB (2x320GB) 7200RPM hard drive. With such compo­nents it is obvious that this notebook produces a lot of heat and the rear portion gets very hot, but it has large vent with Finns that dissipates all the heat and prevents the Palm rest from heating at all. It has an 8x CD/DVD burner (DVD+/-RW/+R) with a Dual-Layer optical drive, an Intel 4965 Next-Gen Wireless-N, a Bluetooth and a 8-in-1 Media Card Reader. With such a configuration, it's no surprise that the primary 9 cell Lithium Ion battery needs charging all the time (despite having a backup battery). Dell adds an extra 10-key numeric keypad (supposed to be very handy for controlling games) next to the full-size keyboard. Above the keyboard there is an extra button to launch Dell's MediaDirect software, which enables user to play CDs/DVDs and access other media files without switching ON the system. Now that is something extra coming your way.
Performance (4 out of 5)
Dell has attempted to achieve the fastest mobile graphics solu­tion by producing this laptop, and I must say that the company has succeeded in this attempt. M1730 surely is the most powerful portable machine as far as graphics and performance is concerned. M1730 was tested with a plethora of benchmarks and here are the results: XPS 1730 scores more than the average gam­ing PC with a 12735, in 3D Mark 2006. Its hard drive index of 50 MB/s is also better than the aver­age notebook (these scores usually do not exceed 40 MB/s); It does very well at gaming and multimedia applications, also internet browsing is fast. However, besides its pricing there are other flaws; the BluRay doesn't run on battery power, and the battery life isn't that great.
Operating system (4 out of 5)
Windows Vista Home Premium Edition with SP1
Warranty (3 out of 5)
Dell covers the XPS M1730 with a one-year warranty, which provides free parts and labor with on-site service. This can be upgraded to two years by paying $199 extra to the company, while three years cost $299.
Value for Money (3 out of 5)
CPU alone costs one third of the total price of the machine. This notebook is priced at US $2999, which is defi­nitely very high. You could assemble a PC that's thrice as powerful for the same price, but if you want a laptop that has that kind of performance, you have to pay the price.
Conclusion (4 out of 5)
Being rich in configuration, M1730 does well in performance too. It truly is a gamer's laptop and only a REAL gamer can think of buying it. Most of us would prefer to buy a more powerful desktop at this price, and I hope it comes into the reach of common man as the prices decrease in future. Following some blemishes like short battery life, an out of reach price, bulky body; I must admit it is an item of desire.
This post is part of the series: New Hardware on the Block
A brief review and verdict for newly launched hardware products and technology gadgets. I try to find hardware that gives full value for money and also scores high in Features and Performance. Overall, it's a guide for all those people who want to know what to buy, how to buy, and where to buy.