Buffalo MicroStation Portable Silicon Disk (SSD) 32GB Review
Introduction
With the everlasting need for storage space, hard drives are getting bigger and better everyday (now we have multi-terabyte hard disk drives). But when you want to access your precious data while you are on the run, you need something that has enough storage space, is small in size, and is resiliently built for portable use. Thus it is practical to invest in a compact hard drive like the Buffalo MicroStation, because not only does it allow you to save huge amounts of data, it is designed for rough use yet is compact enough to carry around.
Build Quality (3 out of 5)
The Buffalo MicroStation 32 GB is half the size of traditional portable storage devices, capable of storing up to 1 TB of data. It is shock resistant and memory chips are encased in a mock-metal plastic two-piece shell that is the same width and height as a credit card. It weighs 56g, is 89mm long, 57mm wide and 14mm thick, and small enough to slip into a pocket and go unnoticed. The MicroStation is connected to a USB port of the computer by an attached USB cable that wraps around the drive's edge when not in use, with the connector clipping securely to the casing. A little blue LED on top of device indicates when the memory drive is powered up.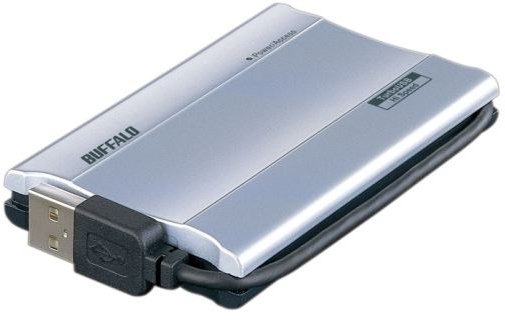 Features (3 out of 5)
The device uses the USB 2.0 and 1.1 interfaces. It has one USB Mini-B port for data connection, through which it also gets its power (5 volts). Power consumption of the device is 1.25 Watts (which is good if you are relying on your laptop battery) and is compatible with the windows stand-by mode. Maximum storage capacity of the drive is 32 GB, as the name suggests. It is compatible with Windows 2000/Xp/Vista and Mac OS X. MicroStation is a solid state disk (SSD) based on Hybrid technology and is made with a combination of single and multi-layer cells, the building blocks of flash memory. While Single-layer cell technology gives faster read and write capability but allows less capacity, multi-layer cell memory is often slower, but cheaper. By using this blend Buffalo hopes to keep the price acceptable and performance attractive. The compact shaped body and wrap around cable makes the device ultra portable and the shock resistant chassis, and lack of moving parts in an SSD minimizes the risk of damage from drops or shocks. Software is included with the device package that can encrypt data and boost its speed. Features include Turbo USB, which promises to increase your file transfer speeds, but is not so impressive. The device has Secure Lock Ware which prevents unauthorized access to your data. It also includes Memeo Auto Backup software which automatically back up files from your PC and MAC.
Performance (2 out of 5)
I tested and compared MicroStation with a ScanDisk Cruzer Titanium 4 GB, and found that the fastest read speed of Buffalo MicroStation without TurboUSB didn't exceed 27MB/s, and Cruzer showed a read speed of about 20MB/s. Also, the write speed of MicroStation was much slower, only 11.7MB/s. So compared to general USB drives, MicroStation didn't put up as much of a performance gain as was expected from it, being so highly priced. Although it showed a little improvement in reading speed when the TurboUSB software was turned on, it was not significant. Some cheaper 32GB USB flash drives exceed these speeds without using any supporting software. Overall, the TurboUSB driver, which is supposed to increase transfer speeds, made little difference to write performance, and increased read speeds by only a few megabytes per second.
Value for money (1 out of 5)
If you need 32GB of pocket-sized storage, then a USB flash drive is a better option. The Buffalo MicroStation is expensively priced in its segment (79.99 UKP here, approximately 145 USD), with the same sized USB being almost as fast at half the price, and an external hard disk having ten times the capacity at the same price.
Conclusion and Overall Rating (3 out of 5)
The Buffalo MicroStation has a nice software bundle. Comparing it with other drives, it is extremely durable (drive probably won't lose your data if you drop it). Being a solid state portable drive, it uses less power than a hard drive, and there are no moving parts. But looking at the price and the data transfer, it is much more expensive and not significantly faster than traditional flash drives. I would not recommend this one.
This post is part of the series: New Hardware on the Block
A brief review and verdict for newly launched hardware products and technology gadgets. I try to find hardware that gives full value for money and also scores high in Features and Performance. Overall, it's a guide for all those people who want to know what to buy, how to buy, and where to buy.