Bluelounge's Sanctuary: The All in One charging hub
Introduction
Nowadays, electronic gadgets are more than just fashion statements. Many people have more than one cell phone and perhaps as many as a dozen other gadgets like MP3 players, Blackberry, iPods, PDAs, Bluetooth headsets etc. that need to be charged frequently. Since different manufacturers use their own proprietary charging tips, you might find your table or desktop littered with wires from a number of devices. Thus one needs an arrangement to put the battalion of personal items (which need to be charged) together, so that they are easily located when needed and always fully charged. Sanctuary aims to be an elegant, refined, one-stop solution for all your charging needs.
Features (4 out of 5)
Sanctuary, as the name suggests, is capable of charging over 1500 different devices including cell phones, MP3 players, Blackberrys, iPods PDAs, Bluetooth headsets, and that too in one convenient single place. The tray has a reversible black and tan velvet cover on which your gadgets can rest without any risk of picking up scratches.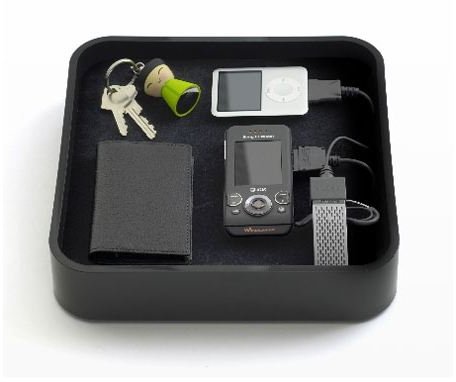 Underneath lies a universal charging block with eleven different cables, each labeled cleverly with its respective brand.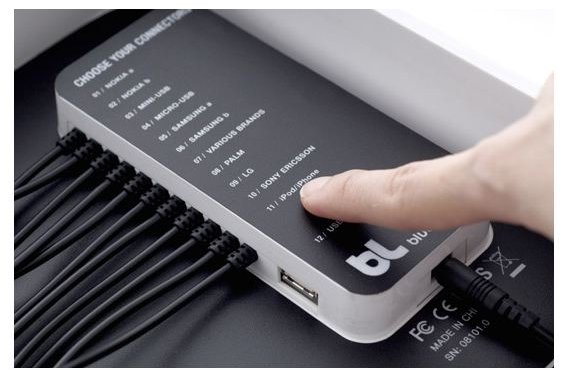 A standard USB port is also provided for other devices that need USB charging. To keep things in order there are two hooks built into the tray that help you to neatly rope those cables as much as you need, so that they don't stick out. There is one limitation of this design: the eleven cables, which are placed at a short distance (approximately 9 inches each), are permanently attached to the power block thus permitting each cable to charge only one device at a time. So if you need to charge multiple gadgets of a particular brand at the same time, you'll have to wait until the first device finishes up its charging. A more vibrant approach would have been to provide Sanctuary with detachable cables, thereby allowing the freedom to plug in as many devices of the same kind together. The device has six extra connectors for even more compatibility and they plug right into the USB port of the device, allowing the user to charge PSP and Nintendo game consoles, certain digital cameras, Motorola phones and much more devices via a second mini-USB connector.
Value for money (2 out of 5)
The main drawback that would hold you back from buying this device is its price. For an asking price of US $129.95, Sanctuary seems to be an extreme overkill, unless you really need it.
Conclusion (3 out of 5)
Besides having an elegant design and multiple charging options, Sanctuary is expensive and has short power cables. But if can spend that sort of cash and own a lot of gadgets that need regular charging, and you want to place them neatly when not in use, go for it.
Managing Editors Pick: Best USB Hubs in 2008
This post is part of the series: New Hardware on the Block
A brief review and verdict for newly launched hardware products and technology gadgets. I try to find hardware that gives full value for money and also scores high in Features and Performance. Overall, it's a guide for all those people who want to know what to buy, how to buy, and where to buy.