A review of Creative Inspire T6060 Speaker System
Appearance (4 out of 5)
The speakers have a modern and artistic look. With a unique two-way satellite design that separates the tweeter from the mid-range drivers. The front has a textured plastic surface that is very rugged and doesn't feel fragile at all.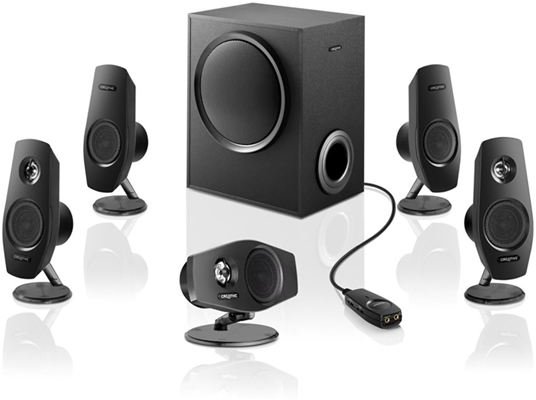 The stands and back are made from glossy plastic, which when out of the packing, loves dust, but after the static dissipates they aren't too bad. The subwoofer is very plain but you don't really see it. The wired remote control looks nice too.
Sound Quality (4 out of 5)
Sound is really hard to review, and is always going to get biased, unless you have 5.1 High Quality audio. The sound on the T 6060 is impressive. Volume potential is very satisfactory and speakers can be turned up all the way high, within reasonable listening ranges, without hearing distortion. Good Hi-Frequency and respectable midrange frequency detail due to Front Left/Right and Center tweeters. Good Bass performance for a speaker in this class, but it isn't big enough to produce THX-certified lows at high volumes. The subwoofer produces powerful 18 Watts of high fidelity sound. The quality of the surround sound is amazing, and the 5 satellite speakers really make you feel that you are a part of the movie, you are watching.
Installation (3 out of 5)
Installation is easy. The small size of the speakers is good and don't take up too much desk space. The only problem is that that the rear speaker cables weren't long enough.
Customer Support (5 out of 5)
Creative promises excellent customer support with all their products. I had some problems with my speakers and sent a mail to the customer support. All though it turned out to have nothing to do with the speakers; to my surprise, Creative sent me a replacement instantly, and it arrived within a week.
Additional Features (3 out of 5)
Creative Inspire T6060 comes with a very handy remote which is wired to the system (It's not a cordless remote). Both Bass and Volume dials are on the wired remote. Headphone jacks and Line In jacks are also wired on the controller for easy access. Also if you buy a line-in cable from eBay, you can plug your mp3 player in and play it without connecting your PC, although only two speakers and the subwoofer will work.
Conclusion (4 out of 5)
The T6060 might not be the best sound available yet it is a great choice for the budget-minded speaker enthusiast, a good value 5.1 surround for its price. Be aware that the Bass may not be the deepest earth-shaking sound you could imagine, but if you are a normal human being who doesn't want damaged hearing, and then the bass should be fine for you. As stated earlier, it is not for the demanding audiophiles but if you want to give an ease to your pockets while you enjoy good sound, good gaming and music experience, go for it. Looks are modern and artistic. Both Bass and Volume dials being on the wired controller provide easy access. Overall Creative Inspire T6060 produces wonderful sound, especially for the price.
This post is part of the series: New Hardware on the Block
A brief review and verdict for newly launched hardware products and technology gadgets. I try to find hardware that gives full value for money and also scores high in Features and Performance. Overall, it's a guide for all those people who want to know what to buy, how to buy, and where to buy.