A Review of HP LaserJet p1007: Top Budget Printers
HP p1007 Review
The looks and Design: The HP LaserJet P1007 is a very stylish and compact printer. It is just 20 cm tall and occupies very little of your desktop space.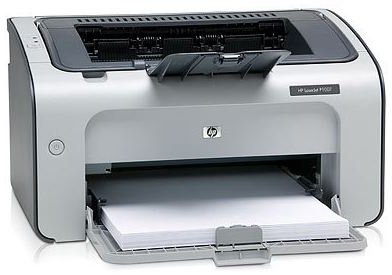 Small enough to pass as a compact InkJet, the HP p1007 does however weigh around 4.7kgs (since it is a laser printer the associated mechanism is heavy), which is much more than the weight of an Inkjet printer. The body is a mixture of white and gray polymer on all sides, except at the bottom, where there is a metal chassis. It has a robust and tough build quality all round, with the tray being particularly resilient in comparison to others in its class.
Installation: Installation is simple and easy, and is comparable with its predecessors. The printer is compatible with Windows 98 SE, 2000, ME (print driver only), XP Home, XP Professional, Vista, Server 2003, and Mac OS. The p1007 comes with driver CD, which is very easy to install and guides you during the setup and installation process. The printer is connected to the PC through a USB cable and is auto detectable.
Printing Quality: The p1007 comes with 600 x 600 dpi resolution. HP's new Fast resolution and integrated printing technology insures professional quality printing even with charts and graphics. The printer is network ready and print quality is equivalent to high end LaserJet printers..
Printing Speed: Equipped with HP's no-wait-instant-on technology, this Monochrome printer has an impressive print capacity of 14 A4 pages per minute and in first page testing, prints in less than 9 seconds. The printer holds a standard input capacity of 150 sheets and comes with 2 MB internal memory, which is a impressive for such a budget printer.
Maintenance: The p1007 boasts of low maintenance as the All-in-One printer cartridge includes Toner and Imaging Drum, hence cartridge replacement is easy. Also the printer Imaging system refreshes itself every time a cartridge is replaced, hence providing consistent results. The printer also facilitates alerts when the cartridge is low on paint. It comes with a warranty period of 1 year.
Customer Support: As with all HP printers there is impressive online consumer support. You can go to the official website www.hp.com, search for the HP p1007 and download all the manuals, drivers and support software. You can also mail the company if you have problems with your product. I have always found them to be prompt and deal with issues expediently.
Final Verdict: With a Smart and compact design, excellent print quality, easy installation, high printing speed, good customer support and low maintenance, the HP LaserJet p1007 has a lot to offer. But the main attraction is its price. With some drawbacks like, no extra bundled software provided with the printer and heavy weight, the p1007 still rocks. Overall it is an ultra compact printer with power packed features and a reasonably low price. Go for it.
This post is part of the series: New Hardware on the Block
A brief review and verdict for newly launched hardware products and technology gadgets. I try to find hardware that gives full value for money and also scores high in Features and Performance. Overall, it's a guide for all those people who want to know what to buy, how to buy, and where to buy.