A Review of the Creative Zen Mozaic Multimedia Player
The big selling point of Creative's Zen Mozaic (notice the trendy "z" in the spelling of the name) is that the control buttons on the front are arranged in a mosaic pattern. The hype is a shame, really, as it is a decent media player and the colored buttons aren't a bonus (in fact, it is difficult to see the symbols on the black ones). But, I love the way the Zen Mozaic looks.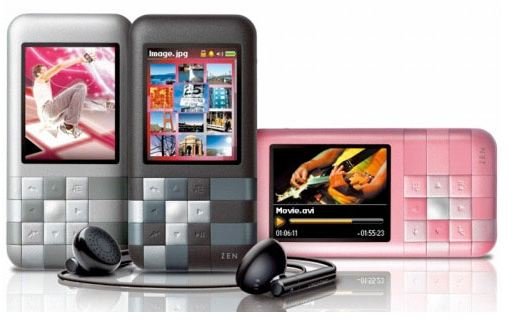 It is about two-thirds the size of a typical mobile phone and has a bright, easy to read 46 mm screen. Is that big enough for you? It has well designed menus that are logical and lead easily to all the player's functions. Audio formats supported by the player are MP3, WMA, WAV, and Audible 4. It can play videos as well as handle still photos. It also includes an FM radio tuner with 32 preset channels in addition to a microphone for voice recording. There is even a calendar and contacts list, though this can only be updated by synchronizing the Zen Mozaic with a computer using the software supplied with the device.
The lacking ability of the player to avail to any form of memory expansion is its main drawback. It's a shame that Creative couldn't have included a socket for expanding this, using a memory card. Zen Mozaic is a flash based player and is available in 2GB, 4GB, 8GB and 16GB versions. The earphones supplied with the player are comfortable and give surprisingly good sound. Also, there is a built in speaker, of which Creative boasts that it lets you share music with your friends, but the speaker volume is so weak that you will have to sandwich the player between you and your friend's ears for that to happen.
The battery life of Zen Mozaic is exceptional. Charging can be done through a USB cable from a USB port as there is no separate main charger available with the device. Converting audio and video files are made easy by the software supplied with the player. The most convincing feature of Zen Mozaic is its ultra low price, just US $73 to $124 (for various versions).
Final Verdict: Overall, the Zen Mozaic is a neat, effective media player with great looks, low price, bright and sharp screen, easy-to-use menus, built-in radio, and voice recorder. Despite having some drawbacks like no memory expansion possible, button symbols hard to read, and separate charger not available, the Zen Mosaic still rocks and has a lot going for it.
Specifications:
Capacity: 2GB to 16 GB
Display: 1.8 inch TFT
Built-in speaker: Yes
Audio supported: MP3, WMA, WAV, and Audible 4
Video supported: Trans coded AVI and Motion JPEP
Connectivity: USB 2.0
FM Radio: Yes
Voice recording: Yes
Contact: Creative
Website: www.creative.com
Price: US $73 to $124 (for various versions)
This post is part of the series: New Hardware on the Block
A brief review and verdict for newly launched hardware products and technology gadgets. I try to find hardware that gives full value for money and also scores high in Features and Performance. Overall, it's a guide for all those people who want to know what to buy, how to buy, and where to buy.