A Review of the Fujitsu LifeBook U810 Tablet PC
The Fujitsu LifeBook U810 Tablet PC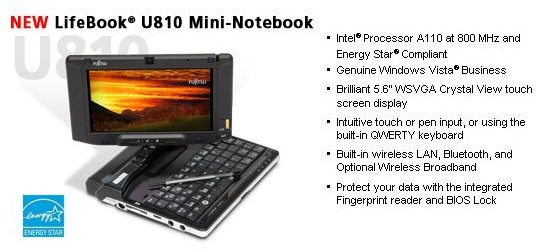 What is the Fujitsu LifeBook U810 Tablet PC?
Quoted from my recent Bright Hub article The Cost of a Tablet PC, "Fujitsu has been in the pen computing market since its conception, and starting at $1,000, the Fujitsu U810 is tied for the least expensive Tablet PC in this review. The U810 is a convertible model that comes with a built in .3 megapixel camera and weighs under 2 pounds."
What does the Fujitsu LifeBook U810 Tablet PC?
Processor: Intel® A110

Hard Drive: 60 GB (4200 rpm)

Memory: 1 GB DDR2 400 MHz SDRAM (1 GB x 1)

Display: 5.6" WSVGA Crystal View display with touch screen
What kind of modem does the Fujitsu LifeBook U810 Tablet PC come with?
Wireless: Atheros Super AG Wireless LAN (802.11a/b/g) and integrated Bluetooth wireless

Broadband: AT&T integrated Broadband (3G, HSUPA)
What other features does the Fujitsu LifeBook U810 Tablet PC include?
Fingerprint Sensor: Integrated Fingerprint Sensor and embedded TPM

Webcam: Integrated Webcam

Warranty: One-year International Limited Warranty

Battery_:_ Lithium ion (4-cell, 7.2V, 5200 mAh, 37.4 WHr)
What operating system does the Fujitsu LifeBook U810 Tablet PC run on?
Although the LifeBook can run on both Windows XP and Windows Vista, the good people at Fujitsu recommend Windows Vista Business for optimal performance.
Where can I learn more about the Fujitsu LifeBook U810 Tablet PC?
Surf on over to the Fujitsu website to read product details and manuals, to view pictures, or to purchase your own LifeBook U810.
It doesn't look the like the Fujitsu LifeBook U810 Tablet PC is right for me…
There are a number of pen computers on the market, and it is important to choose one that is right for your specific needs. If the Fujitsu LifeBook U810 isn't the right choice for you then please continue to the next section of The Tablet Review to learn more about what the market has to offer.
This post is part of the series: The Tablet Review
Have you ever wondered what the difference is between Pen Computing and a Tablet PC? Or why a Tablet PC is better than a laptop or desktop computer? In The Tablet Review we will look at today's hottest Tablet PCs, break down their prices, and compare their top features.