Review of the LG Flatron L245WP: A High End 24" Monitor that Combines Stunning Picture Quality in a Solid Build
Reviewing five of the top 24" monitors of 2008. Background information for these reviews: I have tested over twenty makes and models for the health and financial business sectors as well as for the home user market. In my opinion these monitors offer the best combination of visuals, power, performance, features, and design build quality. Here we review the LG Flatron L245WP_, one of the best high end performance monitors to enter the market in a long time. It has best in class visuals, and some excellent picture mode options that enhance end user viewing pleasure._
Design (5 out of 5)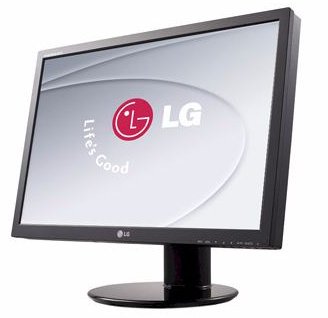 The LG Flatron L245WP is a fabulous looking monitor; stunning and imposing in the same breath. With a nice combination of gloss and matte finishing it has the professional presence to fill out any desktop environment. Some may not like the combination of gloss and matte on one unit, but you should decide that in person.
The stand is sturdy and secure, delivering best in class maneuverability – the LG Flatron tilts, pivots and swivels to vertical or horizontal viewing modes better than any monitor I reviewed. There is also a smooth height adjustment mechanism which is a nice touch and not common amongst such monitors. The front panel controls are user friendly and positioned neatly (are you listening BenQ!)
Performance (5 out of 5)
The LG Flatron L245WP is a high specification 24" monitor that, unsurprisingly, delivers stunning picture quality delivered in immaculate 1920 x 1200 native resolution. The WUXGA display is crystal clear with perfect still and motion image projection. Color reproduction is flawless across the entire palette and the L245WP can differentiate between colors and tones better than any monitor I have seen (equal to the BenQ FP241W). I personally love the picture-in-picture mode, which is a dream for the home where you can get cramped for visual real estate, or as is common in my house, have regular run- ins with others who want to hog the monitor. The LG Flatron is a superb gaming and video playback VDU. Coming fully HD supported, it is also a good buy if you have one eye on something for the future of television viewing.
My one minor gripe is that with such sparkling HD ready composition, the LG Flatron, as with the BenQ, delivers such vibrant images that you can notice the considerable drop off from Blu Ray to DVD and then even more so to AVI. It's a given in this day and age, and impossible to legislate for, so this is no fault of LG's, I just happen to have lots of DVD's and AVI's and the quality is such that it is a distraction to view them on such a superior monitor.
Features (5 out of 5)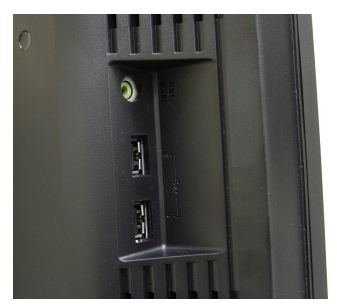 The LG Flatron L245WP comes with an impressive array of inputs – HDMI, D-Sub, composite and two USB slots. As we touched on in 'Design', the manually operated buttons are easy to operate and the OSD is unfussy with clear direction, unlike some mind numbingly frustrating menu's on similar specification VDU's.
Most impressive of all, the picture-in-picture and picture-by-picture viewing modes are a serious enhancement to anybody's viewing pleasure. They work seamlessly and with minimal delays in response time.
Conclusion (5 out of 5)
The LG Flatron L245WP offers all you could currently need from a top of the range monitor. I tried very hard to find a reason NOT to give it 5 star ratings across the board, but I cannot - not for good reason. The L245WP has all the connectivity options and configuration you could need and is as sturdy as they come. But let's be honest; you buy a monitor for one real reason, picture quality, and in this regard the LG Flatron is impossible to beat. Clear, vivid, bouncing with life, this is a luxury monitor in every sense.
This is a top notch 24" monitor with a price tag to match ($650). It looks hugely impressive, and is beautiful in either horizontal or vertical mode. If you demand the highest quality visual performance and elegant design this is the monitor to buy. A tremendous addition to the home office or workgroup environment.
This post is part of the series: Best 24" Computer Monitors of 2008
Here we review the best 24" monitors currently on the market. Looking at the LG Flatron L245WP, BenQ FP241W, HP w2408h, Samsung SynMaster 240HD and Dell UltraSharp 2408WFP. All of these VDU's combine brilliant design with stunning visuals and excellent connectivity features.