Official Facebook for iPad App Review: Was it Worth the Wait?
Interface (5 out of 5)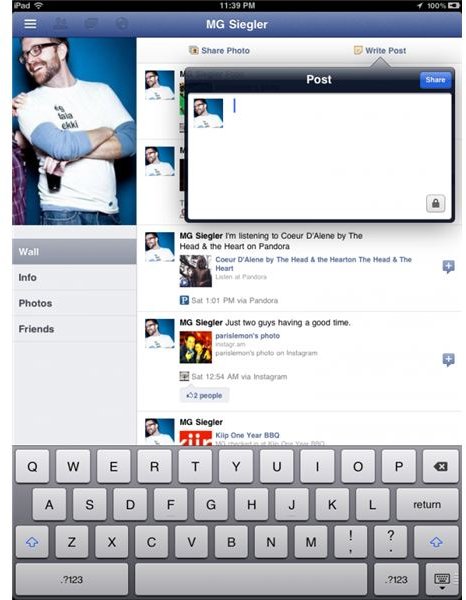 One of the most awaited apps for the Apple tablet is finally here! The official Facebook for iPad app is all that we ever wanted and more.
Facebook for iPad's interface is beautiful, fast, and easy to navigate. Honestly, it's almost perfect. The effort that Mark Zuckerberg's giant social network put in this app is obvious, with rumors stating that the employees have been testing it for 1 year already.
After logging in, the app will start at the familiar News Feed. Absolutely everything is shown in this feed, including stuff like when a friend joins a group or "likes" something in particular. This is a great improvement from other Facebook clients where the experience is sometimes "stripped down" (they only show important status updates or links). You can also choose if you want to see only the "most recent" (definitely the best option), "headlines", status updates, links, photos, or videos.
If there's something interesting that you want to check out (for example a link), a new page will seamlessly open in a few seconds. Although it's fast and comfortable enough this is probably the only aspect in which its major rival (Facepad for iPad) has the upper hand. Facepad allows you to open a link in a separate window so that you can continue browsing your News Feed while it loads (which is indeed useful, although it's a blatant copy of the official Twitter app).
Still, the official Facebook app for iPad handles this "link browsing" issue quite well. After you're done seeing the content on the newly opened page, just make a "swipe to the right" gesture to return to the previous page. This motion is incredibly useful and you'll use it a lot while browsing the app. If you do this gesture in portrait mode a new column will open where you'll be able to access all the important sections: profile, friends, events, places, photos, pages, etc.
And if you position the iPad in landscape mode a Chat window will automatically appear. The chat feature is completely functional and enables you to talk to any connected friend. The interface is almost identical to Facebook in a browser, which is a good thing.
Features (5 out of 5)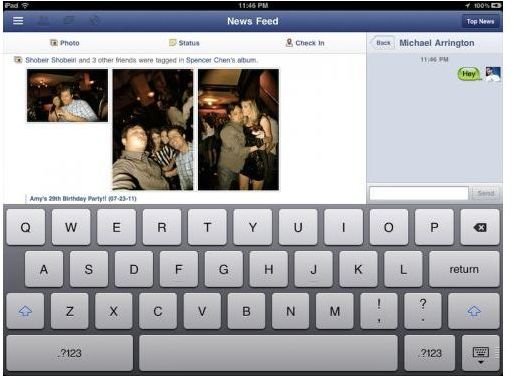 The "Messages" feature is also very well designed. One of the best uses that you can give to Facebook is to use it as a communication tool to help keep in touch with your friends. This way you can arrange a meeting by using a group message so that you don't have to spend a fortune in mobile SMS.
In this Facebook client the messages load very fast and they also offer something truly unique: Notifications! This key feature is what makes the official Facebook for iPad app superior to its rivals. And it will be even more useful when iOS 5 and the new Notification Center comes. Never again will you miss an important conversation or status comment!
The app also has a nice and clean "Events" section where you can select the corresponding event so that a new "sliding window" appears. In this new tab you can check the wall, guests, photos and, of course, all the relevant information (date, place…)
The "Friends" section shows your friends in some large thumbnails that allow for an easy navigation. The alphabetic order also helps you to find that long-lost buddy in a few seconds.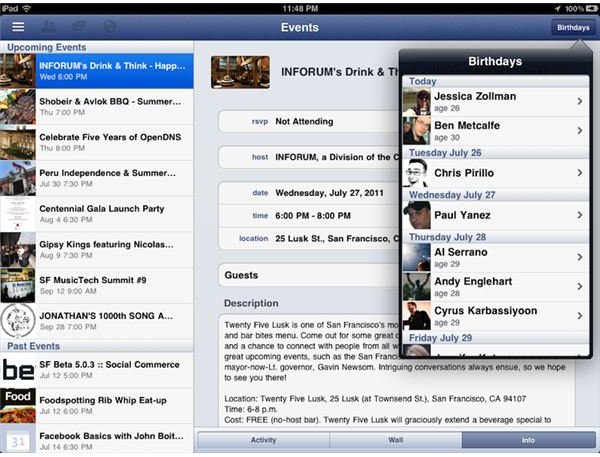 If you have geolocation activated then you can also go to the "Places" section to share your location or maybe just check out where your friends have been going. It's a nifty feature which works very well with the integrated virtual map. Multiple pins provide visual cues of your friends whereabouts.
FInally, let's talk about another key Facebook feature. Photos. This app is absolutely the best way of viewing them. The pictures load in seconds (unlike any other Facebook client) and the annoying "blur" that usually appears every time you load a new photo dissipates rather quickly or doesn't show up at all.
The comfortable touch controls and the ability to get to any photo rather quickly by swiping your finger through the album (thanks to some handy thumbnails at the bottom) make the official Facebook for iPad app the best place to explore what has become the largest photo gallery in the world.
Overall (5 out of 5)
You won't be disappointed by this app at all, even if you were very "hyped up" for it.
Facebook for iPad integrates all the relevant aspects of the Facebook "web experience" and improves them with an accurate and intuitive touch control interface. It also makes your social life easier with a useful Notification system and a News Feed where you won't miss absolutely anything. The app was slow in coming but well worth waiting for. Essential.
References
This post is part of the series: iPad
Everything about Apple's wonderful iDevice