Review of the BenQ FP241W: 24" Picture Quality at Its Finest, in This Monitor for the Ages
Reviewing five of the top 24" monitors of 2008. Background information for these reviews: I have tested over twenty makes and models for the health and financial business sectors as well as for the home user market. In my opinion these monitors offer the best combination of visuals, power, performance, features, and design build quality. Here we review the BenQ FP241W_, a brilliant top end monitor, best in its class for picture quality and motion performance. A monitor that is (almost) impossible to knock._
Design (4 out of 5)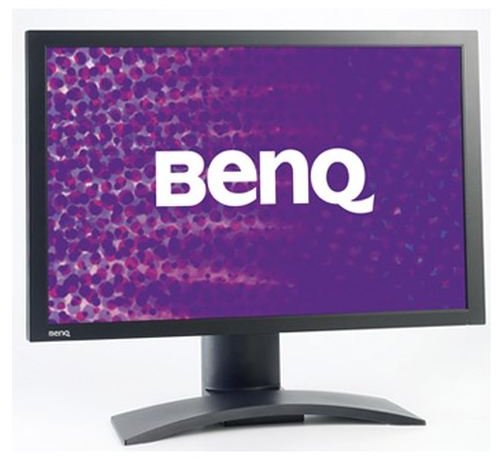 Aesthetically, the BenQ FP241W is a stunning monitor. Physically impressive, solid and robust to look at, touch and maneuver. It has an imposing presence that draws you in, and that's before you switch it on! With clean design lines, thin bezel edging and a shallow base it has a truly professional look, without gimmick or unnecessary advertisement. The base of the BenQ FP241W is also hugely impressive, minimizing vibration and allowing for excellent swivel and tilt. As such it can easily be maneuvered into vertical or horizontal viewing mode, without any drop off in picture quality.
However, one minor gripe is that the menu buttons are poorly positioned, situated on the right hand side of the monitor. Maybe it is just me but I do feel it is important to look directly head on at a monitor when making manual tweaks, certainly when configuring such a quality piece of kit as the BenQ FP241W is. That said, it was a conscious decision by BenQ to situate these controls on the side panel to give the front of the unit a clean and uncluttered look.
Performance (5 out of 5)
The BenQ FP241W's WUXGA screen delivers 1920 x 1200 resolution and impressive 1:1 pixel mapping, making this an impressive beast for the avid gamer or multimedia buff. It also works beautifully with design packages such as PhotoShop and Macromedia, and as a video editing monitor, such is the quality of motion images. I have personally seen this model rolled out in a local graphics design studio which previously ran 19" LCD monitors as standard, and the company was blown away by the quality of the upgrade that the BenQ has provided. Color presentation is 100% accurate and balanced (a crucial point graphic designers are very keen to pick up on when evluating monitors) and I must confess, seeing eight of these in one room does make the place dance with life!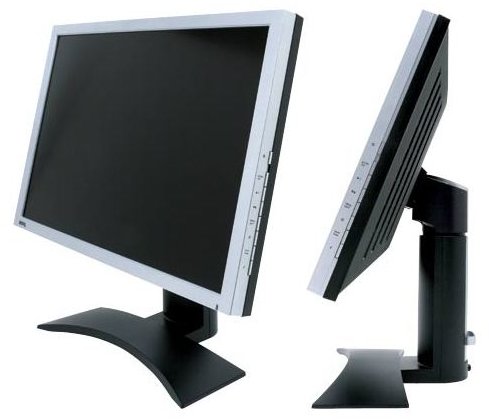 The BenQ FP241W offers a perfect balance of uses, coming with three modes of visual presentation – 1:1, full and aspect. This makes it more than a horses for courses monitor as it has such adaptability. There is no bleeding of color nor any ghosting, and its 1000:1 contrast ratio provides exact image representation with a clarity that is only matched by the LG Flatron L245WP and Dell UltraSharp 2408WFP. It also does not suffer from dead pixels.
My only minor negative comments are to say that the BenQ 24" monitor is so vibrant and precise that it highlights the 'low' quality of DVD's and accentuates the fact even more so with AVI's. The default setting for the monitor is also very bright, but this is no real show stopping issue as the BenQ FP241W is highly configurable and there are even pre-set screen configuration settings for Standard, Movie, Dynamic and Photo modes, which help you to optimize the screen if you aren't comfortable with manual configuration.
Features (5 out of 5)
The BenQ comes with all the necessary connectivity features you could need. Inputs include - DVI, D-Sub, S-Video, a HDCP compliant HDMI connection, component and composite video. It also has two very handy USB ports.
Conclusion (5 out of 5)
With crystal clear visuals the BenQ FP241W is a breathtaking high performance monitor. I am hard pushed to find fault with this monitor in any way, other than to say the positioning of the menu button annoys me slightly. It may seem a lot, but at around $525 this is a superb value, because the BenQ FP241W is so good it will give an immediate, and immense upgrade to your computers visual performance whether used for professional or social purposes. Factor in that it is also fully HD compliant and this monitor will stand the test of time. I cannot give it higher praise than to say it competes with the Dell UltraSharp 2408WFP and LG Flatron L245WP as one of the three best monitors of its generation, across ALL sizes and specifications.
This post is part of the series: Best 24" Computer Monitors of 2008
Here we review the best 24" monitors currently on the market. Looking at the LG Flatron L245WP, BenQ FP241W, HP w2408h, Samsung SynMaster 240HD and Dell UltraSharp 2408WFP. All of these VDU's combine brilliant design with stunning visuals and excellent connectivity features.