Review of the HP w2408h: A 24" Monitor That Delivers Brilliant Visuals, Impressive VDU Connectivity with an Impressive Price Tag
Reviewing five of the top 24" monitors of 2008. Background information for these reviews: I have tested over twenty makes and models for the health and financial business sectors as well as for the home user market. In my opinion these monitors offer the best combination of visuals, power, performance, features, and design build quality. Here we review the HP w2408h_, a cheaper monitor than others reviewed in this range but certainly not lacking for picture quality or performance. It is a solid entry._
Design (5 out of 5)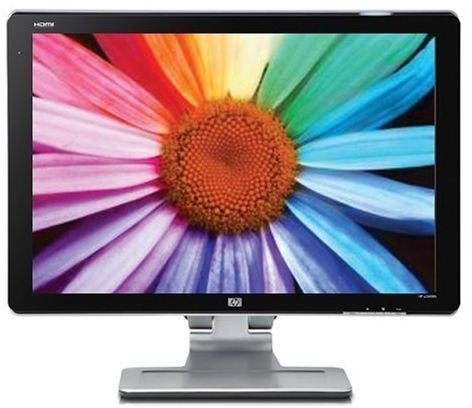 I was very uneasy about migrating from my previous 22" LCD monitor but the HP w2408h immediately caught my eye because of it's sparkling aesthetics. Now I consider it a nice upgrade from what I believe to be the best 22" monitor I have ever used (the LG Flatron). This is testament to the build quality of the HP w2408h and its beautiful design lines.
In my humble opinion this is the best looking monitor in the 24" class. It has a professional combination of black and matte silver bezel edging with a wonderfully flexible stand. It is also a solid unit which does not vibrate and has minimal 'wobble' when tampered with. The design of the stand is equally impressive because it allows for the keyboard to be 'tucked away' underneath the unit when not in use. This is a nice touch for a monitor of this size, which can often be used for DVD/TV and gaming.
The display casing itself can be rotated smoothly for horizontal or vertical use. My only gripe on design really is that it doesn't take well to being touched and prodded at by my three year old daughter, yes grubby marks appear almost by magic!
Performance (4 out of 5)
Providing 1920 x 1200 native resolution the HP w2408h delivers exceptional image quality, clear seamless projection of both stills and motion, and nice thinning of text. It doesn't suffer from color bleed or saturation and in this regard I can whole heartedly vouch for its suitability in the home, having one as we do for console gaming and semi-mobile desktop computing.
I find the w2408h exceptionally good for generic family use. It works a treat with games such as WOW and Call of Duty, with applications such as PhotoShop and Open Office, and with duel boot Linux and Windows platforms. Personally I use the monitor most for web development projects and in this regard the HP w2408h is superb with Macromedia, .Net and various database engines.
The HP w2408h is not as effective at dulling reflection as others in this category, but it is perfect for indoor settings, desktops, rooms where direct sunlight won't hinder viewing angles, and at a lower price than others we are reviewing in this series it delivers deep 1000:1 contrast, excellent configurability and a brilliant visual experience. The most impressive feature of all is the ambient light sensor which monitors light levels in the room and adjusts the display accordingly.
Features (4 out of 5)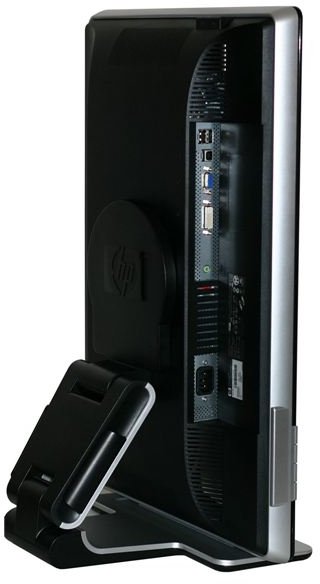 The HP w2408h comes with a nice set of connectivity features such as HDMI and D-Sub input connections, plus 2x USB ports, which is a very welcome addition for today's monitors. However the integrated speakers deliver only average sound quality and there is no DVI port which is a shame, and really should have been added to this model. The OSD is easy to navigate and I have yet to hear of any HP w2408h units with dead pixels.
Conclusion (5 out of 5)
The HP w2408h is cheaper than any other 24" monitor we review here ($425 - $450). For a direct price – performance comparison this is the best monitor I have ever used when needing to combine business and pleasure. The w2408h delivers sparkling picture quality, accurate detail, tones and sharp text projection. Visuals are marginally worse than the Dell UltraSharp 2408WFP, and it is less effective when positioned in vertical mode. Also the monitors ability to manage color saturation and greyscale are not top notch so this is not the best VDU for multi-user viewing or presentations. However taking aside wide viewing angle distortion, the HP w2408h provides super visual clarity at a best in class price, making this a 'must consider' monitor.
This post is part of the series: Best 24" Computer Monitors of 2008
Here we review the best 24" monitors currently on the market. Looking at the LG Flatron L245WP, BenQ FP241W, HP w2408h, Samsung SynMaster 240HD and Dell UltraSharp 2408WFP. All of these VDU's combine brilliant design with stunning visuals and excellent connectivity features.