Review of the Samsung SyncMaster T240HD: Super Visual Performance and Clean 24" Monitor Design
Reviewing five of the top 24" monitors of 2008. Background information for these reviews: I have tested over twenty makes and models for the health and financial business sectors as well as for the home user market. In my opinion these monitors offer the best combination of visuals, power, performance, features, and design build quality. Here, we review the Samsung SyncMaster 240HD, a visually stunning monitor with brilliant visuals and intense color management.
Design (5 out of 5)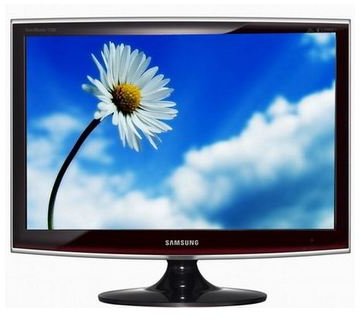 The aesthetics of the Samsung T240HD monitor are very impressive. Using the Samsung trademark 'Touch of Color' technology, the VDU is presented in a very slick chassis with glossy black and a trim of red that I find very endearing. Although those wanting the traditional look of a conventional monitor would be advised to check a SyncMaster in person prior to making a purchase.
The oval stand looks a little odd, but holds up well to rocking and movement of the screen. Certainly vibration irritation is negligible and the whole display can be swiveled with ease. It would however be nice if the monitor could pivot.
The SyncMaster T240HD has the same onscreen layout of the Samsung range of HDTV's, which is a nice touch of uniformity, and adds to the monitors' aesthetic appeal.
Performance (4 out of 5)
The Samsung Touch Of Color 24" T240HD LCD HDTV Monitor displays in 1920 x 1200 native resolution, and duel boots Linux and Windows with equally impressive visual brilliance. The monitor has a lower number of backlighting components, which noticeably reduce power drain of the model. However, this does mean that the SyncMaster cannot reach the levels of brightness obtained by the Dell UltraSharp, BenQ FP241W or HP w2408h.
The SyncMaster provides excellent motion responses during gaming and video playback, but it is marginally duller than the Dell UltraSharp, largely because it lacks top level contrast and emulation. There are also some interpretive issues with the softness of images when adjusting sharpness and some hard lines in vector graphic representation. It does, however, have minimal ghosting and the display manages picture motion smoothly.
For those marginal negatives, the T240HD handles greyscale better than any monitor in this range, which has made it a sure fire winner in the Radiology imaging departments I have seen the model rolled out in. Due to their requirement for immaculate greyscale x-ray imaging, it must be clear and precise to the exact detail and with a wide range of image configurability. Moreover, fonts are clear and sharp, which makes this a wonderful monitor for someone who deals with a lot of online documentation.
Be aware that the On Screen Display (OSD) on all Samsung SyncMaster monitors is best operated by remote control, which might sound obvious, but the number of users I know that like to manually 'tweak' monitor settings makes this a necessary comment.
Features (5 out of 5)
With a solid accompaniment of connectivity options, the SyncMaster T240HD comes with analog and optical audio, 2x HDMI, DVI, VGA, ATSC/QAM tuner, remote control and more. These are nicely placed, facing outward from the back of the unit as opposed to down, as is common on today's monitors. Something I personally find annoying, unless of course, I wanted to mount the monitor to a wall. The T240HD wakes from standby in a flash, and is on a par with the Dell UltraSharp for configurability.
Conclusion (4 out of 5)
The Samsung SyncMasters' lack of brightness can be a factor in some settings. For example, it is not the optimum display for the graphics or motion picture specialist, nor the highest quality monitor for gaming experts; certainly when stood side by side with the Dell UltraSharp 2408WFP, but that's really only going to affect those people at the highest professional levels of gaming and design. The Samsung Touch of Color technology is synonymous with quality, and the Magicolor software is impressive, accentuating tones with vivid realism. The SyncMaster T240HD also has arguably the best in class integrated speakers, which offer built-in Dolby Digital Surround Sound. In all, this is a supremely priced 24" monitor, ranging from $450 - $500, and its combination technology for computer use and HDTV make it a worthy purchase.
This post is part of the series: Best 24" Computer Monitors of 2008
Here we review the best 24" monitors currently on the market. Looking at the LG Flatron L245WP, BenQ FP241W, HP w2408h, Samsung SynMaster 240HD and Dell UltraSharp 2408WFP. All of these VDU's combine brilliant design with stunning visuals and excellent connectivity features.