Review of the Dell UltraSharp 2408WFP: 24" Monitor: Design and Performance That Might be Hard to Beat
Reviewing five of the top 24" monitors of 2008. Background information for these reviews: I have tested over twenty makes and models for the health and financial business sectors as well as for the home user market. In my opinion these monitors offer the best combination of visuals, power, performance, features, and design build quality. Here we review the Dell UltraSharp 2408WFP, arguably the best monitor in the 24" display range.
Design (5 out of 5)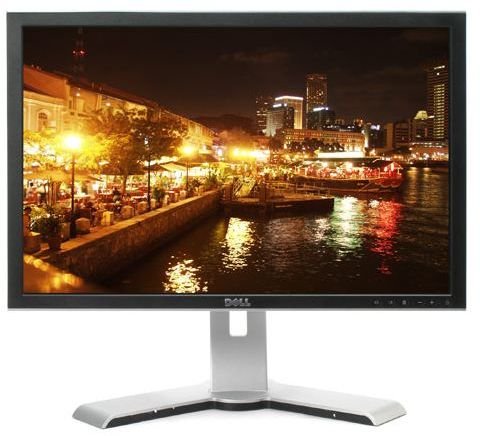 The Dell UltraSharp 2408WFP looks and feels the part in every sense. It is an impressive monitor, very professionally built with wonderful aesthetics and delivers superb image quality.
The UltraSharp's design is simple, clean and very professional, with a thin black bezel edging which encapsulates an elegant chassis. The casing is no less solid and durable (even when prodded and poked by heavy handed children!). It is a very impressive looking VDU which is accompanied by a robust stand, providing a solid base and small footprint. The stand also helps make the monitor easy to swivel and rotate smoothly.
Performance (4 out of 5)
Having tried the monitor in multiple settings - both internal and external, and in various modes of use including gaming, multimedia and home office, the UltraSharp 2408WFP provides superb color reproduction across the entire gambit of uses. Running at 1920 x 1200 native resolution, it is radiant and bounces with vibrancy, so much so that I find it hard to fault image construction on this monitor or find comparability in another model.
For anyone migrating from a bulky CRT monitor, the Dell UltraSharp 2408WFP is an amazing upgrade, not just for color projection and clarity but also for minimized eye strain, which is a common concern for those who require extended periods of use from a monitor. The Dell is a thoroughbred performer if you want to spend hours web browsing, working on documents, developing code, all without your eyes getting the 'burn' and becoming prone to mistakes.
I personally find the size of the monitor and image quality to be a perfect combination for a whole host of tasks - word processing, reading heavy text based documents, graphic design/animation, and playback of DVD's. I have seen the odd unit with a dead pixel or two but these have always been in the far corners of the display with no bearing on usability. However this is a concern worth mentioning and makes me wary of giving 'performance' a 5 star rating.
Features (4 out of 5)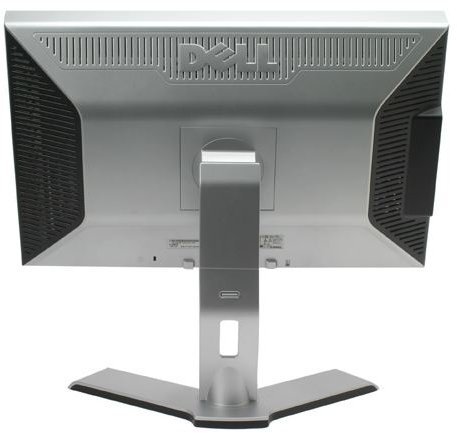 As impressively designed as the Dell UltraSharp 2408WFP is, it also offers a wealth of connectivity features, coming equipped with HDMI, Component Video, DVI x2 and S-Video inputs. The UltraSharp 2408WFP also connects to a VGA output and requires little adjustment for crystal clear motion responses.
Using a DVI cable, image quality is sharp but some textual content can intermittently appear blurred. That said, the whole UltraSharp range delivers impressive viewing angles and the 2408WFP model connects seamlessly to multiple devices, which is a big plus for the multi-user/viewer environment. The only downside of this rich feature set is that the card reader is slow, only reaching transfer rates of around 8MB/s, whereas it promises 20 MB/s.
Conclusion (5 out of 5)
The Dell UltraSharp 2408WFP is a stunning 24" monitor. Image quality is comparable to the higher priced Apple displays and for those who want a monitor to be pleasing on the eye, this is wonderful 'eye candy'. Coming in at $600+, it may still be a little expensive for most, but it certainly delivers if you are prepared to dig a bit deeper into your pocket.
For web browsing, photo/movie editing, playback and application delivery, this is a superb all round performance monitor. It has an array of plus points - impressively wide viewing angles, dynamic color and contrast configurability, and immaculate picture sharpness. As such, this monitor is very well suited to multimedia, gaming and office productivity types, but in truth it will dazzle almost everybody.
This post is part of the series: Best 24" Computer Monitors of 2008
Here we review the best 24" monitors currently on the market. Looking at the LG Flatron L245WP, BenQ FP241W, HP w2408h, Samsung SynMaster 240HD and Dell UltraSharp 2408WFP. All of these VDU's combine brilliant design with stunning visuals and excellent connectivity features.