Opera Mini 6 for iPad Review: Find out Why This is the Best Browser for the Revolutionary Apple Tablet.
Speed (5 out of 5)
Opera Mini 6 for iPad is the awaited new web browser for the Apple tablet, and it's incredibly good.
The best thing about Opera Mini 6 is undoubtedly the blazing speeds at which webpages load. You'll be absolutely amazed when your favourite news site loads completely in barely a second. There is no "checkerboard" effect, and everything is ready the moment the page loads (no missing images or pieces of text).
You can also open a virtually unlimited number of tabs and they will instantly load in the background. The estimated speed is about 6 times the native Safari speed, and much faster than any other alternative browser.
Resource Management (5 out of 5)
Another great advantage when using Opera Mini 6 is the low memory (RAM) usage, which lets you load 20+ tabs without any slowdown or crashing.
The data usage is also much lower due to the fact that Opera's servers compress the data and then send it to your device. This is a very important point for those who don't have an unlimited 3G plan.
Interface (4 out of 5)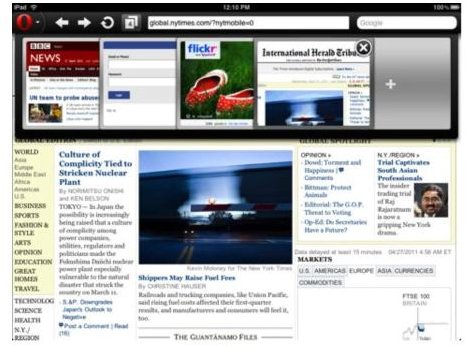 Opera Mini 6 has a great tab overview interface. All the opened tabs are displayed in an "exposé" mode which allows you to instantly switch between them in a visually sensible way.
Although almost every site has a "share on Facebook" or "share on Twitter" button, it's worth noting that Opera Mini 6 has this feature directly integrated in the browser interface so you can share a story by just pressing a button.
Mobile Browser Identification
Although Opera Mini 6 is one of the best browsers for iPad, it still has some extremely annoying issues which will hopefully be addressed in the next update.
Opera Mini is always identified as a mobile browser: this means that any domain who has a "stripped down" (mobile) version of the site will automatically redirect you to that basic version of the webpage. This is sometimes desirable when using a smartphone, but taking into account the iPad's big screen it's really a shame, and some webpages are simply unreadable. You can of course switch to the classic view in most of the webpages, but this means taking an extra step every time.
If you Jailbreak your iPad there's a tweak called UserAgentFaker which works most of the time.
Too Simplistic
Opera Mini 6 is a very minimalist browser which tries to use as few resources as possible and every time you want to open a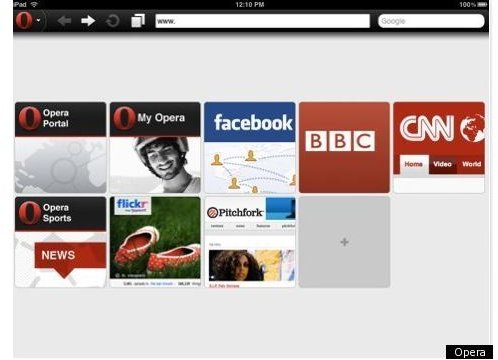 PDF document the app will open the Safari Browser instead. The same happens with Youtube videos, Opera Mini will open the corresponding app.
Unfortunately some HTML5 videos can't be opened in the Youtube app, so you won't even be able to watch them!. This is a major drawback and that's why Opera Mini should be complemented with another good browser like Maven or Atomic for iPad.
A couple of tweaks such as a quicker access to the Bookmarks folder and an option to navigate in true full-screen mode without the top bar would also be appreciated to make the experience more enjoyable.
Bugs
The first version of this app is still quite buggy: some pages will load extremely slowly from the Homepage or won't even load for some reason, and even then in some sites you'll only see the first few lines of a sentence. This annoying bug can be corrected by using the following script (but you'll have to use it every time you have this problem!)
Script: javascript:for(i=0;i%3Cdocument.getElementsByTagName('*').length;i++)void(document.getElementsByTagName('*'%20)%5Bi %5D.style.fontFamily='arial,sans-serif');
Overall (4 out of 5)
Despite the numerous cons, Opera Mini 6 is a good browser due to the sheer speed it offers. It's quite amazing! This feature outweighs almost everything else since it's really nice to browse the web in "ultrafast" mode.The unlimited tabs feature and the low data usage are other important features which make this app one of the best alternative browsers for the Apple tablet.
Download it now from the App Store, it's completely free!
Final Comparison Against Other Browsers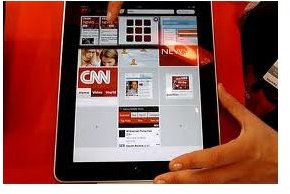 Safari: Right now Opera Mini 6 is vastly superior to Safari due to the lack of a tab feature and slow performance of Apple's browser. But iOS 5 is bringing tabs, and taking into account that the native apps are always high quality, Safari could again become the new king of browsers.
Atomic: Opera Mini is better for quick, fun, no-frills browsing. If you want to use the Internet for academic purposes, then you are better off with Atomic and its multiple plugins and downloading options.
Skyfire for iPad: Obviously the main selling point of this app is the ability to play Flash videos, which is pretty awesome. Otherwise this web browser is mediocre, sluggish and much slower than Opera Mini.
Maven: This new web browser is actually one of the best ones around. It's fast (but not as fast as Opera), stable and has some nice features like the "Bookmarks Jog-Dial" and also a Download manager. I'd say it's more reliable than Opera Mini and more suited for your heavy browsing needs.
References
Author Experience
This post is part of the series: iPad
Everything about Apple's wonderful iDevice