Panasonic's CF-31 Toughbook - The Latest Fully Rugged Military Grade Laptop
The World's Toughest Laptop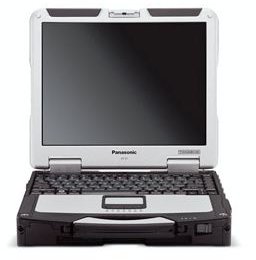 The Panasonic Toughbook 31 is one of the most rugged laptops in the world. It can survive a drop from as high as six feet, and is built to work in the harshest of conditions. This is the computer used by military services around the world because of its durability and performance, and it is especially suited to outdoor use.
For this review, the model tested is a CF-31ACNAA1M with an Intel Core i5 2.53 GHz processor, 2 gigabytes RAM, 250 GB hard drive, and the ATI Mobility Radeon HD 5650 video chipset. It features a touchscreen, HDMI out port, wireless networking and Bluetooth support. This model did not come shipped with a CD/DVD drive. Of the 2 gigs total system memory, 512 MB of that is dedicated to video memory. The other 1.5 gigs are for Windows 7 32-bit Professional, which runs quite well on this machine. As configured, this machine costs just over $4,000.
Extremely Bright Display (5 out of 5)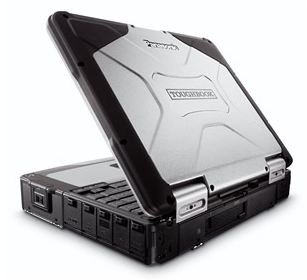 The screen on this Toughbook is so bright that it hurts my eyes indoors. I had to turn the brightness setting down to about the halfway mark because it was giving me a headache. The reason for the extreme brightness is so that you can use this machine outdoors, even in direct sunlight. Try looking at the screen on your standard laptop while in direct sunlight and you'll see the difference it makes.
The term 'nit' is a measurement of luminescence. This screen has a 2-1200 nit brightness rating. Most regular laptops have a nit measurement of about 300, and some of the higher grade ones may go up to 500 or 600. Panasonic made this super bright screen go up to 1200, so it literally outshines the competition.
On the model I tested had the touchscreen feature. Part of this requires that a thin protective sheet be layered over the screen to make cleaning easier and to protect the glass. While the touchscreen feature is great, especially with the included stylus, the protective sheet does mess with the display just a little. It's a slightly textured thin layer that causes a sort of sparkly effect when indoors. This is not necessarily a bad thing, but it does play tricks on your eyes a bit.
Widescreen options are not available with the 31 series Toughbooks, so the 4:3 ratio screen may seem a little retro by today's standards. These models all have a 13.1" touchscreen with a native resolution of 1024x768 . Intel and ATI graphic chipsets are available depending on whether or not you need the extra horsepower for 3D applications like CAD.
Ruggedization Features (5 out of 5)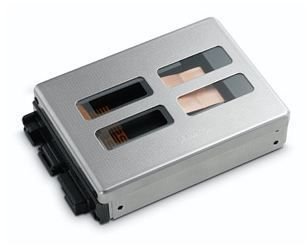 For a computer to be considered rugged, it needs to be both sturdy and sealed tight. The Toughbook's magnesium alloy casing helps protect it from shock and other damage that a standard plastic case couldn't withstand, but that's just the outer shell. The internal components need to be protected as well because inside the tough case you still have a motherboard, processor, RAM, hard drive, and all the other fragile parts which make up a functioning computer system.
You will find that all the ports along the sides of the CF-31 case are seal behind doors that require you to slide out a latch and then fold down. I think this design is better than in previous models where they just popped out because it was easy to break off the covers. The larger covers like for the CD/DVD drive require you to slide a latch first, and then fold down a panel to access the drive. Removing the battery or hard drive requires you to slide a locking mechanism in different directions, so they won't accidentally come loose unless you play with that slider.
Perhaps most important of all is the way in which the hard drive is protected. It sits inside of a metal box that is packed with foam, so the hard drive basically floats inside there without being hard mounted like in a standard computer case. This allows for greater shock absorption since hard drives are more susceptible to shock damage than most anything else inside the computer. You can remove the entire 'egg' easily, but getting to the actual hard drive requires a screwdriver. Panasonic also include a heating element for the hard drive in case you use the computer in extreme cold conditions.
Benchmark Test Results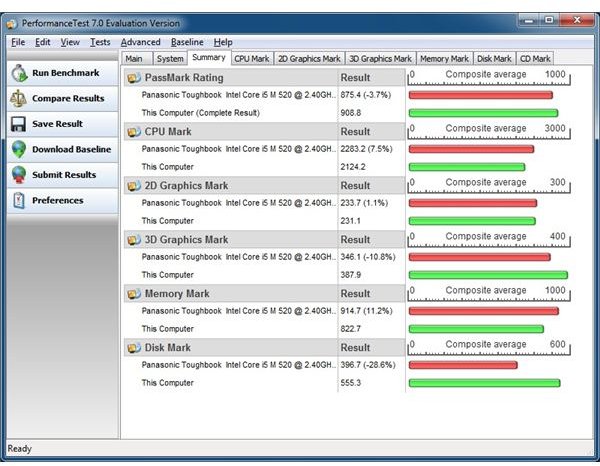 For benchmarking tests, I used the 30-day trial version of PassMark PerformanceTest 7.0. I then compared the results to another model CF-31 with slightly different systems specs to see how the configurations differ with performance. The other model machine is running the Core i5 processor @ 2.40 GHz and has 4 gigs of RAM instead of 2, plus it has Intel graphics instead of ATI. The overall results can be seen in the screenshot here.
What's most interesting in terms of performance comparison here is how much of a difference the amount of memory makes. While the other machine has a processor rated at a slightly slower speed, it actually performed better in the CPU Mark test. You also see that the Intel graphics performed much better in 2D, but the ATI beat Intel with the 3D test. My test machine showed substantial improvement with hard drive performance. This model included a Hitachi brand 250 GB drive.
Based on these test results, you should consider spending the extra money to get more RAM because it makes a big difference in performance, especially if you are using Windows 7.
Overall (5 out of 5)
While I like this CF-31 model, I think the CF-30 had a better overall design. I don't like having to open the side panel just to switch the wireless on or off, and I wish the screen protector didn't distort the display as it does indoors. I also don't care for having the CPU heat exhaust port located above the battery on the lower left side of the keyboard because it seemed to generate much more heat than I've seen on previous models. Other than some minor design issues, these machines offer impressive features and performance in rough environments.
The bottom line here is that if you are in need of a fully ruggedized laptop that can work outdoors in conditions that would otherwise murder a standard office notebook PC, then you can't do much better than a Panasonic Toughbook. This is military grade portable computing.
Author's note: On the first model we tested in our office, it had hardware issues such as the wireless networking adapter not working and overheating issues that caused blue screen errors. It had to be exchanged, so thoroughly test your laptop before deployment.
References