HP Mini 1103 Review: The Most Affordable Business Class Netbook by HP
Build & Design
The HP Mini 1103 looks similar to the Pavillion dm1/dm2 but is different in specs. It me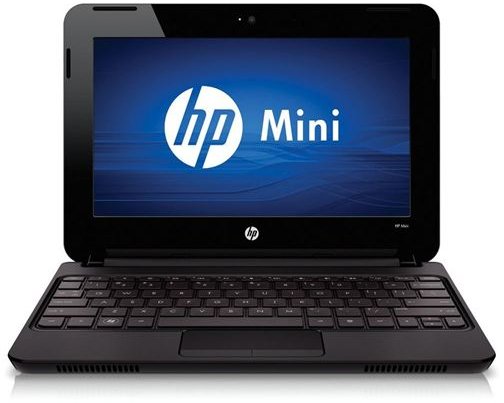 asures 26.8 x 19.1 x 2.28 cm, and weighs 2.78 lb. The Mini 1103 has a simple yet attractive design and appeals to both business and home users. The body of the netbook feels smooth, durable, and of great quality. The glossy display bezel and black lid pick up fingerprints and smudges, but the other part of the netbook is made of matte plastic, which thankfully remains clean. The use of matte plastic, especially on the lower half of the chassis and keyboard really stands out and adds a bit of "spice" to the netbook design.
The bottom of the netbook has only one removable panel, which makes it easy to open for repair or upgrades. One very interesting design element of HP Mini 1103, which is unique (but may serve no benefit), is that it can be opened at an angle of 180 degrees. The palm rest offers plenty of support while typing but like any other netbook, this too has little room for big-sized hands to type comfortably. The HP Mini 1103 has nothing on front and rear, as all the ports and connectors are found at right and left side of the netbook.
Features
The netbook features an Intel Atom processor with 1.83 GHz clock speed, 667 MHz FSB and 512 KB L2 cache. Like most netbooks, the HP Mini 1103, too has the Atom processor. It is true that not all most demanding applications will run as smooth and fast with the Atom as they will on a Dual Core processor, but the Atom is not too bad either. For daily word processing, internet browsing and business needs, the Atom processor with its 1.83 Ghz clock speed and 512 KB L2 cache is plenty sufficient.

The equipped 2 GB 1333 Mhz DDR3 SDRAM is more than sufficient as it easily handles multitasking and intensive applications. The netbook has a SATA 250 GB hard drive, which runs with 7,200 rpm. It is much smaller in capacity than competing netbook models but should be enough for anyone's needs.
The HP Mini 1103 offers a collection of common connectors and ports. It has three USB 2.0 ports, multi-format media card reader (MS/Pro, MMC, SD), one RJ-45 port for wired networking, one external VGA monitor connector and stereo mic and headphone jacks. High definition audio chip and high quality stereo speakers have also been integrated in the netbook. To get you online faster, the HP Mini 1103 uses a special pre-boot browser, which lets you get online quickly, and without having to wait through long boot time.
Other features of the netbook include Bluetooth and Wifi, Kensington Lock Slot, VGA web cam, spill-resistant keyboard, and it comes preinstalled with Genuine Windows 7 Starter 32-bit. The same netbook is also available with lighter specs. That one includes a slower 1.6 GHz Processor and 160 GB of hard disk. Maybe not very important, but the slower model is also slightly lighter than the higher specs one.
Performance
A netbook is not a fast, powerful and high-performing as a laptop, so there are always some disadvantages to owning a netbook. The HP Mini has scored 840 in CPU Cinebench 10 test, which is less than the 899 average that other similar netbooks score. The reason for not scoring high enough in this test is that the Mini 1103 uses a slightly older chip.
Also being a single-core processor, multi-tasking results of this device aren't very good as compared to dual-core ones. However, the power of the CPU when combined with efficiency of the fast RAM that runs on a base FSB of 1333 MHz, you get excellent results. The overall performance of this device is very good and quite worthy of its price. The netbook is pretty energy efficient, and with wireless enabled and Windows 7 balanced power profile activated, the HP Mini 1103 runs for about 8 hours and 20 minutes.
Price
To keep the cost down HP installed a single core processor in the Mini 1103. The rest of the peripherals installed in the netbook are high-performance and very good. Considering all the specs and performance this netbook offers, the1.6 Ghz model has a price tag of $299 and the 1.8 Ghz model that also has extra hard disk capacity is priced higher at $439.
The Verdict
In this HP Mini 1103 review we discovered that with 2GB of RAM, a 1.8 Ghz processor, high definition audio and durable design this netbook computer is a perfect choice for both home and business users. Of course it is not a dual-core or quad-core powered computer that can run all sorts of most demanding business applications, but for usual business computing needs, this netbook is not slow at all.
Reference, Image Credits
Detailed Specs, HP
Images are courtesy of HP and laptop mag