AMD Fusion Review: Is Atom Dead?
Entering a New Generation of Processor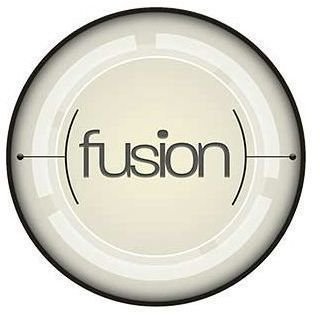 Up until this year, processors and graphics processors were different pieces of hardware. Now, however, both AMD and Intel have integrated these into one chip by making the integrated graphics processor a part of the CPU architecture. The two units don't share the majority of their functions (yet - tighter integration is likely to occur in future generations), but do share general resources, such as cache.
While Intel has placed their new IGP into the Sandy Bridge architecture, which is the latest high-end architecture for desktops and laptops, AMD has started small with the introduction of Fusion branded processors targeted at netbooks and ultraportables. These processors are supposed to offer "mainstream" performance with very low power consumption.
Of course, "mainstream" isn't a very precise term. Are AMD's processors truly impressive, or do they fail to buck the company's history of lackluster mobile processors?
Battery Life (4 out of 5)
Coming to a general verdict on battery life is difficult, because battery life is ultimately reliant on the laptop the processor is placed in and the size of the battery used.
With that said, the battery life of the AMD Fusion APUs appears competitive with Atom processors when they are paired with discrete graphics. The E-350 powered HP Pavilion dm1z, for example, can manage about 7 hours of web surfing on a 56Wh battery. Even the Sony Vaio Y, with a puny 38Wh battery, manages nearly 5 hours.
Atom based netbooks without discrete graphics can last longer. But as you'll see on the second page of this article, the Intel IGP that ships with Atom processors is much slower than what AMD Fusion offers.
Processor Performance (3 out of 5)
AMD has launched four different AMD Fusion processors. They are as follows:
E-350: Dual-Core, 1.6 GHz, 80 Cores with a GPU Clock of 492 MHz
E-240: Single-Core, 1.5 GHz, 80 Cores with a GPU Clock of 500 MHz
C-50: Dual-Core, 1 GHz, 80 Cores with a GPU Clock of 276 MHz
C-30: Single-Core, 1.2 GHz, 80 Cores with a GPU Clock of 277 MHz
So, do these processors reach the original claims of "90% of mainstream performance?"
If you assume that "mainstream performance" is a basic Core i3 or even AMD Athlon X2, no. These processors do not manage to reach that level of performance. According to benchmarks by Anandtech and The Tech Report, the performance of the E-series processors is generally a little better than similarly clocked Intel Atom processors. For example, the 1.8 GHz Atom D525 managed a PCMark Vantage score of 1918, while the E-350 managed a score of 2511. That's a decent advantage, but not a night-and-day difference. Intel Core CULV processors are still significantly faster, as are AMD's older Athlon-based CULV processors.
The C-series processors are generally the slowest processors currently on the market, tied with the slowest Atoms currently available. To be fair, however, the C-series processors are also being placed into absurdly inexpensive systems, such as fully equipped 15.6" laptops running at $350 to $400.
Image Credits: AMD
Graphics Performance (4 out of 5)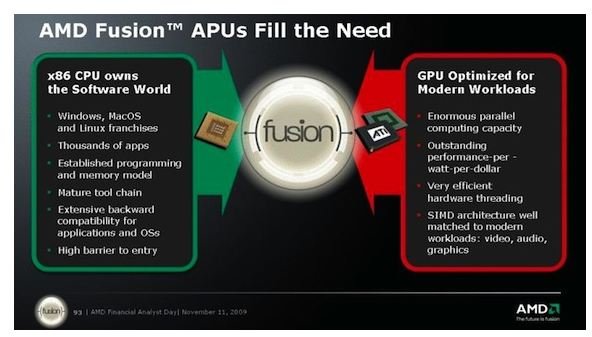 All of the AMD Fusion APUs come with Radeon graphics. In the case of the C-series, they're labeled the Radeon HD 6250, while the E-series has the Radeon HD 6310. Despite the names, the hardware in all of the processors is similar. The primary difference is the clock speed. The C-50 and C-30 have a GPU clock of 276 MHz and 277 MHz respectively, while the E-350 and E-240 have a clock speed of 492 MHz and 500 MHz respectively.
This gives the Fusion APUs more than enough muscle to defeat the other integrated graphics solutions currently available in netbooks and budget ultraportables. Even the slower Radeon 6250 is about five times quicker than the Intel IGP that ships with Atom processors, and has far better drive support. The faster Radeon HD 6310 is roughly on par with Nvidia's ION discrete graphics chip. The Radeon HD 6310 is also faster than the Radeon HD 3200, 4200 and 4250 graphics that shipped with older AMD ultraportable and netbook chipsets.
Considering the price of the current Fusion powered laptops, like the $449.99 HP Pavilion dm1z, this performance is excellent. However, it's important to have realistic expectations. Fusion is not a gaming solution, and is only capable of playing the most basic 3D games at low detail settings. World of Warcraft should run well, for example, but you're not going to playing Crysis at any reasonable resolution of detail settings. You will also find that 1080p YouTube videos stutter occasionally.
Conclusion (4 out of 5)
AMD's Fusion APUs certainly don't manage what they originally claimed if we consider "mainstream" performance to be a Core i3 or AMD Athlon X2. These are products that are only suitable for netbooks and budget ultraportables. They do not have the power to justify a system price much beyond $600, and even that would be pushing it.
Fortuantely, many systems equipped with these processors are coming with prices between $350 and $500. That's very inexpensive. It's a bit more than Atom, but the high-end Fusion processors are certainly more capable.
Overall, AMD's newest offering is good, but not great. It manages to provide a solid alternative to Atom, and in fact make Atom to some extent obselete, as Fusion processors are slightly better in most respects except graphics, where Fusion destroys Atom's IGP. Still, these are budget processors, and nothing more. If you want a power efficient processor that is also capable of outstanding performance, Intel's Core CULV processors remain the only choice.
References
Anandtech: Sony Vaio YB review
The Tech Report: Acer Aspire One 522 Review
Image Credits: AMD