Budget Android Tablet: 10.1" Advent Vega Review
Looking for a Next Generation Android Tablet but on a Tight Budget?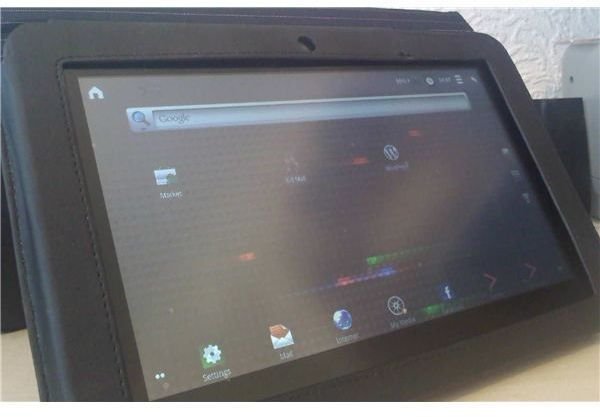 2011 is set to be the year of the Android tablet. Already you can purchase "big-screen mobiles" – tablets that are just larger versions of phones – running older versions of the Android OS. These are available on eBay for under $200 but feature key omissions such as a resistive touchscreen rather than a capacitive one. They also have a low system spec, offering processors in the 500 MHz realm.
In order to get a tablet with a good spec that can also be upgraded, you need to be looking at this year's new releases, such as the Motorola Xoom, the Asus Tegra 2 Transformer or many other devices that are set to challenge the iPad in both spec and price.
But hang on – shouldn't a tablet running open source software such as Android be a bit cheaper than the iPad? After all, if you're paying $700 for a tablet, there is plenty of pull to go with the device that is already supported with software, books, etc.
Luckily, there is an alternative. A set of tablets build around the P10AN01 chipset are available for much less than the price of a Motorola Xoom. One example is the Advent Vega, reviewed here.
Image provided by author
Form Factor (3 out of 5)
While the Advent Vega certainly isn't the slimmest tablet device on the market, it isn't the thickest either. Weighing just 700 grams and equipped with a 10.1 inch capacitive touchscreen display, the device is around 13.6 mm thick.
This affords various ports and controls around the sides of the slate, with a docking port on the bottom edge and the power-on, rotate lock and physical back button on the top edge.
Meanwhile the right-side edge of the Advent Vega features volume controls, mains power connector and a door offering expansion and connectivity options.
System Spec (4 out of 5)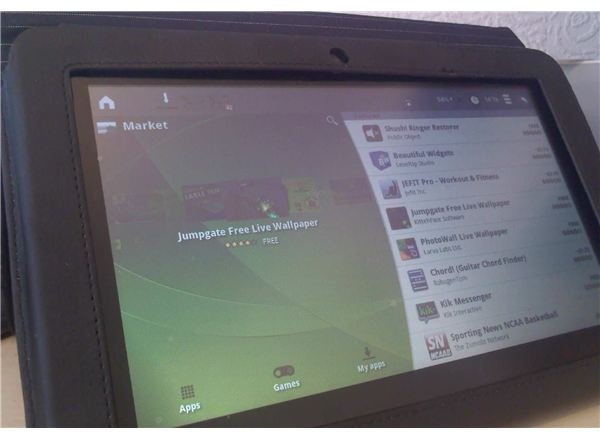 The device spec is pretty good – with 512 MB RAM and 512 MB NAND memory, the Advent Vega also features a microSD expansion port which comes pre-equipped with a 4 GB microSDHC card.
Most impressive of all, however, is the presence of the Nvidia Tegra 2 T20, a 1 GHz dual core mobile CPU/GPU designed for the current generation of tablets. This means that this device which ships with a stripped-down version of Android 2.2 Froyo will actually be able to run the upcoming Android 3.0 Honeycomb operating system! As such this is certainly something to keep in mind when you're making a decision when choosing an Android tablet solution.
Future versions of the slate are expected to feature 3G but the currently available spec is restricted to Wi-Fi and Bluetooth.
Image provided by author
Android 2.2: Tablet Operating System Still to Arrive (2 out of 5)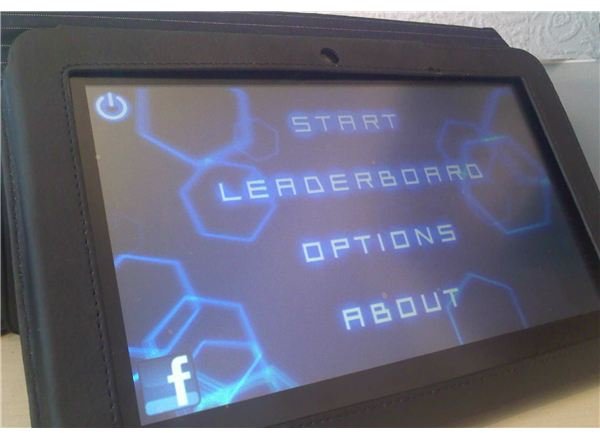 Like many other budget tablets, the Advent Vega comes equipped with the Android 2.2 Froyo release, rather than the more up-to-date 2.3 Gingerbread release.
Luckily this doesn't matter too much as the various Android versions are visually scalable, resulting in little difference between phone-sized devices and those with larger screens.
Where the version of Android that ships with these tablets falls down, however, is with the lack of on-board apps, notably access to the Android Market, which results in you being restricted to a device that can only use the included apps (unless you start looking for non-Market software online).
However updates are planned, and as the device has a powerful CPU/GPU in the Tegra 2 T20, the Advent Vega is capable of running Honeycomb – not bad for a low cost tablet!
Image provided by author
Media and Connectivity Options (4 out of 5)
While 3G isn't available with this device, Wi-Fi and Bluetooth are, and thanks to the ease of use that the Android operating system delivers, these are easy to setup.
A USB port is concealed on the right-hand edge of the device, enabling you to connect the Advent Vega to your PC and sync media content; along with the USB port is the microSD slot and the HDMI output port for viewing media stored on your tablet on a HD TV. The device's own display is 1024x600 and offers support for high definition video. Incidentally, the display is one of the weak areas of the slate with an occasionally unresponsive touch screen and very narrow field of vision.
In addition to Wi-Fi and Bluetooth, meanwhile, a USB cable is provided to allow the slate to be used as a storage device. This really means that you can sync media from your PC to the device, allowing you to view photos and videos, listen to music and podcasts, etc.
Conclusion (3 out of 5)
The lack of the Market is obviously an issue; while the Archos AppsLib store is supposed to be present as an alternative, this wasn't the case on the review device.
This means that considerable customization is required on the Advent Vega in order to get the device running somewhere near its capabilities – but to many potential buyers this will be an interesting and thrilling project.
Already there are upgrade options available on the official website www.myadventvega.co.uk, while the developer group at modaco.com have been working on various customizations that seem likely to culminated with a version of the Android Honeycomb tablet OS.
If you're planning on buying a tablet just for surfing or to install customizations then this is the device to choose – if you're looking for something that is not too expensive but totally functional "out of the box", however, wait for a tablet like the ASUS Eee Pad Transformer