Samsung Galaxy Tab 2 Review
The Samsung Galaxy Tab 2 is something of an unusual device. Indeed, while it is technically the second Galaxy Tab device, it deviates from the original Galaxy Tab in many significant ways and is called the Samsung Galaxy Tab 10.1 on Samsung's website.
First off in this Samsung Galaxy Tab 2 review, the most immediate difference between the Galaxy Tab 2 and the original Galaxy Tab is size. The new version is a 10.1" tablet, similar to the size of the iPad. This difference doesn't seem to be an admission by Samsung that the original concept of a smaller 7-inch tablet was wrong. Samsung's introduction of a new 10.1-inch tablet is likely an attempt to increase market share by simply offering more choices.
Let's review the rest of the Tab 2's specs:
1280 x 800 display resolution
1GHz Tegra 2 Dual-Core Processor
WiFi b/g/n support
Dual "surround sound" speakers
2MP Front Camera / 8MP Rear Camera
Design (3 out of 5)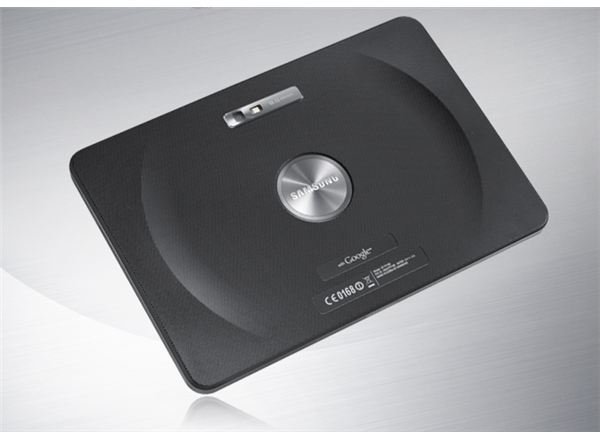 The 10.1-inch Galaxy Tab 2 actually takes a design direction that is much different from the original Galaxy Tab. The backside is now black, instead of white as on the original. A large silver Samsung logo dominates the center of the tablet's back and is joined by two other design elements - one a Google logo (because of the Android operating system) and the other, a strip housing the tablet's camera.
Although the Galaxy Tab 2 looks fairly slick, I must admit that I liked the original better. The new 10.1-inch model looks a bit like a low-rent iPad rather than its own unique device. I have also had the chance to handle the Motorola Xoom, and it too has a better design thanks to a backside that is less busy.
Hardware (4 out of 5)
Tablets have only just started to become a market with multiple competitors (rather than one in which Apple was the only choice) but a hardware war is already brewing. It's like the 1990s PC market, except there isn't just one source for processors, but rather multiple companies innovating and manufacturing their own ARM-based processors.
Samsung's Galaxy Tab 2 boasts Nvidia's latest Tegra 2 dual-core, which is among the quickest ARM processors currently available. There is little doubt that this will provide impressive power for playing videos and games, as Nvidia has shown Tegra 2 powered devices playing high-resolution video (via HDMI to an HDTV or on a device's native display) and 3D games of quality not unlike what you'd find on a Nintendo Wii.
However, as impressive as this is, the increasing speed of the current mobile hardware war makes it difficult to become overly enamored with the Samsung Galaxy 10.1's abilities. Apple has announced that the iPad 2 also carries a dual-core ARM processor and several ARM processor designers, including Nvidia, plan to release quad-cores within a year.
Operating System (5 out of 5)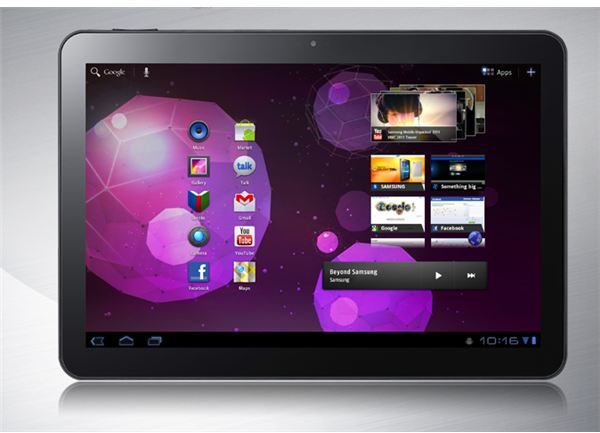 Judging a brand new rendition of an operating system based off a single device is difficult, because the life of an operating system is often determined by its support after launch. However, I must say that Android 3.0 "Honeycomb" thoroughly impressed me.
The interface is extremely slick and quick. Unlike iOS, which currently tends toward a cartoony appearance, Honeycomb uses palettes of blues and blacks to create a thoroughly professional look. The fast processor allows for extremely quick movement through the menus, and the menus themselves seem to be better sized and more responsive than before. In fact, I dare say that this new version of Android feels more intuitive than iOS - at least on this device.
Android 3.0 will eventually needs its own full review, but I'm eager to see how it pans out over the next few months as it is launched on numerous tablets and smartphones. It seem that Google may have an edge against iOS.
Conclusion (4 out of 5)
Overall, the Samsung Galaxy Tab 2 looks similar to the original Galaxy Tab. In other words, it's a competent competitor - but it isn't clear if it's a truly better option that the iPad.
This is a question that is still up in the air. From a hardware perspective, I think most users will enjoy the iPad 2 better from a design perspective, and I doubt the iPad 2 will be any slower. The real competition will be between Android and iOS. Previously, I would have said iOS was generally better. Now, I'm not so sure.
Now that you've read this Samsung Galaxy Tab 2 review, If you're looking for more information about other Samsung tablets, check out our Samsung Tablet PC Roundup.
References & Screenshots:
Samsung Galaxy Tab 10.1" Website - https://galaxytab.samsungmobile.com/
Youtube: Android 3.0 Honeycomb Hands-On Demo - https://www.youtube.com/watch?v=T5I_XS39hrg