Friended for iPad Full Review: Find Out Why This Is the Absolute Best Facebook App for Apple's iPad!
Friended for iPad is the newest Facebook app for Apple's iPad and it's also one of the best, featuring a clean, elegant interface and many other cool features. In this article you'll find a full review of it.
Interface (5 out of 5)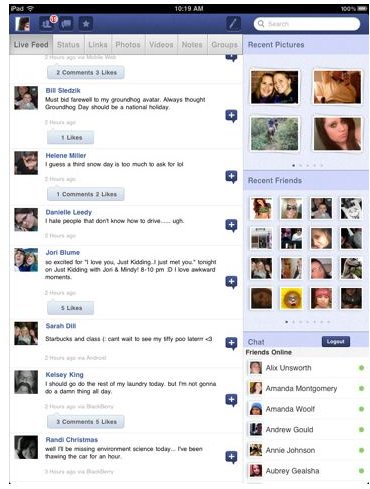 The best thing about Friended for iPad is the app's glorious interface. The screen is divided in three sections:
Central feed: At the center of the screen the app displays the "essence" of Facebook: the Live Feed. This is where all your news and friends activity is shown. A nice feature in Friended for iPad is that the main feed is subdivided into Status where you can focus only on your friends recent status updates, as well as sections for Links, Videos, and Photos. You can also access your groups from here, a notable option missing in many other Facebook iPad apps.

Recent pictures: at the left side of the page (in landscape mode- portrait mode, pictured here, completely changes the distribution!) you can see a section featuring all the recently added photos from all of your friends, displayed in a "mosaic" mode. Touch any of them to comment, "like" or just browse through them. This mosaic gives the app an edge over its competitors by making facebook a more dynamic, visual and fun experience.

Recent friends: also displayed in a "mosaic mode" featuring the profile pictures of all your friends. In this section you can see who updated their status or had "recent activity" in a more visual way.

Chat: Friended for iPad also has a fully functional chat in the lower-right section of the screen you can have conversations with your Facebook friends on the go!
It's worth noting that the app also works perfectly in portrait mode but instead of three colums you'll have only two (with the same sections).
Speed (5 out of 5)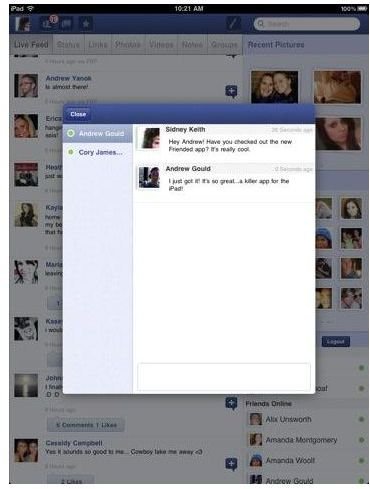 Speed is one of the best reasons to use Friended for iPad.
Navigating with the Facebook browser can sometimes be a little bit cumbersome, but with this app you can instantly access your profile, send a message to any friend or share a story with the touch of a button. The "mosaic sections" with photos of your buddies also provide a very useful way of knowing which ones recently updated their status.
Things That Should Be Improved
Friended for iPad is a great app and it will probably be improved a lot in the next few patches, but right now it still has a few problems. The most obvious one is that you can't view photos in full-screen mode, which is quite strange. Instead, the app will display an optimized medium sized picture.
Another problem when viewing albums is that sometimes, when you click on a thumbnail, the app will show you the first photo of that album and not the one that you really wanted to see.
The Chat is sometimes buggy too and you may experience some difficulties having conversations with your friends.
Overall (4 out of 5)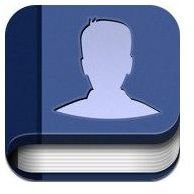 Despite some annoying problems, Friendedy is still the best Facebook app for iPad and also the one with the greatest potential. Friended for iPad makes using Facebook an effortless, enjoyable experience which I'm sure you'll love.