Microsoft Natural Ergonomic Keyboard 4000 Review - Top Ergonomic Keyboards
Features
Intuitive zoom slider key
5 Hotkeys you can customize for easy access to tasks like opening My Pictures.
Number pad has equal sign, parenthesis and back arrow just above it. Great for quick, one-handed use of the number pad.
Built in wrist rest covered with soft suede-like fabric.
Detachable base panel for tilting the front of the keyboard up (opposite of all other keyboards) to keep your wrists raised. Also includes fold down feet to tilt it in the usual way.
Internet hotkeys on the top left of the keyboard for Web/Home, Search, and Mail.
Multimedia keys for volume control, mute, play and pause.
Dedicated calculator key on the upper right side of the keyboard. Easy to hit with your right hand on your way to the number pad.
Intelli-type Pro
My 4000 After One Year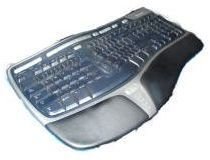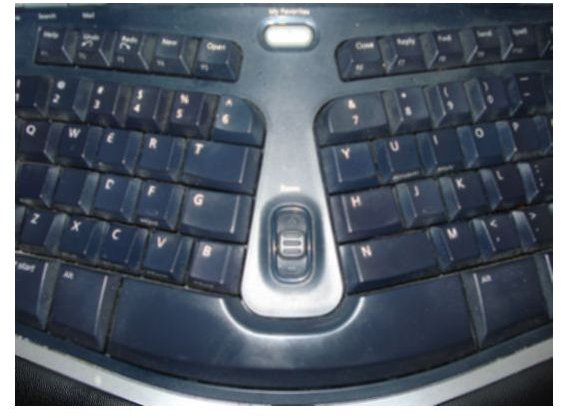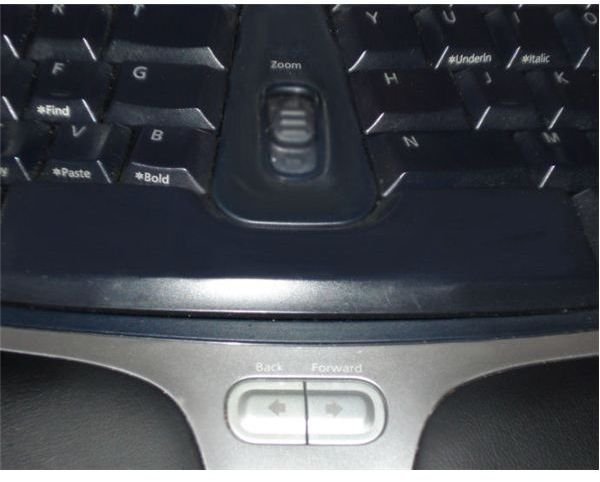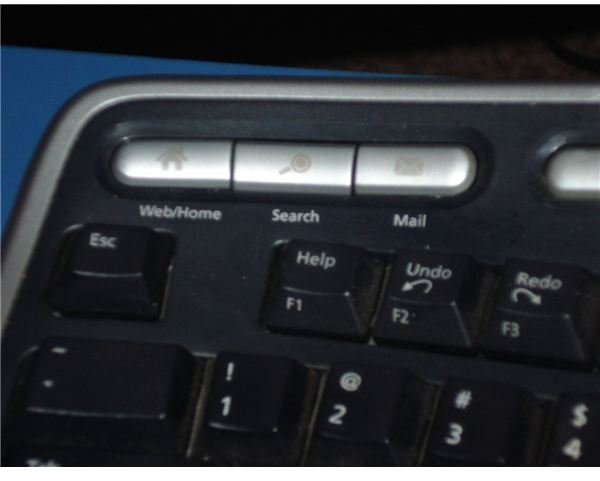 Requirements
Windows 2000 or newer
USB port
CD-ROM
60MD free hard drive space
My Opinion
The split in the middle is much thinner than older styles of ergonomic keyboards, so even if this is your first ergonomic keyboard, there isn't a huge learning curve. They keys are much quieter than many other ergonomic keyboards. It really does keep hands in a natural position. I noticed far less discomfort in my wrists and arms after switching to this keyboard from my old one.
I don't recommend trying this, but I spilled half a bottle of water directly onto my 4000 about seven months ago. It died immediately. I unplugged it, dried it off, and placed it keys-down on a towel. After a few days it had dried completely. I decided to plug it in and give it one more try before tossing it and it has been working perfectly fine ever since.
This keyboard has a few small downsides. The key placement is a bit different from other keyboards. Many users, myself included, have complained about right hand punctuation keys. For some reason they're very easy to miss when you're typing. It takes a bit of getting used to before you can type a period instead of a comma on purpose. The backward tilt can be impossible for some people to get used to. I like it, but even I remove it sometimes. The good part is that it's removable and the keyboard has feet on the bottom so you can tilt in the normal manner if that's what you prefer. My A and S keys wore off in a matter of months. I have never had that problem with a keyboard before, but I've also never dumped a bottle of water on my keyboards either. The quick wear might not be a common issue.
Desktop 7000
The Microsoft Natural Ergonomic 4000 costs $40 to $60. A desktop set, called Natural Ergonomic Desktop 7000, includes this keyboard plus a matching, ergonomic mouse. The Desktop 7000 retails for $150, but it's fairly easy to find it for under $80.
Related Reading
The Dvorak Keyboard Layout and Microsoft Ergonomic Keyboards - A Match Made in Heaven? - Do you suffer from wrist pain, fatigue, or any other ailment that keeps you from enjoying typing? If so, switching to an ergonomic keyboard and the Dvorak keyboard layout may provide relief. In this article we look at the best keyboard for you.