The Daily for iPad Review - Presentation. Does It Live Up to the Hype?
The much awaited The Daily for iPad has finally arrived, but does it live up to the hype? This revolutionary app will definitely mark the beginning of the end for printed publications. However, as most pioneering technologies, The Daily still has some flaws. Read the review to find out why!
Presentation (4 out of 5)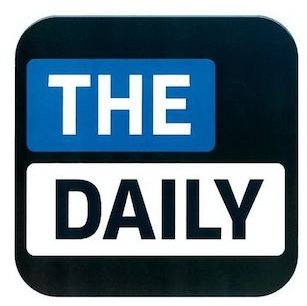 The Daily for iPad is just beautiful. Everything is very "visual" and from the moment you launch the app you can feel that an enormous amount of time, money and effort has been put into it.
The Carousel is the "main page" where you can quickly browse the whole issue. When you find a "slide" that you deem interesting, just tap it and you'll be able to see it in full-screen glory. The Carousel is both one of the app's biggest strengths (very intuitive) and also one of its biggest weaknesses, since it suffers from some worrying performance issues. More on that later.
The Control Panel is a menu where you can access many interesting options. For example, a quick video recap featuring today's most interesting news, a button to automatically browse between different sections (randomly if you want), and an option to "hear the news". This is one of those amazing things that can only be done on an iPad, and it's really nice. Instead of reading a long article you can just relax doing something else while you listen to the article. The voice is pleasant and the accent is easy to understand.
You can also tap the Visual Browser at the top of the screen to skim every page easily and quickly. Below the Visual Browser there is a small navigation bar with all the main sections; News, Gossip, Opinion, Arts & Life, Apps & Games and Sports. Just tap on the bar to go directly to your choice of section.
Finally, you can save any article you want, comment on it, share it on Facebook and Twitter or send it through e-mail.
Unfortunately, the Carousel suffers from some annoying lag issues and it's quite prone to crashing so that really takes away from the overall experience. It seems like the iPad simply doesn't have enough processing power although this problem will probably be solved with the iPad 2's new processor, or even better, with a patch. Patch 1.02 has already improved it substantially.
Features (5 out of 5)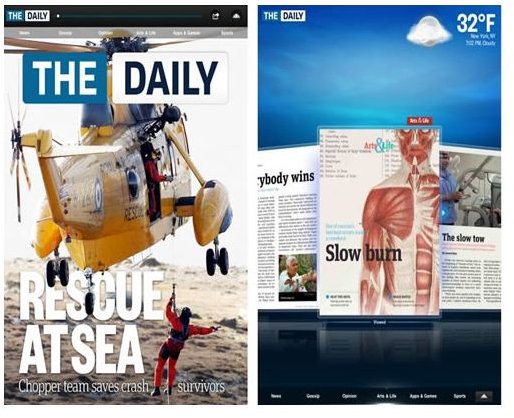 This is where The Daily for iPad really shines. Be prepared for some extremely high quality photos (the app is full of them), tons of videos which you can view as you are reading the text and, most impressive of all, full 360 degree pictures which slowly rotate and let you see everything around you, as if you were really on the spot!
Other interesting media features are some embedded animations (for example in the famous "Race to the Moon" article), which showed an animated Moonrover and all of its technicalities. Sometimes, you feel like you are reading "The Daily Prophet" from the Harry Potter series with all those moving pictures.
But my favourite feature by far is just a simple (yet genious) tweak. Depending on whether you have your iPad on landscape or portrait orientation, different things are shown. For example, if you are reading an article about mega-mansions and how the marble fountain alone costs half a million dollars, you can just put your iPad on landscape mode and look at full-screen high resolution photos of that particular fountain. Then resume reading the article by simply reorientating your iPad to portrait mode.
The tweak provides for a really dynamic experience, and I can't stress enough how important this simple tweak is for all future apps and tablet newspapers of any kind. Still can't figure out why nobody thought of it before, but props to "The Daily" creative design team!
Sometimes you'll see an audio button embedded within the text. Press it and you could for example hear the original mesage sent to outer space 30 years ago or a sample of the "song of the week" which you can then instantly buy at iTunes.
You can even leave comments by simply recording yourself, something never seen before. Small things like these are what make The Daily for iPad a really impressive and revolutionary feat.
Interactive Media (4 out of 5)
The Daily for iPad features a Crossword and a Sudoku every day. The games are played using a handy touchable numeric panel and the game is as addicting and engaging as ever, complete with Game Center integration where you can upload your scores and compete against thousands of other online players. The Leaderboards show who the true Sudoku & Crossword masters are.
There are also book & movie reviews (with their corresponding trailers) and a section covering the best apps for some particular purpose, tap to buy them directly at the App Store.
The Sports section is great; you can watch a specific movie with the touch of a button and follow your favourite American teams to know exactly how well are they doing.
There is also a Weather + Horoscope widget which comes in handy if you live in the US but the former doesn't work outside the States. This is another feature which needs improving, but we'll delve into that matter later on.
Content (4 out of 5)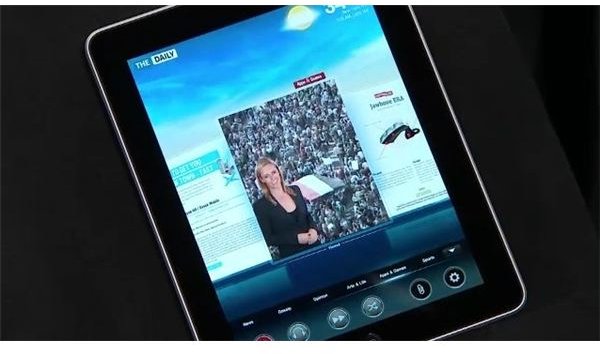 The articles are interesting, well written, and cover a wide variety of topics. The texts aren't too long and (although some people are complaining about this) it's nice to read a complete section in about 15 minutes. Perfect for short bus rides or while waiting for an appointment.
The News section informs you about events from all over the world and does it well enough. Fortunately, this is one of the strongest sections of The Daily and the articles are interesting and easy to read
The Gossip section is very entertaining if you are into the topic. It features tons of stunning photos of celebrities and their various boyfriends, girlfriends, lovers, slip-ups and more.
The Opinion and the Arts & Life sections are nice although they seem a little bit too pro-American (not surprising considering that it's a newspaper made for the US public), which can be distracting if you are a European reader. Yes, you can read The Daily outside the US! Find out how in the "How to download (and get a subscription) to The Daily outside the US" section of this article!
The Apps & Games section is really entertaining and the possibility of uploading your Sudoku scores to Game Center makes it really addicting.
The Sports section has been touted as one of the best reasons to read The Daily, and it really is - if you live in the US. Full chronicles of the most important matches (covering American football, basketball, baseball and the NHL) are shown with spectacular photos and replay videos, and there's also a dashboard where you can choose your favourite teams and follow their tweets, stats and overall position. A dream come true for any sports fan! If you are European, then you'll definitely miss all the football (soccer) information about Barça, Manchester Utd, Milan, etc.
The Daily for iPad shows a very subtle sense of humour throughout all the articles and overall it's a gratifying experience to read it.
Value (5 out of 5)
The Daily for iPad is extremely good value for what you get. The price for a subscription is only $0.99 a week or $39.99 for a whole year. This is much cheaper than most publications and it will undoubtedly make The Daily for iPad very competitive on the newspaper market.
How to download (and get a subscription) for The Daily outside the US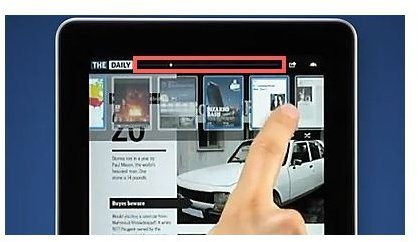 Getting a subscription to The Daily for iPad ouside the US is quite easy:
1- Go to the US iTunes store and try to buy any free app.
2. A prompt to create a new account will appear.
3. Fill in all the details but make sure your US address is real. Choose a hotel's address, for example.
4. Complete your registration to activate your account.
5. Now you can download free apps like The Daily from the iTunes US Store!
Ok, but how can I pay for a subscription? Unfortunately you'd have to use a credit card with a valid US address for it to work, which is obviously impossible outside the states. But there is an easy way to overcome this problem.
1. Search online for an iTunes US gift card reseller. There are many legit stores that sell iTunes US gift cards at a slightly higher price (so that they can obtain a small benefit), buy one and an e-mail will be sent to you about 30 minutes after you've paid. This is completely legit and doesn't infringe any rule.
2. Add your code to your account and subscribe to The Daily for iPad. Voila! Now you can enjoy this awesome tablet newspaper for as long as you want.
What Needs To Be Improved
The Daily for iPad has already received some much needed updates which improved stability and performance, but there are a few aspects that still need to be polished even more:
-Improved speed when using the Carousel.
-Improved performance when quickly browsing through multiple high-res slides.
-Less crashing.
-An option to resume the "Daily Anchor" at the point where you left off, it's very annoying to hear the same piece of news again after you've tapped on some interesting story.
-Random browsing through unread stories.
-A Sports dashboard with European soccer teams (ie, when The Daily is made widely available outside the US, hopefully soon).
-Using "autosolve" on the Sudoku should not make a black screen appear over the Sudoku, people want to actually know how it was supposed to be solved! This is a minor but extremely annoying issue.
Overall (4 out of 5)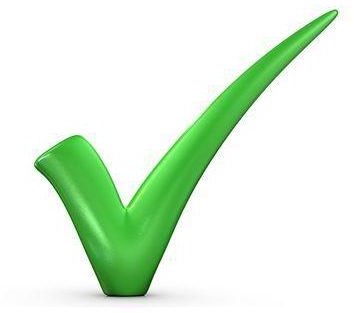 The Daily for iPad has incredible potential, and although it's not perfect I'd still recommend it to anyone who wants to be updated with the latest news in a clear, fun, and attractive way.
A new era is approaching and The Daily for iPad is destined to be the spearhead in this new type of interactive media. Don't miss it!
This post is part of the series: iPad
Everything about Apple's wonderful iDevice