HP Mini 110-3100 Netbook Review - Features, Keyboard Size, and More
HP Mini 110 Series
The HP Mini 110-3100 netbook is among the current lineup of HP's Mini 110 series of netbook computers. I wish HP had employed a more diverse numbering system to tell these models apart, because just calling a netbook the Mini 110 implies a wide range of hardware configurations. If you are preparing to buy one of these models, be sure to find out the number preceding the model, in this case being 3100, to find out specifically what is on the machine.
When shopping for netbook computers, you'll find that despite the variety of makes and models, there is not a whole lot of difference between them. Most have the same couple of different processors, the same size screen, and so on. The main factors that set them apart as far as price is the amount of RAM and the size of the hard drive, or whether or not the PC comes with Windows 7 Starter or a fully featured version of Windows 7.
This particular model HP Mini 110 was $299.99 at Sam's Club and I chose it for several reasons. First, the HP brand name is one that I trust and I have owned several HP/Compaq computers in the past and never had any major problems with them. Secondly, I found this to have the most desirable hardware configuration for the price.
Features (5 out of 5)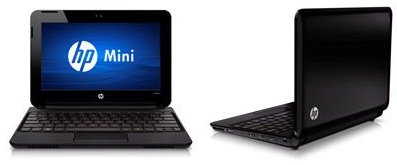 This HP netbook includes an Intel Atom N455 processor running at 1.67GHz. The Intel Atom series is what you will find in most netbook computers because it is designed for low power consumption. This computer also includes a full gigabyte of RAM, but it is not expandable. I have come across some videos on YouTube that tell how to open the case and upgrade the memory, but I'd rather not void my warranty at this time. I am sure this computer would perform better with 2GB instead of 1. The 250GB hard drive is more than adequate for basic applications and data storage.
All of the ports on this machine are either on the right or left side. It has no connections in the front or back. There are three USB ports plus an SD card port, a headphone jack, an Ethernet port, and a VGA port for connecting to an external monitor or projector. Being that this is a netbook, there is no CD/DVD drive. The monitor also includes a built-in webcam and microphone for doing video chat like with Skype. There is no Bluetooth support on this model, but it does support wireless networking.
(Image credit: HP.com)
Durability and Design (5 out of 5)
HP made the Mini 110-3100 to be very sturdy and it feels solid. The screen is housed in a solid plastic frame that doesn't bend or flex, which is very good. I do wish it included some kind of release or lock for when the screen is closed, but it doesn't. The overall thin design makes for maximum portability, but it does generate a good bit of heat from the fans on the left side of the case. It will get warm while sitting in your lap.
The keyboard is quite adequate for the size of this machine, though I do really miss the lack of some keys like Home and End or Page Up/Down. I use Home and End quite often when typing and since I got this netbook mainly for doing word processing, I have had to readjust my typing method.
Performance (4 out of 5)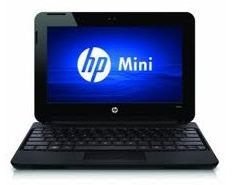 The 250GB 5400 RPM hard drive is noticeably slower than the hard drive in my desktop computer, and I can tell the difference when I am installing software or running Windows updates. This is definitely not the kind of computer you'd want to use for converting video or doing any kind of hardcore work, but netbooks are not designed for that kind of use. A great many netbook models only come with a 160GB hard drive, so I was pleased to have the extra storage with the 250GB in this one. Of that amount, HP sections off a recovery partition that takes up about 16 gigs of space. The recovery partition is good to have, but it takes up a substantial percentage of the drive.
In order to conserve battery life, I keep the wireless networking turned off unless I am using it. All you have to do is press a key to turn it on or off, and when you turn it on the process to connect to my home wireless network only takes about ten seconds. HP includes a wireless LAN assistant program to help you with connectivity, in case you need it.
I find the 10.1" widescreen display to be incredibly sharp and the colors are so bright that I have to keep it dim unless I am outdoors. Keeping the screen brightness dimmed will also help to conserve battery life. The native resolution is 1024 x 600, and I must say that I wish it was a little bit taller. The 1024 pixel width is just fine for displaying web pages and working in Office documents, but the 600 pixel height makes it so that using the default font in Word only lets me see about 12 lines of text with all the menus in place.
Although I have not done a non-stop battery depletion test on this machine, I have only had to recharge it about once a week and that's after several hours of use. By my estimation, I am getting about 6 hours of use out of a full charge and I keep it turned off when not in use.
(Image credit: HP.com)
Overall (5 out of 5)
There are pros and cons to owning a netbook vs. a laptop, so I am not going to fault the HP Mini 110-3100 for what it is. I don't expect it to have a full size keyboard or to be very fast, but for just under 300 bucks I have a fully functional computer that lets me get online, run Office applications, and do a wide variety of things that I can do on a regular size laptop. I love its long battery life and maximum portability, and if you are in the market for a new netbook, this HP Mini 110-3100 is definitely worth consideration.