Lenovo Mini Dock 3 Review: Last of the Docks
Last of the Docks
Perhaps my memory is fooling me, but it seems 5 to 10 years ago was a golden age of docks. There were far more available from far more companies, and some were even meant for consumer computers. The docks weren't cheap, and they still aren't, but they were at least an option.
Now, docks are virtually unheard of on consumer products. But business-oriented brands, like Lenovo's ThinkPad, still offer them. Or, more specifically, two - one of which is the Lenovo Mini Dock Plus 3. This product is built to fit the Lenovo T400s, T410, T410s, T510, L412 and L512 laptops.
Let's take a look at what this dock has to offer.
Design and Build Quality (5 out of 5)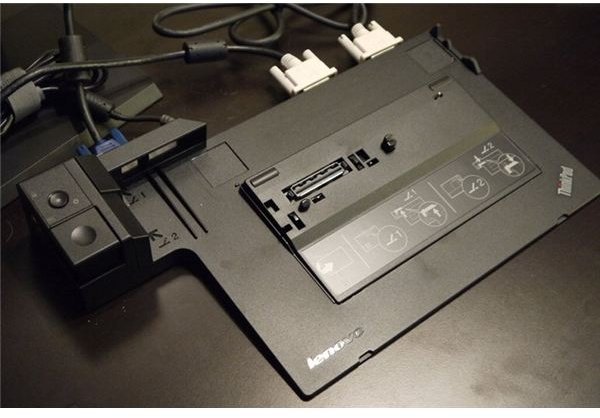 The Lenovo Mini Dock Plus 3 is feels extremely light when handled. It's easy to mistake this as a sign of poor quality, but so far as I can see, there is no reason to be disappointed with what the dock offers. It's made out of plastic, and I suppose metal construction in at least some parts of the product would have been more durable. The plastic used is fairly robust, however - it feels similar to the plastic used for the palmrest of ThinkPad laptops - and the dock is only expected to sit on a desk. That's not exactly a high-stress environment.
The Lenovo Mini Dock Plus 3 isn't a particularly large product. It is about as wide and deep as a netbook, and very thin with the exception of the upper left hand corner, which houses the detachment button and the lock, which can be engaged at your leisure. Because of it's size, the Lenovo Mini Dock Plus 3 is very light and doesn't leave a lasting impression.
The dock fits both the 14.1" and 15.6" ThinkPads, and as a result the smaller 14.1" laptops don't fit as snugly as one might hope. A minor complaint, no doubt, and the only one of substance that I can think of.
Features (5 out of 5)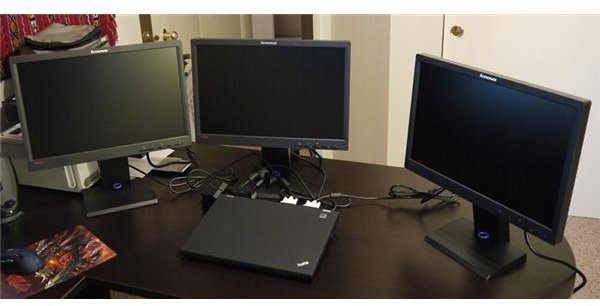 Buying the Lenovo Mini Dock Plus 3 will provide you with a number of extra ports including 6x USB, 1x eSATA, 2x DVI, 2x DisplayPort and 1x Ethernet. That's a robust selection, and the Mini Dock Plus 3 stays completely out of the way of the existing ports on ThinkPad laptops, which means you can use both those on your laptop and those on the dock simultaneously. With laptop attached, the Lenovo Mini Dock Plus 3 provides more ports that your typical consumer desktop.
Of particular note are the additional display ports, which can be used in conjunction with the VGA out on some ThinkPad laptops. This allows for the connection of three external monitors. Only some ThinkPads support this feature, but for those that do, it's beyond handy. Few people need to have three monitors in additional to a laptop display, but for some professionals it is important.
Conclusion (5 out of 5)
I have no complaints about the Lenovo Mini Dock Plus 3. Docks aren't sexy, they're utilitarian, so there aren't many whiz-bang extra to comment on. The Mini Dock Plus 3 does the job it needs to do and does it well.
You'll have to lay down about $250 to pick up one of these docks. That's nothing to laugh at, and it does seem like a steep price for such a small piece of additional hardware. Of course, you don't really have much choice. The only other option is the Lenovo Mini Dock 3, which is very similar but lacks the second DVI and DisplayPort connection, and also loses eSATA. The Mini Dock 3 is $220.