Alienware Keyboard - Is the Alienware TactX Keyboard Right for You?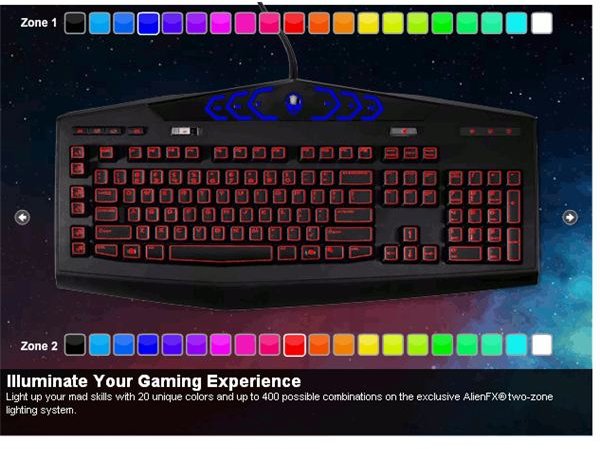 Alienware Keyboard - The TactX
Keyboards aren't just for basic typing anymore. Thanks to the rise of PC gaming, advanced keyboards have become more common. The Alienware keyboard is no exception, and it's certainly a sight to behold. The TactX is available from the official Dell website for $99 and is geared toward gamers looking for something a bit more powerful than the basic keyboard you'll get with most desktops.
Note that this Alienware keyboard covers all of the basics. This is true of pretty much any expensive gaming keyboard, so it's not really worth exploring. The real question is whether the Alienware keyboard will handle your gaming needs and whether it will stack up well compared to other gaming keyboards.
Also, if you're just interested in other products from Alienware, you should probably check out the article on the relative value of Alienware computers.
Alienware Keyboard - Appearance
The big feature of the Alienware keyboard is its backlighting. There are two series of lights that can be set to any of 20 colors through the keyboard's software. Note that if you want to use the lighting you will need to connect a second USB cable to the computer. The lights are fairly easy to set and they can look fairly impressive. I've personally never been a big fan of built-in lights. I can see them as being a nice feature, especially for someone who plans to play at a lot of LAN tournaments or in a group. If you don't plan for anyone else to see the keyboard, then it's not much of a feature.
The overall appearance is pretty standard for a keyboard. It looks stylish enough, but lacks what I would call a distinct look. That's going to come down to personal taste though.
Note that you can get a good look at the keyboard and the various combinations of lights through their interactive photo gallery through this link.
Alienware Keyboard - Gaming Functions
The major selling point for the keyboard as a gaming kewyboard is that it has six customizable macro keys within pinky range of WSAD. These macros can be programmed through customizable profiles. For example, you can make a special dive key for Call of Duty to pull off well timed bunny hops and dives. I imagine that people with favorite build queues for real time strategy games could also rig up a way to do complex build codes with just a few macros.
The special feature for the Alienware TactX keyboard is the ability to create many different profiles for the macros. You can then switch between profiles easily and not have to physically change the macros every time you change games.
There's also some good anti-ghosting technology around the WSAD keys to ensure a clear signal and precise movement. I don't believe that this is too much of a problem for the average gamer, but it's still a nice addition.
Alienware TactX - Roundup
My main problem with the Alienware TactX keyboard is that you're not really getting much bang for your buck. It just seems like a lot of money to pay for some lights. The macros and unlimited profiles are nice, but that's actually a fairly standard feature for a gaming keyboard. Just look at this past review of the top ten gaming keyboards. It's slightly dated, but a good guide.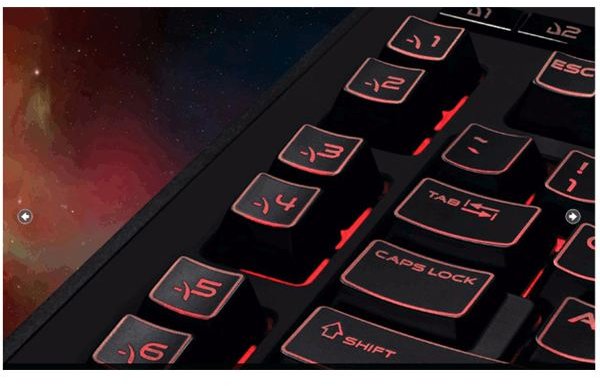 In general, it seems like the Logitech G series and the Microsoft Sidewinder series offer the same macro functions and a few other nice features (I'm particularly fond of the LCD screens in the Logitech G series). They're also a fair bit cheaper (except for the newest Logitech G19 which about $170, but it features a color LCD screen). Most of these are available for the same price or less.
I'm not even sure about the unique look of the Alienware keyboard, since the the Saitek Cyborg seems to be a bit cooler. Of course that's all a matter of personal taste.
It will basically just boil down to what you're looking for in your gaming keyboard. If you like Alienware computers, then you will probably want to pick up a matching keyboard. If you like their style of background lighting and like the look, then it's a decent buy. I really feel like there are better deals on the market though, so consider the offerings from Logitech and Microsoft before you really commit to this Alienware keyboard.
Image Credit - Product Page - https://www.dell.com/content/products/superview.aspx?c=us&l=en&pageoverride=gallery_view1&s=corp&xdb=Z2xvYmFsOnByb2R1Y3RzOmFsaWVud2FyZS1hY2Nlc3NvcmllczpmbGFzaDprZXlib2FyZC1hbGllbndhcmUtdGFjdHgjcmVnaW9u