Computer Keyboard for Vision Impaired Users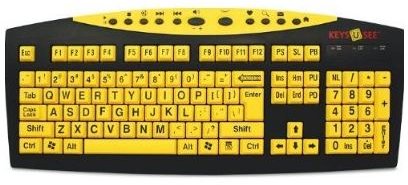 Note that you should always check the specifications of anything that you buy to make sure that it will work with your operating system and hardware. There are just too many configurations out there for me to effectively cover the "best" setup. I'll just try to round up the options and make shopping for your choice a little bit easier.
Large Print Keyboard for Vision Impaired Users
F
or people that have impaired vision and have trouble seeing the keys, there are a few options to make the keyboard easier to see.
For starters, several keyboards are available with large print keys already made. These are just what they say on the label. The letters are blown up to a much larger font size and should be easier for people with impaired vision to view.
Keys-U-See Keyboard – Just like it says on the label, this is a keyboard that was manufactured with large print keys. You should be able to just plug and play for the most part. This keyboard is black with yellow keys and black printing. This should create a very high contrast that makes the letters and symbols much easier to see. Although it will probably clash with the average desk, it will certainly stand out well, even in low light. They also offer a standard white keyboard if this one is too bright.
Visikey Keyboard - Visikey offers this standard keyboard with special large print keys. This claims to work fine with both PCs and Macs, so if that's a concern you may want to check it out.
Large Print Keyboard Overlays for Vision Impaired Users
Personally, I'm a little gun shy over the above models and their competitors. There seem to be a lot of complaints about their quality and durability. This is natural for anything technological, but it's still a little worrisome.
I think that the option for large print stickers is the best choice. These are just stickers that can be put onto the various keys and they do the same thing as the large print keyboards. The benefit is that you can use a trusted name brand keyboard, or just continue to use the keyboard that you already have. This seems to be a safer option.
The four pack ($15 after shipping) seems to be a good deal. You can find it through this link. They have four sheets of stickers with yellow on black, black on yellow, white on black and black on white. This means that you have three sets of backup stickers to use before you have to buy more, if the adhesive wears off. There are also some interesting ideas for using different colors to color code the keyboard. For example, one color could mark the letters while another would handle the numbers and a third would handle formatting keys.
Unfortunately, it really seems like there is a tremendous deficiency in Braille keyboards for any blind users. I had trouble finding legitimate brands for home use, although I was in luck with the sticker producers. Keys-U-See offers a large font overlay that also has Braille markings. You can see it through this link.
Voice Recognition Options for the Vision Impaired
While it's good to have a keyboard for vision impaired users, any affected user should probably think about picking up some voice recognition software. Dragon Naturally Speaking recently received an excellent review on our site. I'll admit that I've seen reviews all over the place for it. Some writers love it, some think it's alright but not useful and others think it's trash. It seems to come down to whether voice recognition and dictation overall worked out for the user. At the moment, Dragon Naturally speaking has a Christmas sale, and you can also usually pick up an older version very cheaply.
If you don't want to commit the money for Dragon Naturally speaking, you can test out whether dictation will work for you with the built in voice recognition features in Vista and Windows 7. Just set it up and run through the training. You just need a microphone to record your voice. You should be able to set up the program to let you run your computer with just voice commands. It's far from perfect, but if you're having trouble using a keyboard it can be a good solution.
Related Links and Resources
Image Credit: Amazon Page - https://www.amazon.com/gp/product/B000C1U8XG/ref=s9_simh_gw_p364_d0_i7?pf_rd_m=ATVPDKIKX0DER&pf_rd_s=center-3&pf_rd_r=1BGQ9D3RWZB9XXQ3HN16&pf_rd_t=101&pf_rd_p=470938811&pf_rd_i=507846