Reduce Theft With These Top 5 Keyed Laptop Computer Security Cables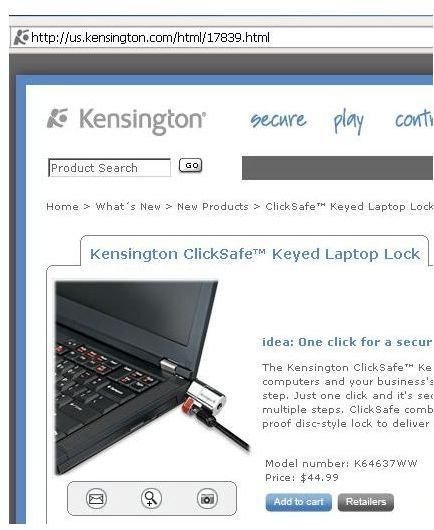 1. Kensington MicroSaver Notebook Security Cable for Laptops
As users scurry about to find security software for protection from online threats, the physical security of their laptop is often neglected. One reason why people don't use a security cable for their laptop computer is because the cables are often too bothersome to attach. This product from Kensington helps address that problem.
Make following laptop security policy easy by purchasing the Kensington MicroSaver Notebook security cable for laptop computers. This
device locks into a laptop security slot with just a single snap, eliminating the hassles famously known to discourage security cable use.
A cable made from the strongest steel possible, a rotating lock head, and the ability to order cables keyed to a master make this one of the best keyed laptop computer security cables on the market. It sells at around $45.
Screenshot by author courtesy of Kensington.
2. Belkin Notebook Security Lock - Master-Keyed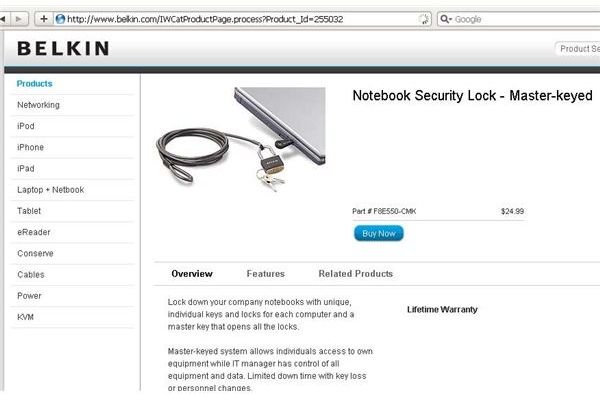 This master-keyed security lock for laptops is perfect for businesses where multiple laptops are in use because one master key will unlock all devices while every individual user retains a key that unlocks only their device. Like other keyed laptop computer security cables, the Belkin device can lower the incidence rate of laptop thefts by introducing an extra layer of physical security. Unlike some other competing solutions, however, the Belkin product relies on a padlock-style lock that connects to a hasp in the computer's security slot and to the six foot steel cable. This device is available for $24.99 from Belkin.
Screenshot by author courtesy of Belkin.
3. V7 Keyed Laptop Security Lock
Stolen laptop computers are hard to recover, so users should take extra steps to keep them safe with a security cable designed for laptop computers.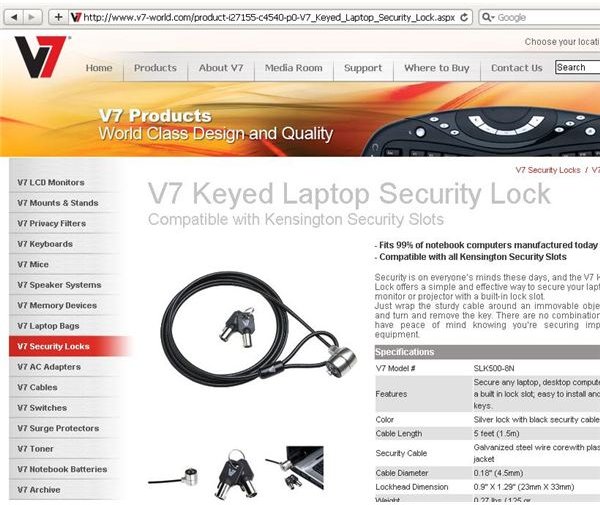 V7 is a private label brand distributed by Ingram Micro that offers an excellent security cable for laptop computer users that combines ease of use with high security. Ease of use and compatibility with most laptop security slots makes this one of the top keyed laptop computer security cables on the market today.
Because this lock has a key, users won't have to worry about memorizing a combination code or having someone else discover or guess the combination while they are away.
The steel cable is difficult to cut and removing its connection to the laptop will destroy its value, making it an ideal solution for keeping your computer on your desk and away from online auction sites. This laptop security cable is available online from outlets such as NewEgg and Amazon in the $30-$40 price range.
Screenshot by author courtesy of V-7 World.
4. Kensington MicroSaver DS Keyed Ultra-Thin Notebook Lock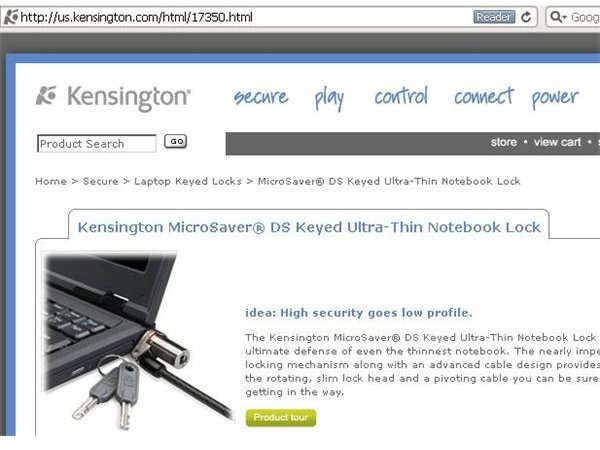 Modern ultra-lightweight laptop computers are ultra-thin, providing new security concerns. Fortunately, the Kensington MicroSaver product offers a keyed security solution designed specifically to keep you in control over your ultra thin portable computer. For this innovative device, high technology has been used to make the steel cable stronger and thinner, while the rotating slim head makes it easy to affix the lock to the thinnest computers around. Find it at Kensington for around $50.
Screenshot by author courtesy of Kensington.
5. Lenovo Security Cable Lock
Physically secure your laptop computer using the Lenovo keyed security cable lock. A 3 year warranty, free replacement keys, a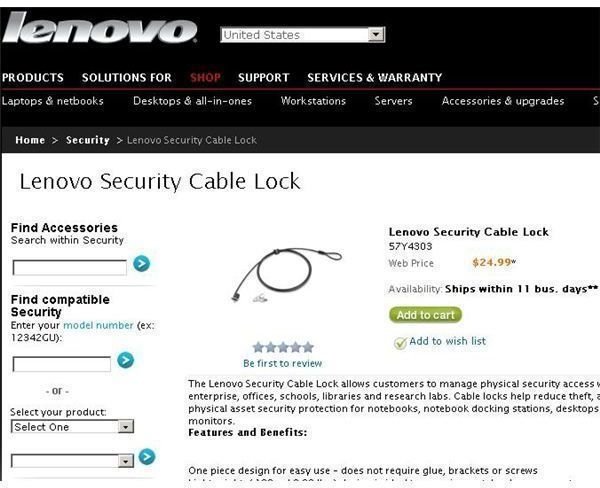 Velcro travel strap, and a zinc alloy steel T bar design makes this an excellent option for anyone who needs to leave their computer exposed at the office, in the library, or on the road. The Lenovo security cable for laptop computer users is available from Lenovo at a price of $24.99.
Screenshot by author courtesy of Shop Lenovo.