Find Toshiba 13 Inch Laptop Computers to Fit Your Briefcase and Life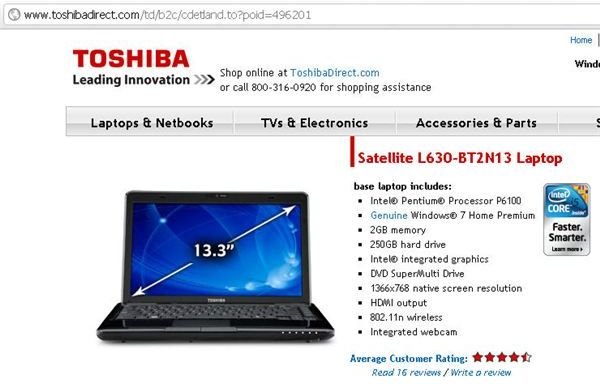 Toshiba Satellite L630-BT2N13 Laptop
If portability is important to you, the Satellite L630-BT2N13 laptop might be a good fit for you. Powered by the entry level Pentium P6100
mobile processor and equipped with 2 GB of system memory and a 250 GB hard drive, this computer will help you stay connected wherever you go.
The integrated Intel graphics chipset powers a HD display and an HDMI output so you can show presentations and movies to groups using large screen TVs or high definition projectors. The Windows 7 Home Premium running on the L630 makes sure that users don't miss out on any important Windows features. A web cam, a DVD supermulti drive, and built-in wireless networking outfit this 13" laptop with features you might expect only in larger, more expensive models.
This Toshiba laptop computer sells for just $599 after instant savings at the Toshiba Direct Web site.
User reviews about the L630-BT2N13 rave about its lightweight and quiet operation, with the only complaint being about the batteries, which some say last less than 4 hours on a single charge. Still, the user ratings for this computer are high, averaging over 4 stars out of 5.
Satellite T235D-S1345 Laptop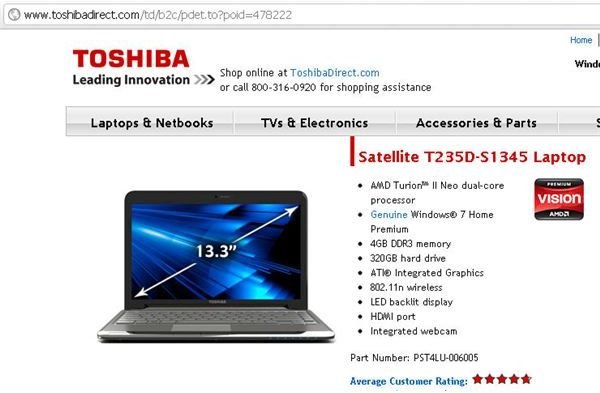 Toshiba's Satellite T235D-S1345 laptop is powered by AMD's dual core Neo processor, offering you robust performance with minimum battery draw. This computer lets you stay connected all day, even when you are away from a wall outlet.
The T235D-S1345 has 4 GB of memory, and a 320 GB hard drive, so users are have ample resources to accomplish routine productivity tasks. An ATI graphics processor drives a brilliant backlit LED display on this Toshiba laptop. Other standard features include wireless networking, a Web cam, and HDMI output. This impressive 13" laptop sells for $599 including shipping when ordered from Toshiba Direct.
Professional reviews of the T235D laptop such as the one at LaptopMag.com rave about its performance playing video and keyboard, but criticize its low quality web cam, poor-sounding speakers, and lackluster battery life. The LaptopMag rating gives this laptop 4 out of 5 stars, a solid rating that seems to mirror the opinion of most customer reviews.
The Toshiba Portege R700-S1312 Laptop
For the best power and price combined in a midrange computer, buyers should consider the Portege R700-S1312 Laptop from Toshiba.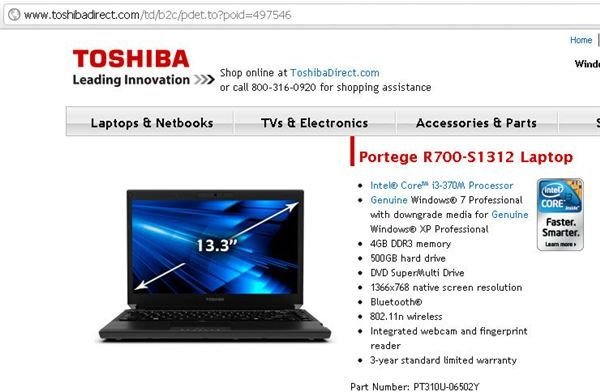 This computer brings more power to the table than its lower priced counterparts.
Packed with Intel's Core-i3 370 processor, 4 GB RAM, 500 GB of hard drive space, Windows Professional with an XP downgrade, Bluetooth, and biometric security, this Toshiba laptop has the processing power that let's users bring the power of the desktop with them wherever they go. All these professional features come at the surprisingly low price of $999.
Reviews of the Portege R700 rave about the six hour battery life on every charge, but complain about its heat, noisy fan, and small keys.
Portege R700-S1332 Laptop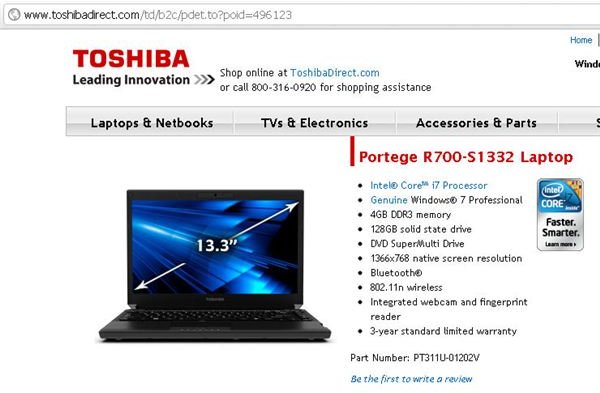 The last of the Toshiba 13 inch laptop computers is certainly not the least. The Portege R700-S1332 Laptop is equipped with Intel's powerhouse Core-i7 CPU, a 128 GB solid state drive, and biometrics to give users the powerhouse they need to create, design, and entertain everywhere they go.
For just under $1,600, users can pack a huge punch in an incredibly manageable package.
There aren't many user or professional reviews available on this specific version of the Portege R700, but this model likely shares similar praises and complaints with the S1312 mentioned above.
Toshiba 13 Inch Laptop Computers
Toshiba 13 inch laptop computers are available to equip users of all types with light, mobile, and impressive computing power. Choose the one that is right for you and go with it.