Finding the Best ASUS Laptop Hot Deals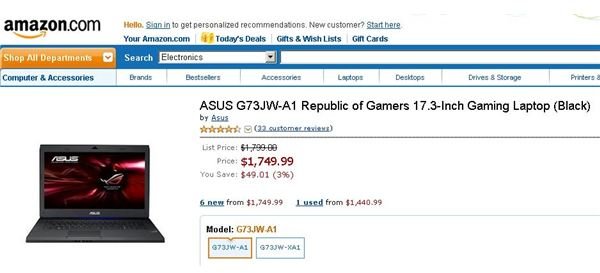 Asus G73JW-A
Dubbed the "stealth fighter" laptop by LaptopMag.com because of its sleek look, the ASUS G73JW-A has an awesome futuristic exterior. If you like the way it looks, you will love the way it zooms through games and applications. Equipped with the hottest CPU
and GPU technology needed to be a viable gaming platform, this powerful notebook comes with USB 3.0 ports, a Nvidia GTX 460 graphics processor, and an Intel Core i7 processor.
Screen real estate on the ASUS G73JW-A is ample. The generous 17.3 inch display offers brilliant colors and exquisite detail. This computer comes equipped with 1 terabyte of hard drive storage so plenty of space is available for loading space-hungry PC games.
With all the computing power packed into this ASUS laptop, you might expect that it would get uncomfortably hot like many gaming laptops do, but this model stays remarkably cool: it won't burn your lap or your hands even during extended use.
Amazon has the Asus G73JW-A for $1745.03, a savings of $54 below the low price at NewEgg.
ASUS 1201PN-PU17-SL
The ASUS 1201PN-PU17-SL is a low-end notebook that sports an an Intel Atom N450 processor running at 1.66 GHz. This laptop comes with Windows 7 Home Premium and 2 gigabytes of DDR2 memory, so it will run most applications without a hitch. With this unit, ASUS offers customers an awesome deal on a solid unit.
The hard drive on the ASUS 1201PN-PU17-SL stores 250 GB of data, giving you enough leg room for productivity. Its graphics are furnished by an Nvidia ION graphics processor that powers the 12.1" display. Although small, the display has a resolution of 1366x768, which is equal to most 15" systems.
You won't have to worry about running out of power when you have the ASUS 1201PN-PU17-SL with you because this laptop is rated for 6 hours of use per battery charge
The ASUS 1201PN-PU17 laptop features Bluetooth and WiFi connectivity, so you receive remarkable flexibility for a computer that's in this price range. This ASUS laptop is available from NewEgg at a very affordable price, making it one of the best laptop computer buys around.
ASUS UL80VT-A1
The last of our ASUS laptop hot deals, the ASUS UL80VT-A1 features a midrange price tag and comes with impressive features.
The CPU inside the ASUS UL80VT-A1 is an an Intel Core 2 Duo (SU7300) dual core mobile processor operating at 1.3 GHz. This is backed up by Nvidia 210M graphics and 4GB of RAM, a combination that provides outstanding overall performance for such a thin laptop.
The ASUS UL80VT-A1 offers up to 11 hours of battery life per charge, letting you get work for most of the day without being tethered to a wall outlet.
This impressive midrange ASUS laptop normally sells for $849, but Buy.com has a hot deal on it at the time of this writing, making it available at the low price of $699.99.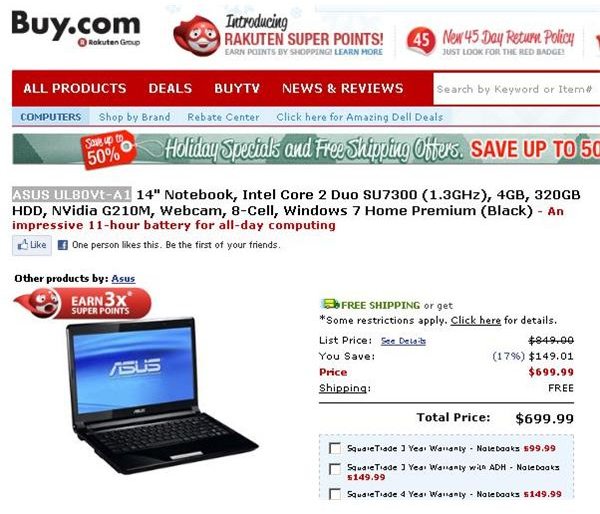 Go Shopping for Your ASUS laptop
ASUS laptop hot deals like these offer impressive computing power at value prices, so get out there and start shopping for the one that best fits your needs.
Image Credits: Screen shots taken by Bruce Tyson