Seagate vs Hitachi Hard Drives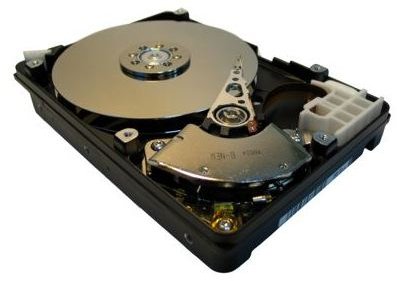 Seagate and Hitachi are titans in the data storage arena, although at the close of 2009, Seagate was the largest supplier of hard
drives in the world with almost 31% of the market in its fold and trailed by Western Digital by a very slim margin (in fact, some suggest that Western Digital has overtaken Seagate for the number one spot this year). Hitachi ranks as the number three supplier in the world, rating just over half the market share of Seagate, making it an apparent underdog in the Seagate vs Hitachi hard drives matchup.
Although the Hitachi share of the global hard drive market is smaller than Seagate's share, Hitachi has a broader range of interests that range from the manufacturing of discrete electronic components to the assembly of consumer electronics products. With a market cap of nearly $22 billion, Hitachi is no lightweight in any arena in which the company competes.
Seagate has recently been criticized by market analysts for having a high debt to capital ratio, leading some analysts to question whether the company is in a position to retain market leadership. Its $6.6 billion market cap, however, is more in line with its primary competitor, Western Digital, that also produces hard drives as its primary focus.
Now that you know a little bit about the players in the hard drive market, let's take a look at one comparable top hard drive model from each company.
Image Credit: Wikimedia Commons/Tor
Hitachi Deskstar 7K2000
Those deciding between Seagate vs Hitachi should consider the features and specifications of similar drives. Here we look first at
the Hitachi Deskstar 7K2000, a 2 terabyte drive that gives computer users speedy access to a lot of storage space. This drive is Intended for use in desktop computers, although another version of it, the EK72000, is marketed by Hitachi for use in servers.
Hitachi's perpendicular magnetic technology helps this Deskstar drive achieve high data density in a standard 3.5 inch footprint. The disks inside the drive spin at 7,200 rpm, and deliver incredible performance in conjunction with the drive's ten physical heads. This 4th generation Deskstar comes with enhanced power management electronics that give it an additional 10% power performance increase over its predecessors.
Other performance factors include a 32 megabyte cache, a maximum media transfer rate of 1,621 megabits per second, and an interface transfer rate of 300 megabytes per second. Hitachi's special acoustics technology is designed to make the Deskstar 7K2000 one of the quietest hard drives in its class. It has an overall acoustics rating of 2.9 Bels.
Uses for the Hitachi Deskstar 7K2000 include non-mission critical desktop applications, gaming, and external storage.
This 2 TB hard drive is currently available for around $140 online.
Seagate Barracuda XT ST32000641AS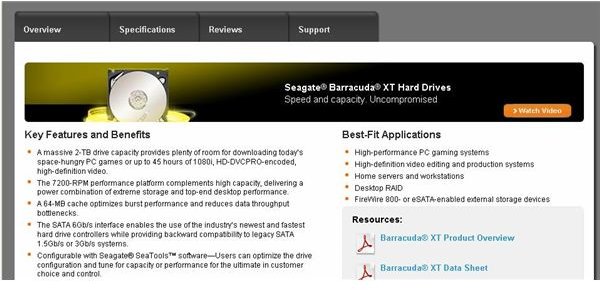 At the time of this writing, the Seagate Barracuda XT ST32000641AS hard drives offer users a leg up on the best Hitachi offering. Although it is a 7,200 rpm drive the Hitachi Deskstar is equipped with a 64 megabyte cache, allowing it to offer an incredible 600 megabits per second through its SATA interface.
If you need a drive that can withstand the most shock, the 63 G tolerance of the Seagate Barracuda XT does not measure up with the 70 G rating of the Hitachi Deskstar drive.
Seagate breaks its acoustic rating into idle noise (2.8 Bels) and seek noise (3.2 Bels), making it competitive with Hitachi's notoriously quiet drive.
The Seagate Barracuda XT 2TB drive is perfect for desktop users that require a lot of storage combined with top of the line performance. Gaming and media streaming are two of the roles this drive is intended to support.
Right now the Seagate Barracuda XT ST32000641AS can be purchased new at prices as low as $170 online.
Decision Time
The competition between Seagate vs Hitachi hard drives right now is won by Seagate. Although Hitachi leads in noise, shock tolerance, price, and perhaps a couple of other metrics, Seagate has the advantage right now because it has a 600 Mbps SATA drive on the market, ready to sell.
Although Seagate has the lead in technology, bear in mind that technology continually evolves, and Hitachi will likely have a 600 Mbps update to its product line in the near future.