How to Participate in Flash Drive Giveaways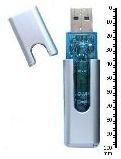 Why Do You Need a Flash Drive?
Uh - why wouldn't you need a flash drive? Flash drives are compact and can store 32 GB or more of data. They are great for taking data on the go, such as from school to home, sharing files with friends, transferring music or photos or backing up important files. The small size makes them easy to store and the USB format makes them universal with most devices. The only reason you wouldn't need one is if you don't use computers (you luddite!)
Some flash drives can be turned into a portable computer containing your operating system, programs and files. For more information on flash drives, including which brands are best, check out the USB Flash Drive Buyer's Guide.
Image Credits: Wikimedia Commons / Dori
What to Avoid
Before you get in on a flash drive giveaway, make sure it's not a scam. If you enter a contest based flash drive giveaway, you will need to follow the contest rules. However, you should never have to pay for anything, including entry into the contest. This means the flash drive is not free. Never participate in any flash drive giveaway that asks for your credit card information, PayPal account information or requires any type of personal information beyond your name, address and possibly email address. If you are not comfortable with any information that is asked for, do not participate.
The only time you may possibly use your credit card information is if you participate in a points based or trial offer flash drive giveaway. These types of giveaways require you to go through a trial period of a sponsor. You can cancel before you card is charged. Of course, you need to be skeptical of such offers - they could easily turn into scams.
Flash Drive Giveaways
There are numerous flash drive giveaways happening at any time. One of the best ways to get in on a flash drive giveaway is to frequently visit your favorite computer, electronics or technical website. This includes blogs and manufacturers. Technical publications, software providers and electronics manufacturers often offer free flash drives for downloading a white paper, downloading a trial of their software, completing a contest or being one of a set number of people to submit your information.
You can get free trade publications which may list flash drive giveaways at Trade Pub. Perform a search for "free white papers" to view a list of manufacturers and publishers offering free white papers. These often offer free flash drives for signing up to receive white papers and subscribing to newsletters.
For a list of freebies and contests check out the following sites:
Many other freebie sites are available as well. If you do a search for free flash drive giveaways, always research the giveaway before participating. You can search for information on the giveaway sponsor or provider to see if any scam reports exist.