VirtualBox Guest Additions: Installing Guest Additions for a Virtual Machine and Enable Mouse Pointer Integration, Seamless Window Support
Virtual Machine Drivers
VirtualBox guest additions are additional pieces of software that can be installed inside the virtual machine's guest operating system. This software typically comes in the form of a driver. Drivers are used on all computers, including desktops and laptops. But what are drivers?
Drivers are software that help bridge the gap between the operating system and the hardware components. On a typical computer, drivers help the operating system communicate with, and control, the various pieces of hardware in a computer. These include components such as the motherboard, hard drives, memory, and graphics card. In a virtual machine environment, a driver helps the guest operating system interface with the virtual machine's virtual hardware. Since VirtualBox uses software to emulate hardware, the guest operating system does not always perform optimally.
VirtualBox Guest Additions
VirtualBox guest additions usually focus on a few aspects of the virtual machine's performance.
Mouse pointer integration is usually enabled with a guest addition. In most virtual machine environments, when you move the mouse pointer from your host operating system into the guest operating system's window, you have to click inside of that window to switch focus. Seamless mouse pointer integration allows you to work within the virtual machine window without having to capture and release the mouse pointer.
Improved video support is also offered by guest additions. The basic video card support in VirtualBox allows for basic features. However, many operating systems (including Windows 7 and some distributions of Linux) use window environments that have much more visually-appealing designs. Additionally, higher resolutions can be achieved by using guest additions.
In order to share folders and share the system clipboard between machines, guest additions must be installed. Sharing folders allows you to transfer files from the host operating system to the guest operating system, or vice-versa.
Finally, VirtualBox guest additions provides support for seamless windows for some operating systems. Seamless windows allows you to pull the guest operating system environment out of the virtual machine window. The guest operating system's windows can move freely among your host operating machine's windows.
Installing Guest Additions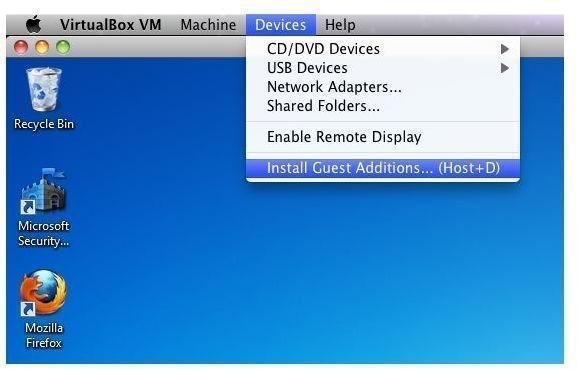 VirtualBox has made installing guest additions simple. First, run VirtualBox and launch the guest operating system. In the virtual machine window, click Devices, Install Guest Additions in the menu bar. This will mount the guest additions onto the virtual CD drive in the guest operating system. If a window does not automatically pop up on the guest operating system, simply navigate to the CD drive from within the guest operating system.
After the VirtualBox guest additions have installed, you will likely be prompted to restart the guest operating system. When the guest operating system loads, you should receive a message that the guest operating system now supports mouse pointer integration. Additional options may now be enabled in the virtual machine's menu bar.
Credits and More Info