Choosing an ASUS Eee PC 901 Keyboard Cover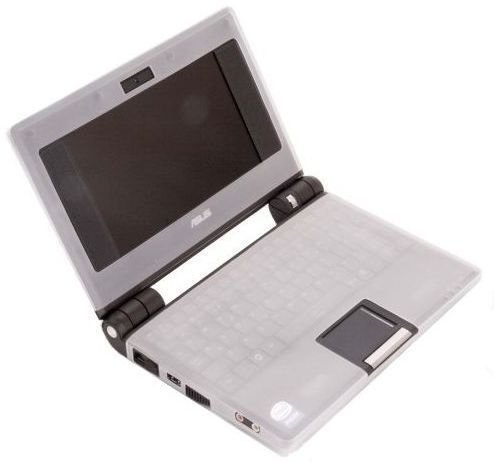 Protect Your ASUS Eee PC 901
The ASUS Eee PC 901 is a fantastic device – small, lightweight yet capable of opening a world of internet wonder and retro gaming to anyone who has one.
One of the first netbooks, these devices get carried around a lot and are great for surfing on the go, not to mention working on. Capable of running Microsoft Office and basic image editing applications, you could quite easily run a business on one and they're certainly suitable for most homework assignments.
This flexibility can lead to problems, however – notably in the shape of getting battered about a bit. If you're in the habit of doing a lot of surfing or work on your netbook, a suitable keyboard cover for your Asus Eee PC 901 might be in order.
Benefits of an ASUS Eee PC 901 Keyboard Cover
As with any portable computer, an ASUS Eee PC 901 gets used in a variety of places. The result of this is that the keyboard is integrated into the computer, as it is with any laptop. Problems with the keyboard, therefore, are difficult to deal with – you cannot simply unplug the keyboard and connect a new one as you can with a desktop PC.
Therefore a keyboard cover is a good option. Such covers are available for all sorts of laptop keyboard sizes, and take the form of high quality silicone designed to shield the keyboard and its gaps from dust and food and particularly liquid.
(Image via Amazon)
Suggested Protection for an ASUS Eee PC 901
You may know that silicone is quite a common substance, and as a result these covers don't cost that much to manufacture. In the UK you might purchase one for under £2, and you could probably find one for under $5 on eBay.
The best place to check for such covers, however, is mobile phone accessory stores, and a good place to check prices and vendors would be Google Product Search.
Incidentally, note that the ASUS Eee PC 901 keyboard covers can also be used on 700, 701 and 702 models.
Keyboard Cover vs Case
While a keyboard cover might be a more affordable protection option for your netbook, it will only protect the keyboard itself. Vents on the side and the screen won't be protected, just like the device itself won't be protected from knocks and tumbles.
This is where a case comes in, and there are several great little cases available for the ASUS Eee PC 901. These come in a variety of colours and often come with pockets for storing SD cards and other useful slots. An alternative to this sort of protection is a scratch resistant skin which can be easily applied to your ASUS Eee PC 901.
Finally, you might consider an all-in-one silicone cover such as this one available on Amazon. This will protect your netbook from bumps and scratches as well as keeping your keyboard clean and dry!
References
Author's own experience.
Google Product Search.