Round Up of Kensington Trackball Mouse Interface Devices
Dump Your Mouse - Get a Trackball!
If you're sick of using a mouse, or need to be particularly precise in a game or design application, a trackball mouse is a great option.
Rather than wearing out your hand and wrist – and even your elbow – pushing and pulling a mouse around your desk, using a trackball will reduce stress and strain on your joints simply with its effective "upside down mouse" design.
The trackball design is nothing new – early arcade game cabinets in the late 1970s and 1980s featured a trackball instead of a joystick – and their popularity is due to the comfort and precision that they offer.
Trackballs come in many shapes and sizes, and are produced by different companies such as Logitech and Kensington. We're going to take a look at the range of Kensington trackball mice to help you make a decision about which one to buy…
Choose the Right Kensington Trackball Mouse
Getting the most from any purchase means making the right choice in the first place, and you should be thinking in terms of cost, use and functionality when investigating which of these devices to buy.
For instance, the Kensington SlimBlade Trackball Mouse is a literal trackball/mouse combi device, ideal for anyone working in restricted surroundings such as on a plane or train.
Cable free (it uses Bluetooth) the SlimBlade can be used as a mouse or as a trackball, and you can switch between the two functions with the push of a button. These trackball/mouse devices are available from a variety of online suppliers – Amazon sell this model for $54 or you can find them for around £45 in the UK.
A Trackball Mouse For Gaming and Browsing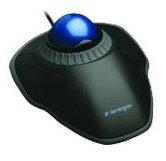 If you're less interested in design or jamming your trackball into a tight squeeze and more interested in browsing the web, reading documents and gaming, the Kensington Orbit Trackball with Scroll Ring is a suitable choice, providing easy finger or thumb control of the mouse pointer via the blue trackball, the usual two-button options and a useful "scroll ring" for zooming up and down web pages.
This model is around $25-$30 in the US and between £20-$30 in the UK.
Optical Precision
For those looking for a dynamic trackball ideal for gaming and general computing, the Kensington Orbit Optical Trackball has a PS/2 or USB connector for quick plug and play installation to many Windows or Mac computers.
Two buttons are mounted on either side of the trackball that slightly resemble wings, and the trackball offers good responsiveness. These devices are available for between £10 and £20 in the UK, while US retailers stock it for between $20-$30.
Kensington SlimBlade Trackball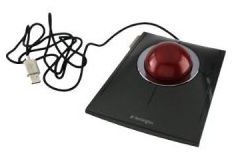 This remarkable looking piece of hardware costs a massive £80-£105 in the UK and just looking at it you can see why.
Mounted on a shiny black platform, the trackball is accompanied by two buttons and several modes; navigation mode allows you to control the cursor and scroll on your desktop and in web pages while the media mode controls playback of music and videos. Finally the view mode lets you zoom out and pan, useful for viewing images and movies.
If purchasing in the US, this device will typically cost between $65 and $108 - Amazon stock it for $80.
Kensington Expert with DiamondEye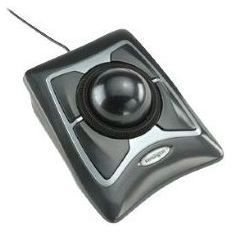 The Kensington Expert Mouse is a device that employs the Kensington DiamondEye optical technology which affords smoother and more precise control. Like the Kensington Orbit Trackball, the Kensington DiamondEye is equipped with a scroll ring to enable fast scrolling of documents and web pages and its precision makes this trackball particularly popular with designers.
Available in the UK at anything upwards of £54, the Kensington Expert will cost around $75 in the USA from a variety of online retailers, including Amazon.